The company's first comic, entitled 'New Fun: The Big Comic Magazine' was released the following year. In 1937 DC Comics was formed with a partnership between Wheeler-Nicholson and Jack S. Liebowitz, but Wheeler-Nicholson was soon forced out of the company. In 1938 DC found success when they introduced Superman followed by The Sandman and Batman. This led to the golden age of comics. The name DC Comics was officially adopted in 1977. Today DC Entertainment is owned by Time Warner and acts as a subsidiary of Warner Brothers Entertainment. The Second Angle has listed 10 things you didn't know about DC Comics, just for you.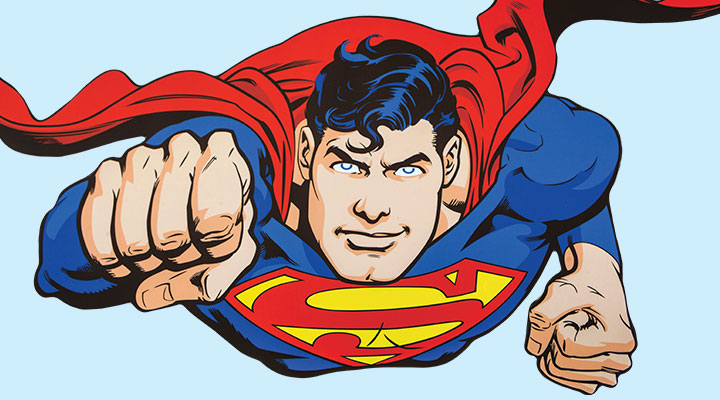 Superman was created by high school students: Superman was created in 1933 by writer Jerry Siegel and artist Joe Shuster when they were still in high school. They sold the character to DC in 1938 and they quickly became the archetype for superheroes. In 1975, Siegel and Shuster launched a public relations campaign to protest DC's treatment of them and eventually got the company to pay them 30 thousand dollars each per year for the rest of their lives and to credit them for the creation of Superman in all comics, films, and video games featuring the character.

Image Source: howtogeek

Wonder Woman's creator also helped to invent the lie detector test: William Moulton Marston was inducted to the comic book hall of fame in 2006 because he created the character of Wonder Woman, who debut in December 1941, in All-Star Comics No. 8. The strong qualities and appearance of Wonder Woman were inspired by both his wife and his live-in mistress. And it was actually his wife Elizabeth Marston's idea to create a female superhero. In addition to being a comic book writer, William Marston was also a psychologist and an inventor. His most notable invention was the systolic blood pressure test which was used as a component of modern polygraph also known as the lie detector test.

Image Source: DC Database

The DC stands for Detective Comics: The source of the company's name is its popular detective comic series that was published from 1937 to 2011 and then again from 2016 to present. Perhaps, its more notable issue was no. 27 which as printed in May 1939. This was the issue that introduced Batman.

Image Source: marvel

Stan Lee went to work for DC after retiring from Marvel: Stan Lee is an iconic comic creator who is always linked with the Marvels because he created some of the most popular characters like the Spiderman, Dr Strange, and Black Panther. However, when he retired from Marvel in the late 1990s, he took a job in Marvel's rival DC Comics. He created a series of 13 comics that featured lease version of DC's well-known characters including Batman, Superman, Wonder Woman, Green Lantern, Cat Woman, and the Justice League.

Image Source: comics

DC holds the record for the world's most expensive comic book: The most valuable comic in the world is DC's Action Comic No. 1, which was published in 1938. The comic is notable because it included the first-ever appearance of Superman. Around 200 thousand copies were originally produced but less than one hundred are thought to be in existence today, with only single digits thought to be in mint condition. Nicholas Cage sold his copy of the comic in 2011 on eBay for 2.16 million dollars and in 2014 another seller listed a copy on eBay with a starting price of 99 cents within two hours the bid had jumped to 1.6 million and the auction closed with winning bid of just over 3.2 million dollars, making it the most expensive comic ever sold. Today a mint condition copy of the comic is sold for 4.5 million dollars.

Image Source: dcfandom

DC tried to sell their best heroes to Marvel: In the early 80s, DC was struggling financially so they were willing to sell their best heroes to their rival Marvel. Marvel had the chance to buy Superman, Batman, Wonder Woman, Green Lantern, and others. But the CEO at the time Jim Galton rejected the offer asserting that DC sales must be poor because the characters weren't any good.

Image Source: imdb

The Dark Knight Rises is DC's most successful movie: The Dark Knight trilogy is by far DC's most successful franchise with the combined gross total of the three movies being over 2.4 billion dollars with an additional billion in DVD Blue Ray and digital sales. The single most successful DC movie is the third movie in the trilogy, The Dark Knight Rises, which grossed 1.08 billion dollars worldwide. The second most successful DC movie is the second in a trilogy which grossed just over a billion dollars worldwide in 2008.
Batman was originally created as a blonde: Batman has one through several changes throughout his history and we are not referring to just Ben Affleck here. He has always had a dark cape but the original design by Bob Kane had Batman wearing a bright red leotard. Probably the most distinctive difference of original and traditional depiction of Batman is the hair colour. Kane originally made Batman a blonde but this was changed when another designer named Bill Finger stepped in and completely changed the design, giving us the Batman we are familiar with today.
A replica of the Batmobile from A dark Knight sold for one million dollars: JamesEdition is a global online luxury market place that offers some truly unique items. In 2014 they introduced a one of a kind, a street-legal replica of the Tumbler Batmobile used in The Dark Knight movie. It features 44-inch tires with custom rims, 5 driver assistant cameras, and an 8 cylinder engine. Well, it looks to exactly like the car featured in the film. It has been modified to be street legal and of course, all weaponry has been left out of the model. The vehicle was sold for 1 million dollars.

Image Source: geo

The town of Batman, Turkey threatened to sue Warner Brothers: The town of Batman was named after the nearby Batman River which historians believed got the name Batman by shortening the name of a nearby mountain called Batiraman. In 2008, the mayor of the city Batman announced that it was planning on suing the Warner Brothers and the director Christopher Nolan, the makers of the Dark Night Batman movie trilogy. The mayor said that there is only one Batman in the world and the American producers used the name of our city without informing us. However, the comic book hero was created almost 20 years before the city took on the name Batman. No lawsuits were ever filed and the threat was largely deemed to be a publicity stunt.
Do you think DC will be able to compete with Marvel now that marvel is owned by Disney? Let us know what you think in the comments.
Also Checkout: The Best solo travel destinations for women in 2022
For more, like us on Facebook or follow us on Twitter, Instagram  and Telegram