Two nurses and 16 covid positive patient's dead after the fire broke out in the ICU of the Welfare Hospital in Bharuch a district of Gujarat on Saturday.
People nearby the hospital broke the glass windows and rescued some patients. Around 27 patients were then in the ICU ward at the time of the accident which was rescued and shifted to the nearby hospitals.
A judicial probe has been initiated on the matter. The Chief Minister appointed Vijay Rupani and two more senior bureaucrats for the investigation.
Apart from this, the CM has also announced an ex-gratia aid of Rs 4 Lakh to families of the victim from the chief minister's relief funds.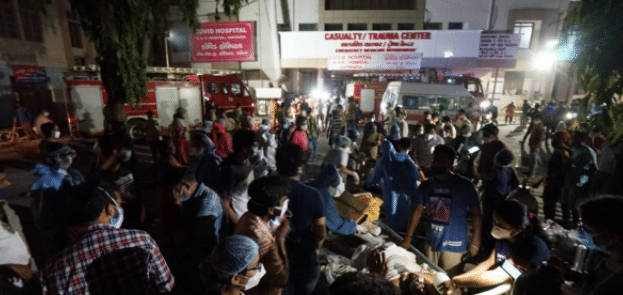 Prime minister Narendra Modi has also shown his condolences saying, "Pained by the loss of life due to a fire at a hospital in Bharuch. Condolences to the bereaved families".
Since Last year, the hospital, on the Jambusar bypass, is being used to treat the Covid 19 patients of the district.
According to the Fire department sources, there were around 27 Covid patients in the ICU, some on ventilators. The fire broke out at around 1 am on Saturday.
The reason behind the fire is said to be the short circuit. After noticing the fire, the hospital staff rescued the patients who were on ventilators.  The locals, after listening about the incident, also rushed to the spot to help.
Fire tenders, too, reached shortly and curbed the blaze within half an hour.
Rescued patients were then rushed to the nearest hospital in the district.
Also read: