Today is a special day for Dilwale Dulhania Le Jayenge team and fans as the film completed 25 years. Dilwale Dulhania Le Jayenge or DDLJ is an iconic film which gave us the hit Jodi of Raj and Simran which is now a classic example of Bollywood romance. The sound of the cowbell… sarson ke khet… the iconic train scene… beautiful green plains of Switzerland and in there roaming our Raj and Simran.
It has been 25 years today but nothing, absolutely nothing has changed for the fans as well as the team, as today Shah Rukh Khan and Kajol changed their Twitter names to Raj Malhotra and Simran, and profile photos to the pictures of their characters. Shah Rukh Khan also shared a special video on "25 years of celebrating love"
25 years!!! Filled with gratitude towards you for loving Raj & Simran, with all your heart. This always feels special. #DDLJ25 @yrf pic.twitter.com/HHZyPR29f9

— Shah Rukh Khan (@iamsrk) October 20, 2020
Raj & Simran!
2 people, 1 film, 25 years and the love doesn't stop coming in!

I am truly grateful to all the people who made it what it is today.. a phenomenon and a part of their own history. The fans! Big shoutout to all of you♥️#25YearsOfDDLJ @yrf@iamsrk #AdityaChopra pic.twitter.com/ikkKFef6F1

— Kajol (@itsKajolD) October 20, 2020
Other people attached to the film also showed gratitude towards the fans who showered constant love to DDLJ for such a long time, as DDLJ is the longest-running Bollywood film, making a special place in millions of hearts. Adding to this, a bronze statue of Raj and Simran was unveiled yesterday at Leicester Square in London. The statue will be a part of "Scenes in the Square" movie trail, which is an artist's interpretation of films in Leicester, which is also the entertainment hub of the city. DDLJ statue is now among the iconic cinematic moments including Harry Potter, Marry Poppins, Mr Bean, Batman and Wonder Woman.
When everyone was giving tribute to the Bollywood cult classic, we at TSA decided to give a tribute as well, in our own little way. For this, we have written our heartfelt letters to three of the most favourite characters from the film, Raj, Simran and Lajjo Ji. Read it and let us know your views in the comments section. And if you like it then share among your DDLJ fans and keep the 25 years celebration alive.
Dear Raj,
I honestly don't know where to begin. I sat down to write you a letter a couple of times but then erased it all. I always fall short of words when it comes to describing my feelings for you. With unsettled hair and a mandolin in hand, you just stole my heart. I know I'm not the only one saying this, but that's the charm of you. You hypnotized us all in your charismatic smile and light humour.
I was 6 when I first saw you and since then you have been making me weak in the knees, every time I see you. With movie-buffs in the house, I grew up watching movies. When girls and women back then were admiring Rajvir of Qayamat Se Qayamat Tak, Raghu of Dil Hai Ke Manta Nahin, Akash of Saajan, Rahul of Aashiqui, and Amit of Silsila, for their beliefs like 'dying for love', I was among the ones who fell for you, who unlike those celebrated heroes of romantic cinema, didn't believe in sacrifice for love neither you wanted to elope with Simran. You were different.
I was head over heels for you since the beginning of the film. But at my first encounter with you, I didn't know much about the world and family morals, so I fell just for your looks and especially that dimpled smile, the style and humour you possessed. I was simply watching you and dancing and giggling in joy.
But as I grew up and re-watched you over and over again. I fell for you harder and this time it was for the moment when you asked Simran to not elope and assured her that you'll win the hearts of her father and family. You simply changed the definition of love marriage for me. It was you who taught me that things done with the blessing of the whole family are what give us true happiness. The way you portrayed your Indianness, despite being brought up in a foreign land was something touched me and many others like me.
The way you and Simran expressed love without quoting the clichéd expression of love "I love you" was something fresh and I being a hopeless romantic, started picturing my life as yours and Simran's. Your portrayal of love was so subtle that I started singing "tujhe dekha toh yeh jana sanam, pyaar hota hai deewana sanam"  not with you but for you *blushes hard and hides under the table*
When on one side you showed me the rosy picture of love and romance, you also gave me a reality check that hurdles will definitely come in the way of love but if the intentions are pure and attempts are consistent then those hurdles can be cut down.
With this being said I bid you farewell today, with a hope that someday my Raj will be outstretching his hand to help me catch my train and we will then fall in love like you and Simran and live happily ever after.
With lots of love,
A hopeless romantic fan of yours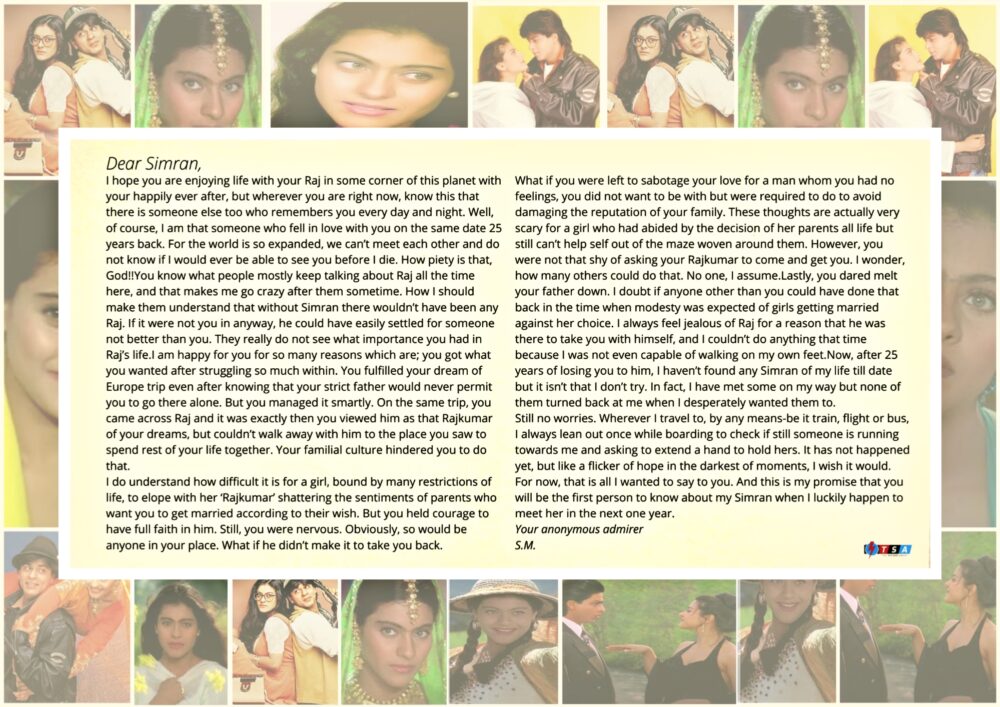 Dear Simran,
I hope you are enjoying life with your Raj in some corner of this planet with your happily ever after, but wherever you are right now, know this that there is someone else too who remembers you every day and night. Well, of course, I am that someone who fell in love with you on the same date 25 years back. For the world is so expanded, we can't meet each other and do not know if I would ever be able to see you before I die. How piety is that, God!!
You know what people mostly keep talking about Raj all the time here, and that makes me go crazy after them sometimes. How I should make them understand that without Simran there wouldn't have been any Raj. If it were not you in any way, he could have easily settled for someone not better than you. They really do not see what importance you had in Raj's life.
I am happy for you for so many reasons which are; you got what you wanted after struggling so much within. You fulfilled your dream of Europe trip even after knowing that your strict father would never permit you to go there alone. But you managed it smartly. On the same trip, you came across Raj and it was exactly then you viewed him as that Rajkumar of your dreams, but couldn't walk away with him to the place you saw to spend rest of your life together. Your familial culture hindered you to do that.
I do understand how difficult it is for a girl, bound by many restrictions of life, to elope with her 'Rajkumar' shattering the sentiments of parents who want you to get married according to their wish. But you held courage to have full faith in him. Still, you were nervous. Obviously, so would be anyone in your place. What if he didn't make it to take you back. What if you were left to sabotage your love for a man whom you had no feelings, you did not want to be with but were required to do to avoid damaging the reputation of your family.
These thoughts are actually very scary for a girl who had abided by the decision of her parents all life but still can't help self out of the maze woven around them. However, you were not that shy of asking your Rajkumar to come and get you. I wonder, how many others could do that. No one, I assume.
Lastly, you dared melt your father down. I doubt if anyone other than you could have done that back in the time when modesty was expected of girls getting married against her choice. I always feel jealous of Raj for a reason that he was there to take you with himself, and I couldn't do anything that time because I was not even capable of walking on my own feet.
Now, after 25 years of losing you to him, I haven't found any Simran of my life till date but it isn't that I don't try. In fact, I have met some on my way but none of them turned back at me when I desperately wanted them to.
Still no worries. Wherever I travel to, by any means-be it train, flight or bus, I always lean out once while boarding to check if still someone is running towards me and asking to extend a hand to hold hers. It has not happened yet, but like a flicker of hope in the darkest of moments, I wish it would.
For now, that is all I wanted to say to you. And this is my promise that you will be the first person to know about my Simran when I luckily happen to meet her in the next one year.
Your anonymous admirer.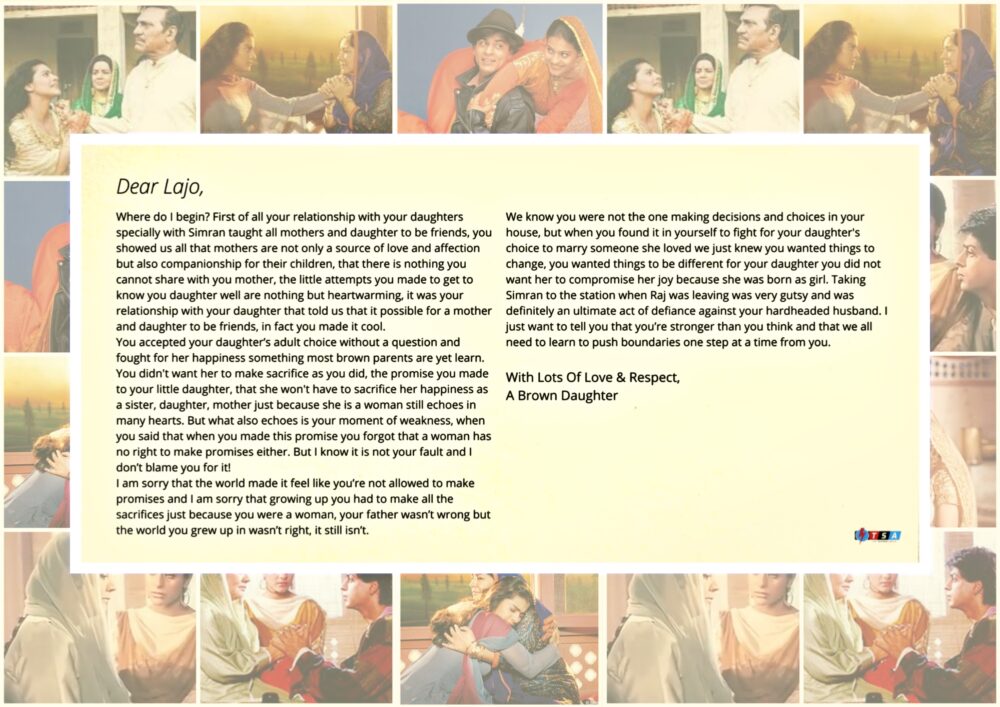 Dear Lajjo,
Where do I begin? First of all, your relationship with your daughters, especially with Simran, taught all mothers and daughter to be friends, you showed us all that mothers are not only a source of love and affection but also companionship for their children, that there is nothing you cannot share with you mother, the little attempts you made to get to know you daughter well are nothing but heartwarming, it was your relationship with your daughter that told us that it possible for a mother and daughter to be friends, in fact, you made it cool.
You accepted your daughter's choice without a question and fought for her happiness, which is something most brown parents are yet to learn. You didn't want her to make the sacrifice as you did, the promise you made to your little daughter, that she won't have to sacrifice her happiness as a sister, daughter, mother just because she is a woman still echoes in many hearts.
But what also echoes is your moment of weakness, when you said that when you made this promise, you forgot that a woman has no right to make promises either. But I know it is not your fault and I don't blame you for it! I am sorry that the world made it feel like you're not allowed to make promises and I am sorry that growing up you had to make all the sacrifices just because you were a woman, your father wasn't wrong but the world you grew up in wasn't right, it still isn't.
We know you were not the one making decisions and choices in your house, but when you found it in yourself to fight for your daughter's choice to marry someone she loved we just knew you wanted things to change, you wanted things to be different for your daughter you did not want her to compromise her joy because she was born a girl. Taking Simran to the station when Raj was leaving was very gutsy and was definitely an ultimate act of defiance against your hardheaded husband. I just want to tell you that you're stronger than you think and that we all need to learn to push boundaries one step at a time from you.
With lots of love and respect,
A brown daughter
:: This post is curated by three TSA writers: Ummarah Khan, Areeba Hussain and Sami Majid.
:: All the designs are created by TSA writers, Anas Zeeshanand Ummarah Khan.
Also Checkout: Most aesthetic Anime to watch
For more, like us on Facebook or follow us on Twitter, Instagram  and Telegram