The film industry in India is a million-dollar industry and its success and failure depend upon several factors. Not all films can cast an everlasting impact on the viewers, some fail because of its un-modern storyline and not so famous leads and big names, yet if watched once, are worth it.
We at TSA have brought you 5 most amazing appreciable movies and critically acclaimed pieces of cinema of all time which might not seem to you a marvel piece of art but definitely stand out from a Bollywood's mainstream attitude, that you least watch once, unhesitatingly.
Aankhon Dekhi (2014)
A film directed by Rajat Kapoor starring Sanjay Mishra and Rajat Kapoor is a philosophical masterpiece in itself, shot in the suburb of Old Delhi, portraying every minute historical details of the place so beautifully.
The story revolves around a man who is in his late 50's and lives in a traditional joint family setup. Because of some past experiences and unwavering emotions, he decides to only believe in facts captured and seen from his own eyes rather than going by someone else's perception. The story is a beautiful amalgamation and a very earnest representation of the life of an ordinary man and his search for his own truth.
The tension that surmounts his family in consequence to his decision as he begins to defy everything which he had not experienced reflects how thoughts and psychology of a lead man in a family can affect the entire house.
With impeccable acting, well-thought caste and mindful direction, the story has you couched at one place with a constant sense of something terribly happening next without boring you even for once. With an 8 out of 10 on IMDb, this movie is a must-watch for all.
Filmistaan (2012)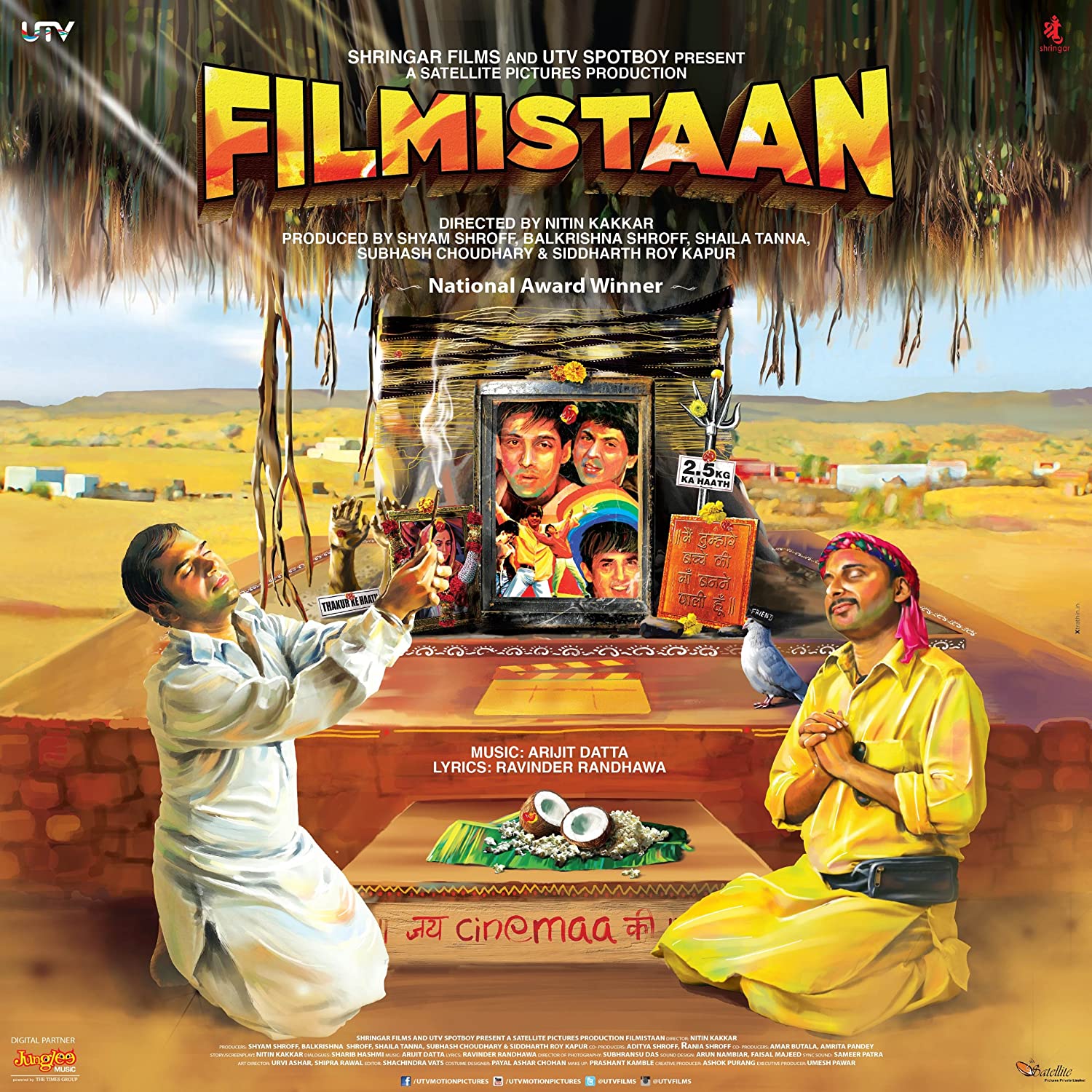 An Indian comedy film was written and directed by Nitin Kakkar, a cinematic piece of art and a beautiful representation of human relations and kinship in the pretext of political and ideological rivalry and extremism.
The main source of this affinity is the love for Hindi cinema that the protagonist Sunny (Sharib Hashmi) and the people of a small village in Pakistan, where he's held hostage, have. Sunny is like every other Indian, who aspires and struggles towards achieving something big in life and make a career in Bollywood but not after he is kidnapped in the middle of the shoot by some terrorists Muslims jihadist of Pakistan.
The film uses a comic yet sentimental connection to depict that even after the partition, there are people who still have an Indianness in them through Bollywood movies.
The movie doesn't dull you even for once and Sharib's acting draws you into his character and how he perceives things playing the role of an aspiring actor. The movie doesn't go by the script but emotions which is its USP. The film gets a 7.3 on IMDb and for us, the audience, a green signal to watch it unhesitatingly.
Because of its brilliant performance, both in acting and direction, the film was screened in 17th Busan International film festival, the Mumbai Film festival, and the International Film festival Kerala.
Maharathi (2008)
Maharathi is a Hindi thriller film produced by Dhillon Mehta and directed by Shivam Nair starring Paresh Rawal, Naseeruddin Shah, Boman Irani, Tara Sharma and Neha Dhupia. The film takes a great deal from James Hadley's Chase Novel "There's Always a Price Tag". It is a story of a conman Subhas (Paresh Rawal) being roped in the plan of a one-time big producer Adenwalla's (Naseeruddin) wife (Neha Dhupia) to come into possession of her dead husband's (Nasiruddin Shah) property after her husband commits suicide leaving behind a 24 crore insurance, which now goes invalid. The duo makes a plan to make his suicide look a murder splitting the loot over a fair deal of two halves.
Where The Characters play out their crimes and transgression, the story keeps the viewer guessing with their volatile natures and shifts in moods. It gets a 7.1 on IMDb, making it a must-watch for all thriller lovers.
Well Done Abba (2009)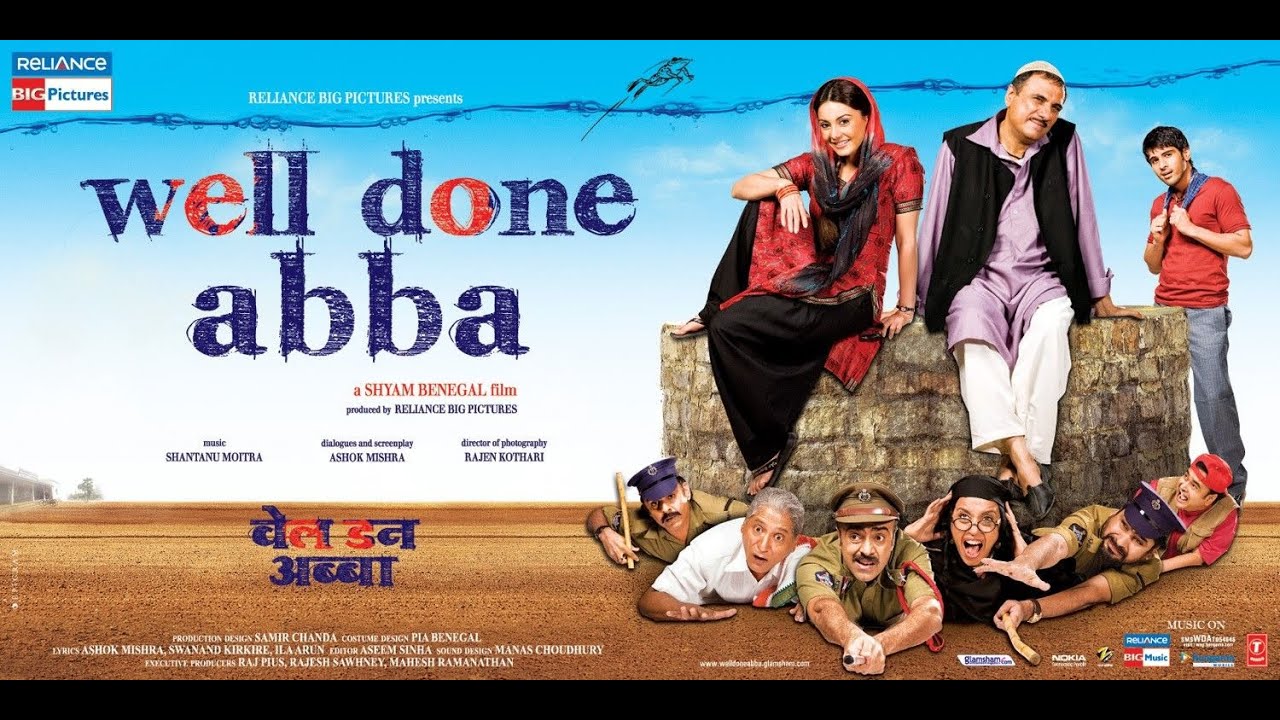 A 2009 Shyam Benegal's film not many people talk about is Well Done Abba. A political satire featuring Boman Irani, Manisha Lamba, and Sameer Dattani in pivotal roles. It is a remake of a 2007 Marathi film, Jau Tithe Khau.
The film is about a Muslim man from Hyderabad, Armaan Ali (Boman Irani) who works as a driver in Mumbai, and takes leave to visit his village and finds that the village is suffering from water scarcity. What entails after is a hilarious sequence of several events and a common man's fight for the basic need of water amongst severely corrupt government officials in his parched native.
Amidst all this, the legendary Director Shyam Bengal leaves no stone unturned to make the viewers feel that they are watching a splendid little folktale on screen. Boman Irani's excellence in acting wins the heart and the rich Hyderabadi culture depicted via the movie becomes an additive push to its yet another USP.
The film keeps you entertained and at the same time educates the audience about raising their voices against the unjust, no matter even if you are alone. With an IMDb rating of 7.3, which is a pretty decent one, the film is highly entertaining.
Dor (2006)
Dor is a 2006 Indian drama film written and directed by Nagesh Kukunoor, featuring Ayesha Takia, Gul Panag and Shreyas Talpade in leads.
The film talks about the two women Meera (Aisha Takiya) and Zeenat (Gul Panag) who find affinity while trying to overstep the strict boundaries the society has created for them. Meera, a young widow, has lost her husband in an accident caused by Zeenat's husband unintentionally. Both the women are seen as strong characters but the ill-fated incident turns everything upside down.
Will they continue to be friends when the truth is revealed to Meera? Watch it for yourself as the movie promises to not just deliver a good storyline but a plethora of emotions dipped in each break. The movie has a 7.9 rating on IMDb which alone speaks of its brilliancy.
Also Checkout: 9 Most Expensive Chandeliers Around The World