Swara Bhaskar is a fierce and bold actress who isn't hesitant to put forth her opinions clear and loud. She says that she felt ashamed sitting at her comforting home enjoying the accessible luxuries that she has while thousand of migrant workers were struggling to reach back their homes. She says this feeling of guilt made her come out of her comfort zone and motivated her to contribute for the better cause. 
Swara stated this migrant crisis as the 'most shameful incident of our times'. In an interview with Times Now, Swara was quoted saying, "At a time when lakhs of people are out on the streets, facing extreme hardship, I feel ashamed sitting at home. This crisis has exposed the defects in our system".
After returning to Delhi from Mumbai last week, Swara launched an initiative to help the migrant workers reach their homes. She and her team put out a form to collect the names of the people who are willing to go back to their homes and also coordinated with the Delhi government ensuring that the migrants get the train tickets. 
Till now the actress has facilitated the return of 1,350 workers to Uttar Pradesh and Bihar. When she was asked about the initiative she said that her team collects data personally through a web form, contacts the people, and helps them get their tickets and board the trains. 
She thanked Aam Aadmi Party (AAP) MLA, Dilip Pandey for extending her a helping hand and making sure the people get train tickets without much hassle. Swara said, "I am so grateful to Dilip Pandey Ji, his team, the Delhi Government, and everyone working on the ground. They reaffirm my faith in our society". Adding she was "only amplifying their efforts" through her social media platform. "It's really nothing much," she said.
Meanwhile, Dilip Pandey too was all praise for Swara. While speaking to Times Now about the same, Pandey said, "She initially wanted to raise some money for them so that some buses could be arranged for the workers. I requested her to just provide us the list of people whom she wants to be sent back. She then started her work and we are now sending the workers home without much hassle and in a safe manner".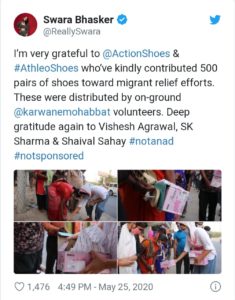 Before this Swara also arranged for footwear for the migrants. She shared a brief about this initiative on her twitter handle.
Swara says she is inspired by a lot of people who are working on the ground to provide relief to the migrant workers. She quoted, "I am so inspired by the brilliant work that organizations like Karwaan-E-Mohabbat, Khalsa Aid, Pushti Foundation, and individuals like Sonu Sood are doing,".
Earlier, Sonu Sood came forward and fed over 45,000 migrants on Mumbai streets. He also arranged for buses to help thousands of migrants reach their homes. And now he has set up a toll-free number 18001213711 through which one can reach out to his team for help. 
For the longest time, we all have been sitting in our homes crying over the plight of the migrant workers and people left with no source of income in this hardship. But, if not much then at least we can do our part of the little contribution by proving food, clothes and the basic necessity to the people who are in the utmost need of it during the lockdown in the country.
(Image Credit- Arre)
Also Checkout: 7 Visually Pleasing Movies You Can Watch On Amazon Prime