Automatic Sanitizer Dispenser Machine Invented by Monirul, a Teen from Siliguri
Utilizing your precious time during your off days from school too counts your intellect and Monirul has proved it. A guy from a small town Siliguri not just invented an automatic Sanitizer Dispenser at the bare minimum cost but is also planning to sell it to support his family during the Covid-19 crisis.
"When life gives you lemons, make lemonade." We all are aware of this encouraging phrase, but there are only a few of them who actually bring this to light. A XIth standard student of Siliguri Boys High School, Sheikh Monirul Islam, designed and made an automatic sanitizer dispensing machine.
Due to the outbreak of the COVID-19 pandemic and sudden lockdown, when schools and other educational institutions were closed since March 2020, Monirul a resident of Vivekanandanagar in ward 7 of Siliguri, West Bengal too had to face a sudden halt in his studies and other daily activities but during quarantine, he did something really appreciated by utilizing the free time. He managed to develop an automated sanitiser dispensing machine that doesn't require a human touch.
"As the pandemic situation arrived and people started following safety measures, I found many people pressing or pumping bottles to get the sanitiser out. What made me worried was, if we keep touching the bottle each time, the chances of infection will be higher. This made me think of a machine that can automatically release the sanitiser without touching the bottle." Monirul said in an interview with The Telegraph.
For developing an automatic sanitiser dispenser, Monirul had to collect some items, which included a motherboard, a nano board (a microcontroller board), an infrared sensor module, a small pump and a rechargeable battery unit.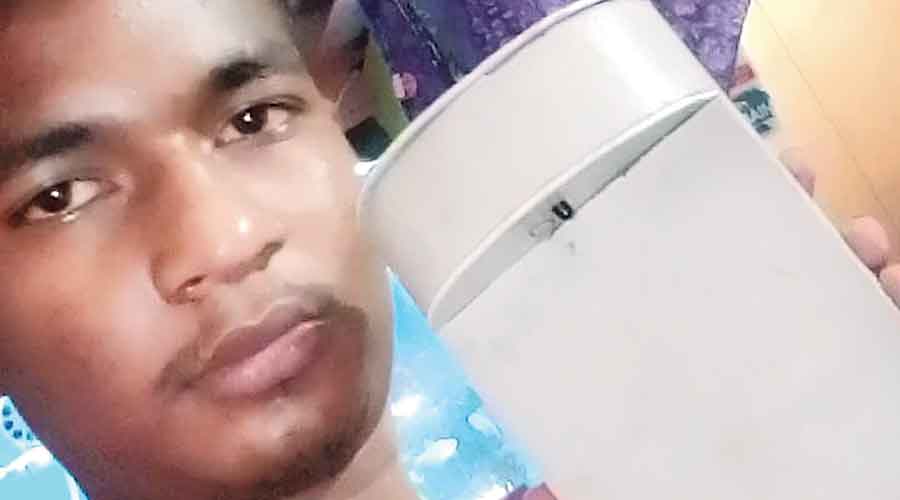 Monirul mentioned that he bought most of these items second-handed, and created a space (chamber) for filling the sanitiser. The machine worked on charging like a cellphone and then it could work for hours. Both the water-based or gel-based sanitizers can be used in the machine. Once you put your hand under the machine, the sensor reads it and diffuses the sanitizer.
 Monirul belongs to a modest home of Siliguri, which has six-member in total. His father Sheikh Nasiruddin is a jewellery worker. Apart from the automatic dispenser, he has also made an automatic dustbin which works with sensors too.
Monirul's father mentioned that his son never had to take any training, still, he makes such things. Despite the financial limitations of the family they try their best to support his son.
Talking about the expense for developing the machine in an interview with The Telegraph, Monirul said that it took near about Rs. 250 to develop the machine and his father helped him with money throughout. To add to that, he also aims to develop a full-body automatic sanitizing machine where no human touch will be required.
This boy with entrepreneurial skills said that two of his teachers have asked him to make the device for them as well, mentioning perhaps, that if he gets more orders, he will plan to sell the machine for Rs 300. 
Such children with an innovative mindset is a blessing and an asset in the development of the country. Monirul is truly an inspiration in himself and TSA encourages young minds like him to take up such initiatives as well.