Dhanush – the not-so-conventional actor who made it big in the Tamil industry entirely based on his finesse. He debuted in 2002 with the movie 'Thulluvadho Ilamai,' and people had their doubts whether or not he would survive.
But prove he did. With a record of commercially successful and critically acclaimed work alike, he has proved his mettle. He has struck a balance between mass and class movies very well indeed. He made his Bollywood debut in 2013 with the movie Raanjhanaa opposite Sonam Kapoor.
The intense romantic drama film directed by Anand L Rai was quite a success at the box office. It also introduced Dhanush to a larger audience who was unaware of his work.
As a result, he received a lot of love and applause. We will be seeing him next in a Bollywood film 'Atrangi Re' directed by Anand L Rai. The movie is expected to release in August 2021 and will also be starring Akshay Kumar and Sarah Ali Khan.
Till we wait to see more of Dhanush in a mainstream Bollywood movie, here's a list of his top five movies from down south that one must check out:
1. Kadhal Kondein (2003)
Directed by Selvaraghavan, this is a romantic thriller. The film follows the story of Vinod (Dhanush), who has had a rough and painful childhood and comes to the city for his education. He meets Divya (Sonia Agarwal) and falls in love, but she loves someone else.
What follows is a rather disturbing plotline of Vinod becoming an obsessive lover who can kill anybody who comes in between him and Divya. The dark and gritting character has been played well by Dhanush, for which he received a lot of applause.
2. Aadukalam (2011)
Vetri Maaran directs this action thriller. The portrayal of a rugged, self-confident, brave character, K. P. Karuppu,  who is involved in many rooster fights, fetched Dhanush the National Award for Best Actor. His fluency with the Madurai slang and body language consistency created an authenticity that appealed to the audience.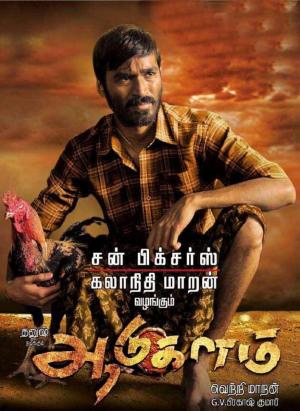 3. Maryan (2013)
Inspired by a true story, this thriller drama directed by Bharat Bala explores the tale of Maryan Joseph, a fisherman who loves the sea.
The story follows the struggles and pain of the character when on his way back from work at Inna oil company in Sudan, he and his coworkers are held hostage by a terrorist gang. The spot-on expressions by Dhanush made the screen come alive.
4. Vada Chennai (2018)
This action crime movie directed by Vetri Maaran gave Dhanush a much-needed meaty role. The story of a proficient carrom player who turns into a gangster uniting with the local gangsters to settle feuds but has a change of heart when he learns that they're planning to wipe out his locality.
This change from a simple carrom genius to a gangster to a vigilante has been portrayed well by Dhanush.
5. Asuran (2019)
In this action drama directed by Vetrimaaran, we saw Dhanush as an aged father of two boys, which surprised the audience. But the way Dhanush has held on to the nuances of the character, the performance felt extremely natural.
The story is primarily the story of the father protecting his son who has murdered a wealthy upper-caste landlord in a fit of vengeance.
Also Read: Never Watched Anime? Start With These And Become An Otaku