R. Madhavan or as fondly called Maddy is one of the finest actors Bollywood industry has at this date. Maddy is also one of the actors who was underrated in his initial years in the Bollywood industry and got recognition from the masses later. Maddy through his work has proved that he is one of the most versatile actors we can have.
He has done movies in 7 different languages and has got immense recognition in the Tamil films, later followed by our Hindi film industry. His sincerity and dedication towards his work is commendable. His positive attitude to do better and better is much appreciable. He is one of the few faces in the industry who with their innocent charm wins everyone's hearts.
As stated earlier R. Madhavan was undervalued and overlooked for many years so today on his 50th birthday TSA brings you some of his must-watch roles in Hindi films.
Madhav in Rehna Hai Tere Dil Mein
If we are talking about Maddy's works then it has to start with this one movie. RHTDM is a movie every 90s born cherishes. To the audience which was falling over romance by the big names like Shahrukh and Salman, Maddy brought a different style of the same. It wasn't a boasting sort of romance which we were used to seeing but it looked very much like us.
It was like a typical Indian couple romancing, just too realistic. Maddy was excellent in the movie, so subtle so innocent. Be it acting or dancing, nothing felt artificial in his case and his too-innocent-for-the-times kind of smile just took our hearts away. RHTDM was and always will be a lovely watch for us. And we hope it goes the same for you too.
Maddy had a small but noteworthy role in the movie, Rang De Basanti. Though the entire cast performed really well in the movie yet there was something in Maddy that left imprints on the minds and hearts of viewers. Maddy's persona in the movie was so likeable, his gentlemanly attitude and such maturity with utmost sweetness created a home in our hearts. And all of it looked so natural on him that it appeared as if the role was made for him only.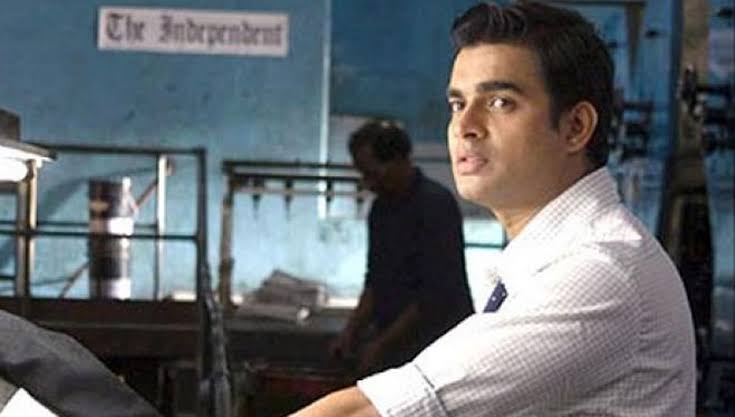 In the movie Guru, Maddy plays the role of a daring reporter who wishes to expose the fraud businessman, Guru and the love interest of the character Meenu, played by Vidya Balan who suffers from multiple sclerosis and was nearing her death. Maddy effortlessly showed Shyam's turmoil as a lover whose beloved is about to die and the honest reporter who is determined to showcase the truth. The dedicated performance of Maddy is unignorable in the movie. He yet again proved that he can mouth good-boy lines with extreme, believable sincerity. His dedication was once again shown and is worthy of all the praises.
Nikhil in Mumbai Meri Jaan
Based on the real-life Mumbai blasts of 11th July, Mumbai Meri Jaan explores the impact of such devastating acts on the lives of the individuals. Maddy here plays the role of a patriotic corporate man, Nikhil Agarwal. Nikhil is shown an environmentalist who asks people to not use plastic and save the environment. After witnessing the blasts much closely he started suffering from the post-traumatic stress disorder. He started fearing trains but later we see him facing his fear. The journey from being fearful to confronting one's own fear is shown very skilfully by Maddy. He again delivers an excellent performance full of sensitivity which appears to be his core aspect.
Manohar in 13 B: Fear Has A New Address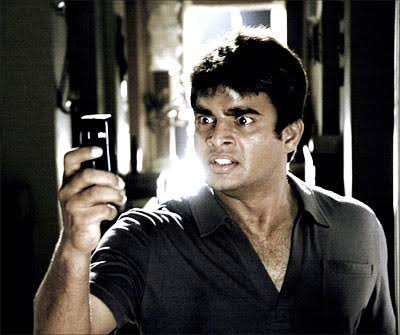 Without any creepy faces or excessive makeup,  13 B is spooky enough to send chills down your back. Maddy plays the role of Manohar in the movie, who has just moved into a new apartment with his family. The movie makes the person glue to its seat with the constant wish of knowing what's going to happen next. Generally, Indian horror movies get messed up towards the end but this one proves to be an exception.
The storyline is of a television set being possessed by a ghost, Maddy finds that his family is obsessed with a television show which is eerily similar to his own life. On finding this, he decides to investigate further and the journey makes him go through different phases of helplessness, intense fear and determination to find the truth, which he portrays with full fervour.
Some Honourable Mentions:
Shantanu in the movie Teen Patti where he plays the role of a young professor recruiting his students to play the game while applying the mathematical concepts to make sure they win. Maddy's performance is great as usual.
Adi Tomar in Saala Khadoos where he plays a boxing coach of women players. He portrays the role of a stoic and sombre boxing coach who is shown pushing his students to their best. It is one of the best roles of Maddy's career and a change for the fans from the always sweet and calm guy to the thunder creating beast.
Other honourable mentions are his much known and celebrated roles as Farhan in 3 Idiots and Manu in Tanu Weds Manu and Tanu Weds Manu Returns.
Also Checkout: 10 Most Expensive Horse Breeds in the World