The buried treasure is marked by an 'X.' For years, audiences have been inspired and captivated by this concept. Treasure seeking has always been an exciting premise for a story, from old stories like Treasure Island to more recent spins on similar adventures. In this article, we are going to discuss some of the best treasure-hunting movies of all time. 
Since the last decade, some of Hollywood's best treasure-hunting movies have been released. Some of them have even received awards for their adventurous efforts. We all enjoy adventure, so we enjoy watching a good treasure-hunting movie. There have been numerous films that have depicted similar stories in a variety of ways. Some stories are pure adventure, while others are darker. These films, when done effectively, can be a blast for viewers of all ages. 
A treasure hunt movie is like the ultimate whodunit, with a great prize to be claimed at the climax. It intrigues the audience because, unintentionally, they follow the hero through a sequence of clues and traps in search of the treasure. The pursuit of a hidden treasure trove has its own fascination, providing enough thrills with a spice of risk. Perhaps this is why, year after year, treasure-hunting movies continue to draw large crowds to theaters. We have curated a list of the 10 best treasure-hunting movies of all time. 
Take a look at our list of the 10 best treasure hunting movies of all time:
1. The Good, The Bad, and the Ugly (1966)
IMDB – 8.8
A mysterious foreigner, Joe (Clint Eastwood), and a Mexican robber, Tuco (Eli Wallach), strike an uneasy relationship in the Southwest during the Civil War. Joe gives in to the bandit in exchange for the reward money, only to save him just as he is about to be hanged. 
Wow, what a lifesaver! Eventually, the two men reunite to find $20,000 buried in the desert by a soldier; however, they must defeat a ruthless criminal and the Union troops to obtain it. The amount of thrill in this movie makes it one of the best treasure-hunting movies of all time.
2. Indiana Jones and the Raiders of the Lost Ark (1981)
IMDB – 8.4 
While all four of his films involve some form of treasure hunting, the original is unsurpassed. Harrison Ford's Indiana Jones goes on the hunt for the fabled Ark of the Covenant in Raiders of the Lost Ark (which is technically the character's second adventure, as Raiders is placed after the events of the Temple of Doom).
All he needs to do now is acquire a staff, use it to locate a hidden chamber full of snakes, and take the Ark before an army of Nazis arrives.
3. Raiders Of The Lost Ark (1981) 
IMDB – 8.4
It's difficult to imagine treasure hunting without thinking of Indiana Jones and his distinctive fedora. He wasn't the first hero to hunt out long-lost fortunes, but it's difficult to think of one who did it better.
Indiana Jones' first quest is still his favorite, as he partners up with an old flame (Karen Allen) to find the biblical Ark of the Covenant before the Nazis can use it to unleash its terrifying power. Steven Spielberg presents a nostalgic adventure full of thrills, humor, and joy, starring Harrison Ford as a legendary hero.
4. Pirates of the Caribbean: The Curse of the Black Pearl (2003)
IMDB – 8.0
Pirate movies had been out of favor for a long time before this swashbuckling Disney adventure proved that the genre could still be entertaining. Captain Jack Sparrow, played by Johnny Depp, is an eccentric pirate who wants to reclaim command of his former ship, whose crew has been cursed by a forbidden treasure.
The action is spectacular, and the tale is engaging. However, Depp's unhinged acting adds so much humor and excitement to the journey that he is the main reason the film works so well. It is undoubtedly one of the best treasure-hunting movies of all time.
5. The Goonies
IMDB – 7.8
The thought of discovering buried treasure is something that almost every child has fantasized about at some point in their lives. With this iconic family-friendly story, The Goonies delivers that young sense of adventure to the big screen.
The plot revolves around a gang of misfit youngsters who discover a map leading to an ancient pirate's treasure and set out to collect it. The film is a lighthearted, hilarious, and uplifting tale of friendship wrapped around a treasure hunt. Making it one of the best treasure-hunting movies of all time.
6. Three Kings (1999)
IMDB – 7.1
Three Kings offers a more modern approach to the treasure hunt plot, making for an interesting and distinct film. A small group of troops creates a scheme to steal gold from one of Saddam Hussein's bunkers in David O. 
Russell's war film is set towards the end of the Gulf War. George Clooney, Mark Wahlberg, and Ice Cube make excellent leads, and the film successfully balances a variety of tones. You'll be enthralled by the action, amused by the humor, and engaged by the drama all at the same time.
7. The Mummy (1999)
IMDB – 7.1
The Mummy is a thrilling, suspenseful, and frightening epic set in the Sahara Desert in 1925. Treasure hunter Rick O'Connell (Brendan Fraser), Egyptologist Evelyn Carnahan (Rachel Weisz), and her clumsy brother Jonathan Carnahan (John Hannah) unwittingly awaken a 3,000-year-old mummy, Imhotep, when they stumble across an ancient tomb (Arnold Vosloo). 
They'll have to work together to rouse Imhotep up, murder him with the Book of Amun-Ra, and find a camel to flee Hamunaptra before it sinks into the sands, preferably with a treasure in tow.
8. National Treasure (2004)
IMDB – 6.9
In this modern Indiana Jones-style adventure, Nicolas Cage plays a historian on the hunt for a treasure that was concealed during the early days of America's formation. To find the map hidden on the back of the Declaration of Independence, he must fight mercenaries and officials. 
The film is an entertaining blend of American history and a terrific action adventure. Sean Bean, Jon Voight, and Christopher Plummer are among the impressive cast members.
9. Inferno (2016)
IMDB – 6.2 
This is the third installment of Tom Hanks' (Robert Langdon) adventures in uncovering ancient riddles while being pursued by those who wish to protect him. 
If you're a National Treasure enthusiast, however, you've probably already seen the first and second films. Langdon is attempting to reclaim his memories after waking up in an Italian hospital, all while preventing a villain from spreading a virus across Europe.
10. Fools Gold (2008)
IMDB – 5.7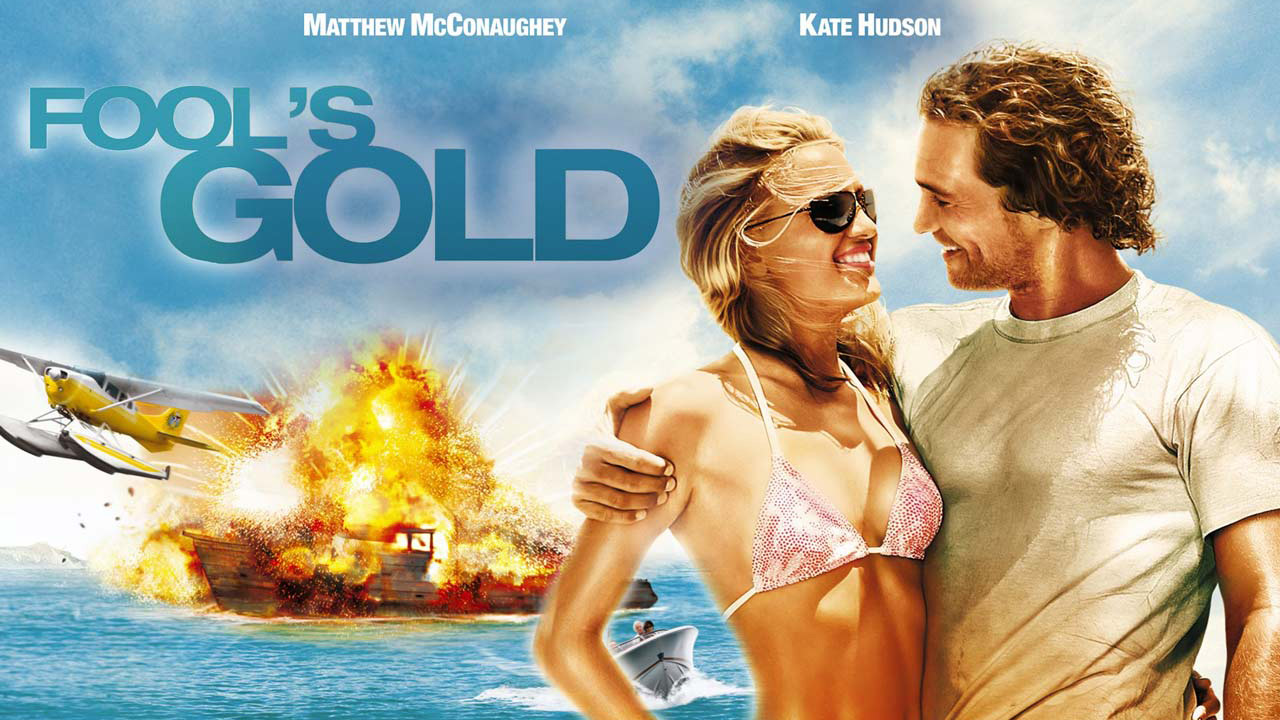 This film is the ideal blend of romance and adventure. Finn and Tess, played by Matthew McConaughey and Kate Hudson, are a married couple who are having problems because Finn has spent all of his energy, time, and money seeking the Queen's Dowry. 
However, he discovers a hint to the location of the treasure, which he believes is the final key, and he drags Tess and her boss along with him. There's drama, adventure, and cherry on top, the movie has a happy ending. 
It was hard to choose the best as there is a plethora of great treasure-hunting movies out there. If you like treasure hunting you should definitely watch one of these movies. We hope you enjoyed this article. Some of the best treasure-hunting movies of all time are mentioned above. Please let us know about your favorite treasure-hunting movie of all time.
Also Checkout: 9 Good Movies With Underrated Music Albums