There are several of these waterfalls in Goa in the state, hidden away in the verdant Western Ghats, that would revitalize any tired soul. Even though Goa has a plethora of gorgeous spots where you can enjoy the best of nature, this selection of waterfalls will let you relax and unwind amid the peaceful atmosphere! It is home to the milky Dudhsagar Waterfalls, the beautiful Tambadi Surla Waterfalls, the silvery Hivre Waterfalls, and many more tourist attractions. All of these waterfalls provide the ideal setting for a calm and rejuvenating holiday.
Here is a compiled list of some of the best waterfalls in Goa to add in your Goa Itinerary
1. Tambdi Surla Falls
Location – C7C8+QF5, Surla, Goa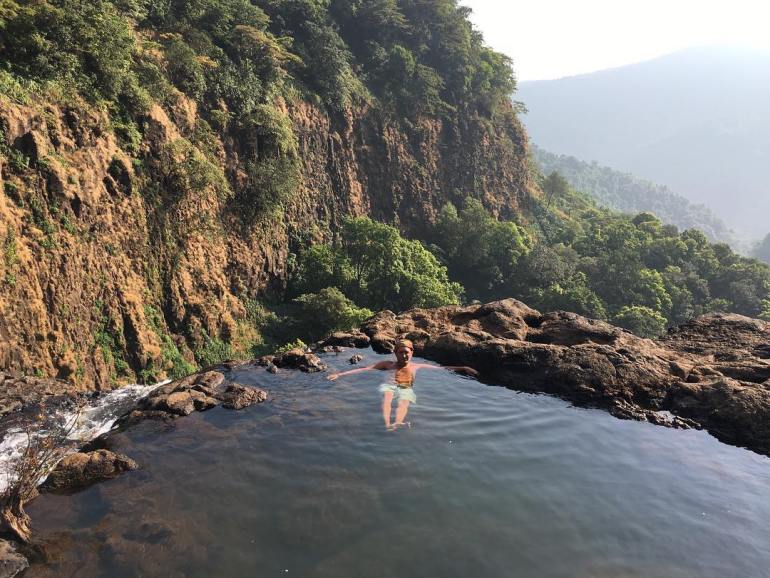 Tambdi Surla Falls is a fantastic spot for nature enthusiasts because it is absolutely breathtaking and pure. The hike to the waterfall is not only beautiful, but it is also a worthwhile experience. 
You may expect to encounter a lot of wildlife because the cascade is located within Bhagwan Mahavir Wildlife Sanctuary and Mollem National Park, which is one of the best places to visit in South Goa. Remember to bring your camera because you won't want to miss capturing the sight of colorful birds along the road.
2. Hivre Waterfalls
Location – J4WX+HQ6, Ivrem-Buzruco, Goa 
As one of Valpoi Goa's most popular waterfalls. Hivre Waterfalls are popular with not just nature enthusiasts and tourists, but also hard-core hikers. It is frequently visited by both locals and tourists, and it is particularly crowded on weekends. It is without a doubt Goa's best waterfall. It is one of the nicest spots to visit in Goa during the summer. 
Hivre Falls is 14 kilometers from Valpoi City and may be reached by passing through Thane village. Advanced level trekking is one of the coolest things to do at Hivre Waterfalls. Trekking. The Valpoi region has a lot of homestays. Cajueiro Homestead is one of the top homestays in the area.
3. Arvalem Falls
Location – H22G+CMJ, Rudreshwar Colony, Sanquelim, Goa
Are you under the impression that North Goa is all about beaches and parties? Think again, for this portion of the state, like the rest of the state, is home to some incredible natural beauties, the most renowned of which being Arvalem Waterfalls. You can explore the Arvalem rock-cut caves while hiking to the falls, which are thought to have been sculpted by Buddhist monks in the 12th century. 
According to local tradition, the Pandavas used this cave as a refuge during their exile from Indraprastha. Because of the waterfalls' popularity, the Goa government built a park nearby that provides good views of the cascading water. Then there's a nearby ancient bridge where you may take shots.
4. Dudhsagar Falls
Location – Sonaulim, Goa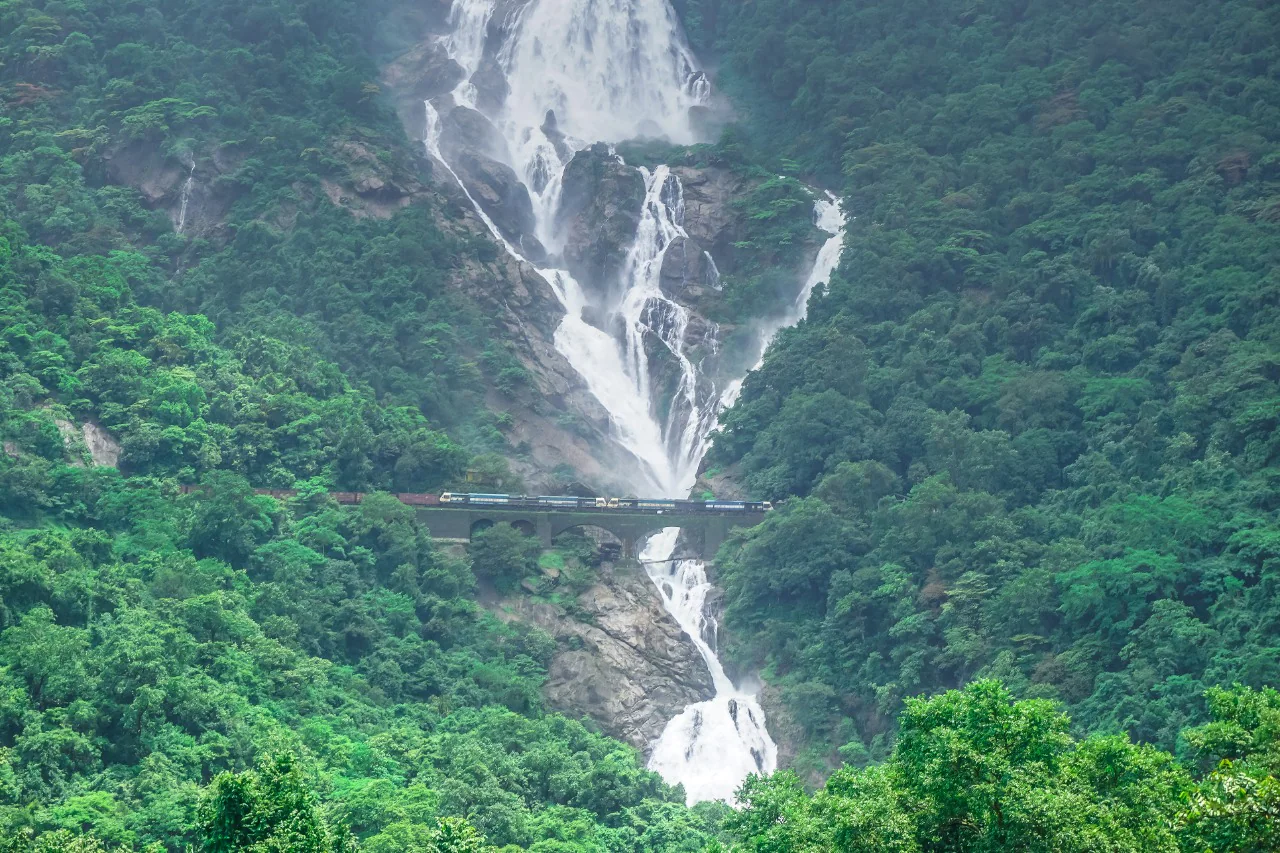 Dudhsagar Falls, which originates from the Mandovi River, is unquestionably one of India's most stunning waterfalls. This spectacular four-tier waterfall, which plunges from a height of 130 meters right along the Goa-Karnataka border, captivates visitors with the beauty of its foamy and milky water, pouring sound, and surrounding flora.
If you are traveling by train, get out in Kulem, which is 8 kilometers from Dudhsagar Falls. Kulem has a bike rental service. To get to the waterfall, take the route off of NH 4A in Kulem. Overnight camping in the surrounding forest is one of the things to do at Dudhsagar Waterfalls.
5. Netravali Waterfalls
Location – Netravali Taluka, South Goa
Netravali Falls is a great place to visit with your spouse or lover because it is surrounded by nothing but relaxing solitude and limitless greenery. The scenic hike to the waterfall will give you plenty of opportunities for quiet talk, while the cascade's plunge pool will provide you with infinite opportunities for fun. You could sit on the ledges for hours, just gazing out at the scenery and conversing.
6. Bamanbudo Falls
Location – MDR34, Gaodongrem, Goa
Bamanbudo is another lovely waterfall in North Goa, set against the backdrop of Ambe ghat. There is no need to trek to reach Bamanbudo, one of the lesser-known waterfalls in south Goa, because it is just on the road. So, while you're in Goa, make sure to pay a visit to one of the most tranquil waterfalls in India!
The Bamanbudo Waterfalls are accessible via the Canacona-Naturlim Road.
At the Bamanbudo Waterfalls, there are a variety of things to do and alluring Bird viewing and taking in the tranquility of the setting.
7. Kesarval Falls
Location – 9WJH+WGF, Quelossim, Goa
Kesarval Falls should be on your list of places to visit in Goa in one day if you're in Panaji. The waterfalls are named after the word 'Kesarval,' which is derived from the native word for eagles; it is said that eagles built their nests on the nearby cliffs in the past. The diminutive size of the waterfall does not detract from its attractiveness with tourists, as its waters are reputed to have healing benefits.
Conclusion
Once you step out to these beautiful waterfalls in Goa, you know that Goa surely has more to offer than just beaches. So , these were the 7 best waterfalls in Goa to add in your Goa Itinerary. Which among the above mentioned waterfalls is your favorite if you have already visited. Let us know in the comment section.
Also Checkout: Looking For A Free Stay For your Travel? Check out these Hostels Offering Free Stay

Source: Buzzpedia