As per WHO, every year, around 8,00,000 people commits suicide around the globe. This alarming figure makes World Suicide Prevention Day sound as a mockery. And as per NCRB, In 2019, 1.39 lakhs people died of suicide alone in India.
In 2016, India had the most number of suicides in the entire SouthEast Asia region, and this pandemic period is expected to overtake that. The huge number of job losses, no sources of income, a state of helplessness, lack of work, the plight of farmers and small businessmen due to lockdown, and deteriorating mental state of teens and students due to various reasons are the visible causes.
As per data of NCRB, 10,159 students died of suicide in 2018 an increase from 9,905 in 2017 and there was further a spike of 3.4% in 2019. The number of suicide cases among teens is alarming. Wasn't the teenager supposed to be cheerful and full of curiosity and ambitions? But then, who is to be blamed for them? Of course, mental health has a role to play in this, but alone mental health cannot be blamed, neglecting the other important factors say societal pressures, expectations of family, fear of failure, bullying, sexual abuse, poor policy management, etc. and then the effect of these causes is deteriorating mental state.
In Tamil Nadu, a girl died by suicide a day before her NEET exam, leaving an elaborative note for her family saying, "To everyone, it is not your fault… You all had a lot of expectations from me, If I don't secure a medical seat all your hard work will go in vain. I am sorry. I am tired."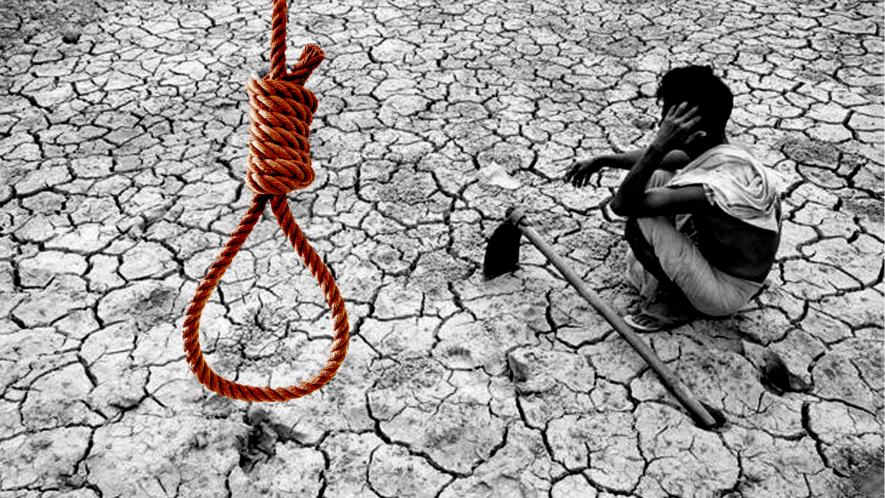 In the Bundelkhand region of Uttar Pradesh, a 65-year-old farmer died by suicide due to crop failure because of drought in the area and mounting debts. In a conversation, his son told that "His father died by suicide in July last year hanging himself from a tree. He had taken a loan of Rs. 70,000 a few years back for farming from a bank. Drought led to crop failure, but his debt kept increasing, and bank notice for repayment of the loan with interest had done enough to his suffering. Left with no other option he decided to end his life."
This is the case of the pre lockdown period, the pandemic and lockdown have just worsened the plight of farmers.
Shankar Darekar, a 47-year-old farmer, from Maharashtra, who is involved in grape cultivation says, "The hurried lockdown from 24th March was a cruel joke with farmers. For saving our tonnes of production from getting rotted, we farmers tried to contact the government to allow the transport of our produce, but to our dismay, our appeals fell on deaf ears. Later on, I had to sell a quintal of grapes at abysmally lower rates. Usually, by June- July I start repaying my loans but this time there is no money left. I have a family of 7 to feed, daily reports of farmers suicide fill my mind, but I avoid that thought thinking of my family" as told to Aaqib Athar.
There are a number of farmers, daily wagers, small businessmen, workers who are going through the same situation at this time, and for them alone mental state can't be blamed, these worries aren't baseless, they aren't the victims of overthinking. These people have got a family to feed, children to nurture and educate, although these factors have a huge impact on mental health. Perhaps, right conversation on mental issues and psychiatric guidance can be helpful for those dealing with mental issues or depression but for this section dealing with financial stress, it requires more government intervention along with moral support.
As per GOQii, a preventive healthcare ecosystem, In India almost 43% people are dealing with some kind of depression, especially after Covid-19, among them, 6% were severely depressed, but can be brought back to normal life through conversations, guidance from therapists, prescriptions, moral support from family and friends and by preventing the stigmatization around mental illness.
It brings us to the fact that those innumerable suicides that happen daily can also be prevented through the collective efforts of family and community. Maybe those teens could be saved with the right guidance, help, and support from family and friends, instead of mounting fear of failure upon them. Instead of expecting something we could have listened to what they meant when they said, "life is meaningless" or "there's no point in living". If someone could have explained to them that, 'it is okay, to not be okay.'
As Dr. Siri Kamath, Consultant Physician states, "The capability and worthiness of a child are judged solely on the basis of academic achievement and society, in general, is not open-minded enough to respect non-scholastic achievements. Such highly polarized judgemental opinions within the family can lead to dejection and the situation may appear to be insurmountable for children, causing them to take the extreme step of suicide."
But as discussed earlier, mental health is not solely responsible for suicides, it also includes other external factors too. At such pandemonium times, where already so much loss of life had occurred, we can't afford any more of this to the hands of suicide, but on a practical note, conversations can enlighten the minds, but can't feed the poor, the farmers, daily wagers and others and for them, along with moral support it requires proper policy framework for providing economic support and financial assistance to those in distress.
If we have a look at demands of ongoing protest of farmers in Haryana against Agri bills passed by the Modi government it clearly includes- rolling back of the passed bills, loans should be cleared, a law should be made for MSP to be at least 50% more than the weighted average cost of production and if the MSP isn't paid, it should be a punishable crime, etc. Their demand shows both their plight as well as their will to fight for themselves.
The way forward-
It requires support from the community and timely government intervention to restrain suicidal thoughts and the government should stop turning a blind eye towards this section of society. Instead of motioning the economy towards capitalism, this section is expecting the government to extend the time period for loan repayment, with some interests waiver off schemes, funding for SMEs, fixing of MSP, etc. not only on papers but also to be executed on the ground level.
To combat suicide it's important to account for all these causes and measures and providing moral support seems to be a better option than lighting candles in grief.
Also Checkout: The refreshing lemon has much more to offer