For the past few days, farmers from the states of Punjab, Haryana and Uttar Pradesh are on the streets in protest against the three draconian farm bills introduced by the Central Government. As a result of which the farmers' livelihood now tends to depend only on big private companies.
While this 'Dilli Chalo' protest-cum-procession by various farmers' organisations is on, there has been a spate of visuals doing the rounds on social media in which it is clearly observed that what hardships farmers have been facing to enter the national capital just to make their demands met. In this chilly onset of winter, water cannons are being rained on the farmers, tear gas has been lodged, along with the police brutality. 
But the farmers aren't budging at all and supporting them in various forms are the commonmen of our country. Not just them, but some celebrities too are extending their support through the digital screens. 
Let's see who they are and what they have tweeted in support.
Diljit Dosanjh
Diljit has been consistently tweeting in support of farmers since the very beginning of the protest, and recently his active support on Twitter turned out to be little heated when actress Kangana Ranaut had called out an aged 'Dadi' for being available for Rs. 100 in protests. In return, Diljit gave her befitting replies one after the other in Punjabi. Many are seen saying "Diljit ne to Dil Jeet Liya"!
Rab Da Roop 🙏🏾🙏🏾#farmerProtest #standwithfarmerschallange pic.twitter.com/kaEcZlFHVk

— DILJIT DOSANJH (@diljitdosanjh) December 4, 2020
Koi Gal Ban Rahi aa Teri…

Sanu Pata Tu Politics Join Karni an.. Par Ser Pair tan Hove Kisey Gal Da Yaar..

Gal Sirf Kisaan Di Ho Rahi aa .. Te Ju Tu Bhaunki an Sadian Maava Lai Oh Ho Rahi aa.. Bhajj Na Hun

Te Jehdi Film di gal Tu jod rahi an onu National award Mileya aa.. https://t.co/yX3eFfQV3s

— DILJIT DOSANJH (@diljitdosanjh) December 3, 2020
Ah Tainu Khoob Kharabe Wale Lagde ne..?

Har gal Te Khoob Kharaba.. Chauni ki an Tu ?

Eh Sadey Lai RABB DA ROOP NE🙏🏾

Tainu Bolan Di Tameez Ni Sikahi Kisey Ne

Punjabi Dasan Ge Tainu Kidan Boli da Apne Ton Vadeya Naal.. https://t.co/RCqerefEFf pic.twitter.com/dMe4Xi2H52

— DILJIT DOSANJH (@diljitdosanjh) December 3, 2020
Eh Terrorists Lagde Ne Tuanu ?

National Media Waleyo Akal nu Hath Maro Kush Bolan Ton Phelan..#farmerprotest #Standwithfarmerschallenge pic.twitter.com/1eCcymzuPM

— DILJIT DOSANJH (@diljitdosanjh) December 2, 2020
The Great Khali
WWE Indian wrestler Khali also joined the farmers' agitation at Tikri border, chanting slogans with them in support, video of which was later uploaded through his own Instagram handle.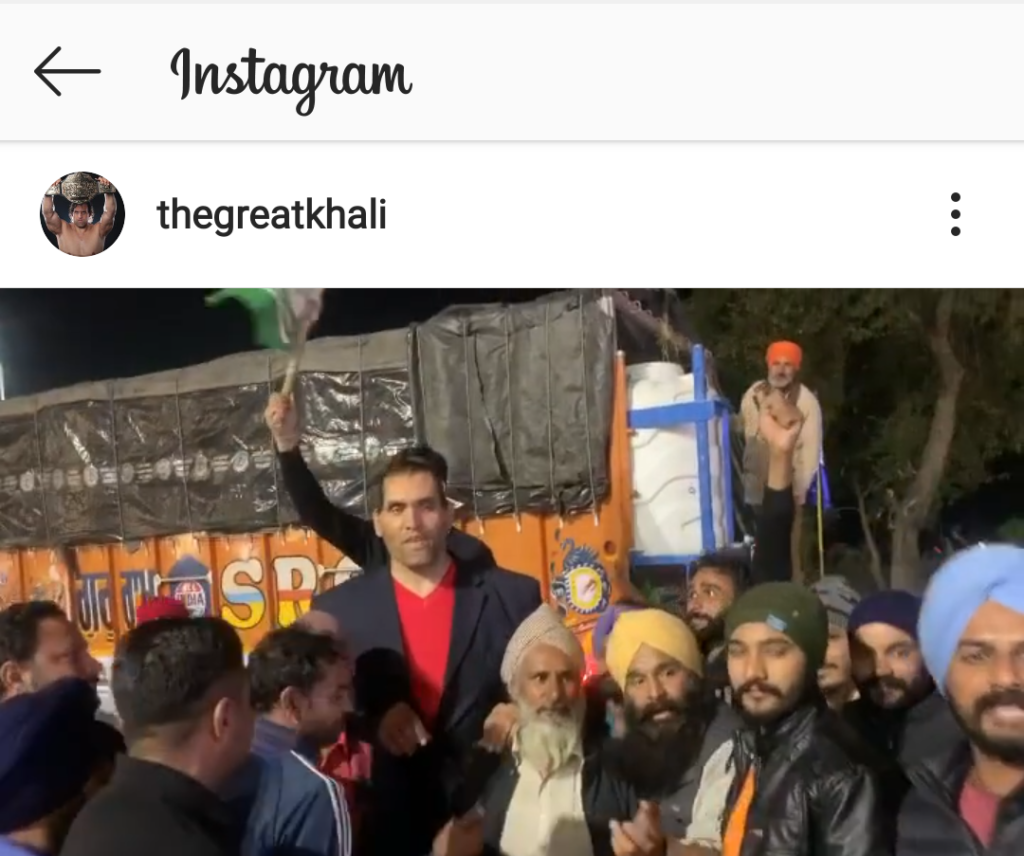 Gurdas Maan
Famous Punjabi singer Gurdas Maan extended his support to the protesting farmers by uploading a picture of himself in which he is seen in Kisaan avatar readying to harvest the crops. His tweet read, "Kisaan Hai, teh Hindustan Hai". (India exists only because of its farmers)
Sahi Kaha Paaji!!
Kisaan hai, teh Hindustaan hai 🙏🏽 Sarbat Da bhala hovey pic.twitter.com/EzJ4IINGmq

— Gurdas Maan (@gurdasmaan) September 19, 2020
Kapil Sharma
Actor-comedian Kapil Sharma, with his tweet, reiterated to show some mercy on protesting farmers and wrote that the protest should not be tarred with any political colour, instead the government should try to negotiate with them because no issue exist that can't be resolved with a discussion."
किसानो के मुद्दे को राजनीतिक रंग ना देते हुए बातचीत से इस मसले का हल निकालना चाहिए।कोई भी मुद्दा इतना बड़ा नहीं होता के बातचीत से उसका हल ना निकले।हम सब देशवासी किसान भाइयों के साथ हैं। यह हमारे अन्नदाता हैं।#farmers

— Kapil Sharma (@KapilSharmaK9) November 29, 2020
भाई साहब मैं तो अपना काम कर ही रहा हूँ, कृपया आप भी करें, देशभक्त लिखने से कोई देशभक्त नहीं हो जाता, काम करें और देश की तरक़्क़ी में योगदान दें 🙏 50 rs का रीचार्ज करवा के फ़ालतू का ज्ञान ना बांटे। धन्यवाद #JaiJawanJaiKissan https://t.co/EIyByD9cHJ

— Kapil Sharma (@KapilSharmaK9) November 29, 2020
Swara Bhaskar
Earlier this week, Swara tweeted a video showing farmers being rained upon with water cannons mercilessly while trying to make their way into Delhi. She expressed her grief over the brutality.
What is this?????? What kind of cruelty are we unleashing on the people who grow our food?!?! Horrendous!!!! #FarmersProtest https://t.co/7UV8TA0m0s

— Swara Bhasker (@ReallySwara) December 2, 2020
Taapsee Pannu
Taapsee hit out in the most sarcastic way, saying let's "Boycott Food".
Chalo now let's not waste time and quickly #BoycottFood come on twitter you can do it 💪🏼 https://t.co/vXaVsTjdMq

— taapsee pannu (@taapsee) November 27, 2020
Harbhajan Singh
Former Indian spinner requested the state machinery to not use forces to crack down upon the suffering farmers, rather listen to their demands patiently.
किसान हमारा अन्नदाता है । हम को अन्नदाता को थोड़ा समय देना चाहिए । क्या यह वाजिब नहीं होगा. बिना पुलिस भिड़ंत के क्या हम उनकी बात नहीं सुन सकते. कृपया किसान की भी सुनिए 🙏 जय हिंद 🙏🙏

— Harbhajan Turbanator (@harbhajan_singh) November 27, 2020
Navjot Singh Sidhu
Former cricketer and current politician, Sidhu gave a shout out to the Centre to listen to the farmers respectfully as their actions against the laws are very appropriate and also democratic.
Triumph of the Punjabi Spirit…
Kisan Morcha is Democratic, Pristine and Non-violent… Any Attempts by agencies to foil it – Will fail… Punjabiyat is our shield, Universal Brotherhood our philosophy and driving force! pic.twitter.com/zxey0T9SoU

— Navjot Singh Sidhu (@sherryontopp) November 30, 2020
Gul Panag
She has put a question to ponder upon, in which it is asked if farmers deserve to be heard by the authorities. She also didn't hesitate to state that any protest against a unfavorable law is in itself political and that upholds the democratic right.
Of course the #FarmerProtest is political! How else, does a section of aggrieved people put their point across in a democracy ? Protests against any legislation, are inherently political.
Don't they deserve a hearing from the political leadership of the country?

— Gul Panag (@GulPanag) November 28, 2020
Ammy Virk
Punjabi actor-singer Ammy Virk has been regularly keeping his followers updated with information about the protests happening in the US in view of what's happening back in India, and also reminding them to not forget the ones who provide us daily with food.
Je tuc saanu pyaar krde o , kisaaana nu pyaaar krde o, insaaniyat nu pyaar krde o… taan plz do support farmers… tuhada ikk ikk share v keemti a… ikk ikk tweet retweet… plz do dat… use hashtags#FarmersProtestChallenge #FarmersProtests #FarmersDelhiProtest

— Ammy Virk (@AmmyVirk) November 29, 2020
Usa waaleyo ❤️ https://t.co/vXDN3x0ZJ8

— Ammy Virk (@AmmyVirk) December 3, 2020
Angad Bedi
Angad Bedi retweeted a very heart-touching quote shared by his father, which says, "We will need farmers every day, three times a day". Nothing could be more encouraging than this in sharing solidarity with the protesters.
Aa kitti gal!! Thank you pitaji @BishanBedi @diljitdosanjh Dosanjhwala do read. https://t.co/ynsfaEmTPt

— ANGAD BEDI (@Imangadbedi) December 3, 2020
Sonu Sood
We have already seen much of Sonu Sood's altruism during lockdown but there is more he has to offer from his end, this time simple and straight in just a line.
किसान है हिंदुस्तान।

— sonu sood (@SonuSood) December 3, 2020
Jazzy B
Jazzy B has been strongly supporting and asking other to support the cause of farmers fighting for their rights through tweets.
Sarey janey support karo ji 🙏🏽 #supportfarmer #supportfarmerprotest #supportfarmerschallenge pic.twitter.com/lxYdfBnTjm

— Jazzy B (@jazzyb) December 1, 2020
Please saria nu benti ah Ji sarey kehal rakheo 🙏🏽 government is trying everything to disturb this peaceful protest🙏🏽 #supportfarmers #supportfarmerprotest pic.twitter.com/JTG6Z3SOQ8

— Jazzy B (@jazzyb) December 2, 2020
Gippy Grewal
Singer Gippy Grewal posted a strong picture in his tweet indicating that no matter how much cruelty they show, Sikhs will always serve them unconditionally in need, with "Support Farmers" hashtag.
WaheGuru 🙏#StandWithFarmers #IamWithFarmers #FarmerProtest2020 #FarmersProtest #standwithfarmerschallenge pic.twitter.com/8qSNZQY7PA

— Gippy Grewal (@GippyGrewal) December 3, 2020
Himanshi Khurana
Singer Himanshi Khurana mocked at the government for allegedly using Kangana as its pawn to keep throwing distractions when any serious issue arises in front, signalling the ongoing farmers protest. She ended with "Kisaan Mazdoor Ekta Zindabad".
Pta nahi aisa kyu lag raha ….. jab farmers ka pressure government par bdta hai .. tabhi distraction ke lie kangna ko bhej dete hai taki sab main focus kho den … ye woh pyada hai jo us waqt use hota jab kisi topic se logo ka dhyaan htana ho #KisaanmazdoorEktaZindabaad

— Himanshi khurana (@realhimanshi) December 3, 2020
After a lot celebs from Punjab had come in support of farmers, now some famous celebs from even Bollywood have started giving strength to the dissenting farmers through their tweets.
16. Riteish Deshmukh
The actor left a tweet earlier this week filled with gratitude for the contributions made by farmers towards the nation.
If you eat today, thank a farmer.

I stand in solidarity with every farmer in our country. #JaiKisaan

— Riteish Deshmukh (@Riteishd) December 5, 2020
17.  Priyanka Chopra
PC has honored the Indian farmers by entitling them as 'Food Soldiers' of the country, and put her point demanding the issue to be resolved soon.
Our farmers are India's Food Soldiers. Their fears need to be allayed. Their hopes need to be met. As a thriving democracy, we must ensure that this crises is resolved sooner than later. https://t.co/PDOD0AIeFv

— PRIYANKA (@priyankachopra) December 6, 2020
18.  Urvashi Rautela
Former Miss Universe and Bollywood actress wrote a heartfelt note on her Instagram story handle in support to the farmers, in which she mentioned that she revered them as her God. See below;
Starting with the words with words like 'No farmers no food' and 'respect farmers', She wrote, "Without farmers, we wouldn't have access to food and other basic necessities. Take a moment to really appreciate this profession and all the hard work and dedication the farm life requires"

"Farmers are the backbone of our nation. They need our respect not Sympathy and we shall give it," she added.
19. Richa Chadda 
She asked us to rethink on why prices of vegetables are constantly souring when we go out to buy them next time, because this isn't only a farmer issue but everything is connected to India's agrarian economy.
Next time you shop for vegetables, (which u will soon irrespective of where u live or how much meat/fish u eat), don't wonder why the prices for vegetables are constantly rising. India is still an agrarian economy. It's not just a 'farmer's issue'. Everything is connected. https://t.co/8CAF9xcsIs

— RichaChadha (@RichaChadha) November 27, 2020
20. Preity Zinta
The actress wrote in her tweet that her heart went out to the farmers' families protesting in this bone-chilling winter, and she is still hopeful that some resolution would come out soon.
My heart goes out 2the farmers & their families protesting in the cold in this pandemic.They are the soldiers of the soil that keep our country going.I sincerely hope the talks between the farmers & govt yield positive results soon & all is resolved. #Farmerprotests #Rabrakha 🙏 pic.twitter.com/b7eW8p8N3P

— Preity G Zinta (@realpreityzinta) December 6, 2020
21. Sonam Kapoor
The actress shared a quote by Daniel Webster, saying that the farmers are the founders of human civilisation.
"When tillage begins, other arts follow. The farmers, therefore, are the founders of human civilization." Daniel Webster 🇮🇳 https://t.co/26mfnHGZki

— Sonam K Ahuja (@sonamakapoor) December 6, 2020
22. Gauhar Khan
She was seen in her tweet requesting the government to listen to farmers' issues as "No farmers = Barren land", she said.
No farmers = Barren land ! Our land is a Blessed one , so should be OUR Farmers' lives !!!! Requesting the government to understand their issues and favour them ! 🙏🏻💛

— Gauahar Khan (@GAUAHAR_KHAN) December 6, 2020
Above are the celebrities who had enough spine to speak out at least via social media, while the top Bollywood star brigade still seems to be in hibernation. We hope that others also join hands in support towards farmers, in whichever way possible to them, and the farmers get their justice soon.
Also Read: 10 Best Pakistani Dramas to watch in 2022

Also Read: Set Of 25 Mini-Reviews

For more, like us on Facebook or follow us on Twitter, Instagram  and Telegram