While online casinos may offer an extensive selection of card games, most players tend to focus on the three most popular options. Blackjack, poker and baccarat prevail at the digital tables, but which holds the most appeal? Each title works a little differently and, while some players take in a mix of all three, they will often settle on a single choice.
Blackjack Battle
All card games mix an element of chance with strategy, and blackjack is no exception. The objective here is to hit a score of 21, or get as close as possible, without going over and 'busting'. The player needs to beat the dealer's score in the process, as a tie is not enough to scoop the pot.
Blackjack is the most popular card game amongst the top gambling franchises online owing to the sheer number of variants available. For example, if you were to play casino blackjack at Betfair, you would be able to choose from the likes of Buster Blackjack, Blackjack Original w/Side Bets and Vegas Blackjack.
However, this is merely the tip of the iceberg. As technology has advanced in recent years, platforms like Betfair have sought to create a more immersive experience for those playing table games at home. This is why there's also a significant number of 'live' titles, which allow players to engage in the games they love, like blackjack, in a setting that features real-time croupiers and even forums (to engage with other players at the table).
It's perhaps no surprise that this vast range of blackjack variations appeals to such a wide demographic. Old-school players may opt for the traditional gameplay, whilst others may prefer the interactive element of live games. Not only this, but blackjack's basic gameplay has two clear advantages over poker and other card games. Firstly, the play is much faster between hands and secondly, there are no additional opponents to master. It all comes down to a straight battle between the player and the dealer.
Poker Face
Poker also has a strong following, and many casinos give up a separate area of their website for this game. Depending on the variant that is played, the rules can be far more complex than blackjack, and this may be seen as a disadvantage.
This complexity can, however, mean that poker involves more strategic elements, and that will certainly suit many players. Texas Hold'em is the most popular version, and each hand involves additional rounds of dealing before the results are revealed.
For those with less time on their hands, there are faster-paced poker games where hands are completed more quickly. Many titles also involve that one-on-one clash against the dealer, with all additional opponents stripped away.
A Case for Baccarat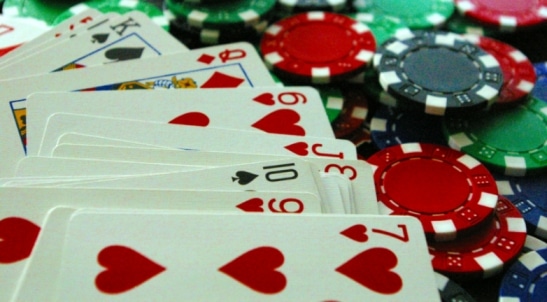 Baccarat can be a quirky game where cards are dealt from a device known as a 'shoe'. It's popular in live casino rooms, but it can also be played with traditional, automated software. As Byjus explores in their article, mathematical probability is key in an unusual scoring method.
This game allows players to bet on their own hand, or that of a dealer. There is a third option to bet on the tie, but this carries greater odds. The scoring system means that there is less strategy involved, but, when we take out the tie, the winner is closer to a 50/50 call than with the majority of other games.
With all card games, it's vital to understand their unique rules and scoring systems before taking to the tables. Many operators will allow players to take on free demo versions before they stake for real, and this can be a wise option.
There are other choices but, for many, it all comes down to the 'big three'. Each has its own advantages and disadvantages, and it's a case of trying them all out to find a good fit.