Coronavirus cases in India at 10,40,746 and death toll hits 26,291
Coronavirus cases and deaths are exploding and setting daily records. India has reported over 34,884 Covid-19 cases in the last 24 hours, taking the total number of coronavirus cases to 1,040,746. With over 671 deaths on Friday. The death toll has now risen to 26,291. With flow in Covid-19 cases in Bihar, West Bengal, Assam and Odisha, the Union Minister has asked these states to make renewed efforts to hold back transmission of the virus and keep case fatality rate below one per cent. This is the third consecutive day when the number of COVID-19 cases increased by more than 30,000. Also, 62.94 per cent of patients have recovered so far.
Coronavirus world update: 14,17 9,014 people around the world have been diagnosed with COVID-19 while more than 8,441, 846 have recovered, 598,508 have died, according to worldometre. Country-wise, the United States recorded over 74,000 cases in a day. It now has 3,769,276 coronavirus cases and 142,035 deaths.  Brazil has 2,048,697 cases, deaths 77,932.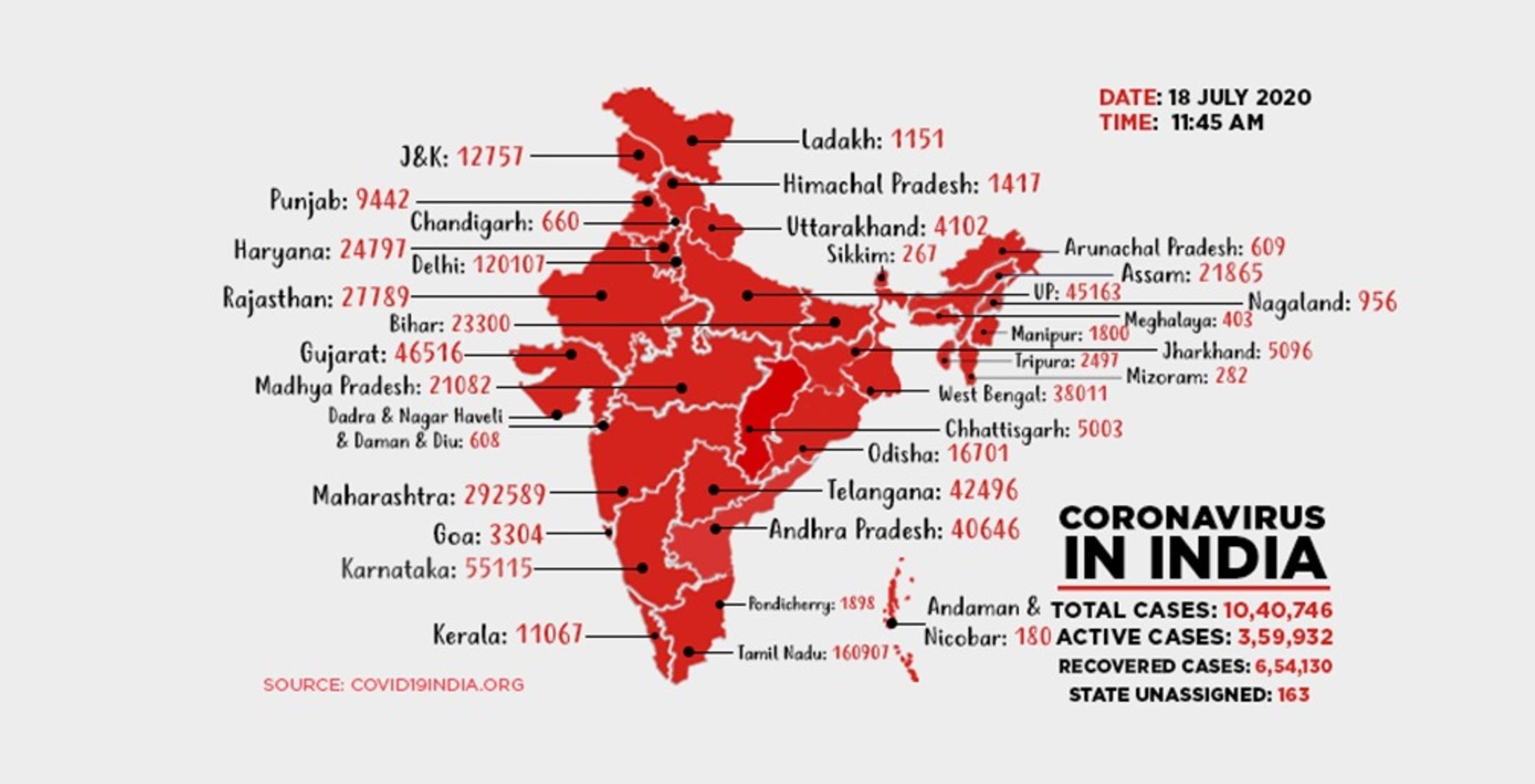 Global coronavirus infections passed 14 million on Friday, according to a Reuter's Tally, marking the first time there has been a Surge of 1 million cases in under 100 hours. The first case was reported in China in early January and it took three months to reach 1 million cases. It has taken just four days to rise to 14 million cases from 13 million recorded on July 13.
Despite the surging cases, a cultural divide is rising in the country over wearing masks to slow the spread of the virus, a precaution routinely taken in many other countries. Other side nations have "flattened the curve" and are easing lockdowns put in place to slow the spread of the coronavirus.
The number of cases globally is around triple that of serious influenza illnesses recorded annually, according to the World Health Organization.
[zombify_post]