The COVID-19 pandemic isn't stopping anytime soon and the death toll continues to rise and a vaccine which is accessible to everyone is nowhere in sight. Along with the loss of human resources, the unemployment rate is also skyrocketing and has reached an all-time high.
As unemployment rates reached a shocking 23.5% in May, India's hasty lockdown has done more harm than benefit the citizens. Both production and consumption have been hit hard, the current trends don't indicate much improvement and recovery may be a long and tiring process.
According to the data released by the Centre for Monitoring Indian Economy (CMIE), 18 million people lost their jobs after the Covid-19 pandemic compelled corporations and companies to shut down in India in April. And almost 5 million salaried people in India lost their jobs in July alone.
The countrywide unemployment rate climbed from 8.67% in the week till August 9 to 9.1% in the week which ended August 16.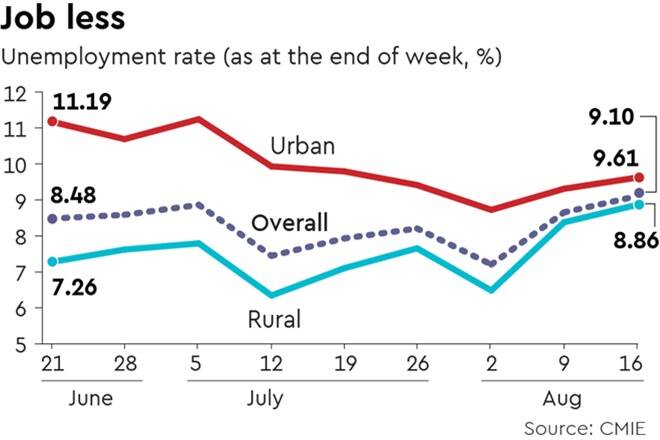 The rural unemployment rate climbed from 8.37% in the week ended 9 August to 8.86% in the week to 16 August. Similarly, the urban unemployment rate was recorded at 9.61% in the same week as compared to 9.31% in the preceding week. Urban unemployment crept up for the second consecutive week, and professionals stated it'll preserve to stay that way for a short term.
As many as forty-one lakh young people in India lost jobs because of the COVID-19 pandemic even as creation and farm zone employees account for almost all of task losses, in keeping with a joint-record by the International Labour Organization (ILO) and the Asian Development Bank (ADB).
Many economists have raised concerns about the current unemployment rate and the consequences it will have on our country's economy as well as people working as low wage workers.
Also, Checkout: Mee Raqsam: An Ode That Dances Its Way To The Viewer's Heart