Today, October 15 is celebrated as Global Handwashing Day, a day which needs to be celebrated everyday! The day is associated with international promotion campaigns associated with motivating people to improve their handwashing habits. "Our hands, our future". The day is all about creating awareness about washing hands through innovative ways. It is an annual advocacy day serving an affordable way to prevent infections.
The 2020 Global Handwashing Theme is "Hand Hygiene for all". The theme throws light on the fact that a global initiative is taken in order to motivate handwashing universally for a healthy lifestyle and future.
Why is it celebrated?
It is a gentle reminder that hands need to be washed with soap so that the germs and other bacteria are removed to resist infection as well as transmission. During this pandemic, I don't think any of you might have to be reminded of this? People frequently touch their eyes, nose and mouth with their hands which serves as an entrance of germs inside.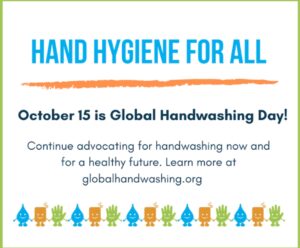 3 Aims of Global Handwashing Day:-
1) Supporting the washing of hands strictly with soap in all societies and fostering the culture further to various activities.
2) Spotlight needs to be shined with respect to handwashing in each country.
3) People should be made aware of the benefits associated with handwashing.
How many times in a day, should your hands be washed?
The University College London published research which suggests washing of hands approximately six-ten times a day. This is the latest research associated with coronavirus pandemic but is the same for any other day as well! There are viruses other than coronavirus, there are germs and bacteria as well which might get inside and thus proper handwashing needs to be considered as an important part of an individual's routine.
Proper handwashing includes wetting the hands with clean water, applying soap, producing lather by rubbing the hands together. Scrubbing under the nails, as well as between fingers and then washing the lather off under running water. This should be done for at least 40-60 seconds so that the soap micelles get the time to capture the germs properly.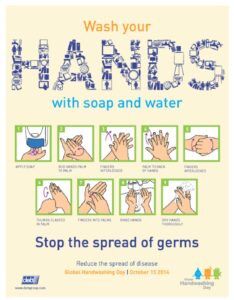 The Ministry Of Health In India claimed on twitter about the necessity of washing hands as they can carry the virus. The Ministry threw light on raising awareness along with encouraging people to take precautionary measures by following frequent hand washing as important tactics to remain healthy. The World Health Organization has also claimed that handwashing with soap has saved lives!
Talking about the use of alcohol-based sanitizers which are recently being used a substitute of soaps, the sanitizers contain some chemicals which when ingested can cause poisoning. They are at times corrosive and can cause irritation to a child's skin. Thus, washing with soap and water is considered ideally. In cases when soap and water is not an option, then sanitizers with 60% alcohol are the only alternatives available. The entire handwashing practice can be converted into a game with singing and dancing so that the children can love playing with water and thus, will themselves be motivated to wash hands and learn it as a good habit as well.
Washing hands requires patience and thus you need to utilize your 40 seconds with full scrubbing and build this habit day by day. The kids need to be reminded to wash hands even if they are apparently clean as small microbes cannot be seen through naked eye and assistance should be given when required, by telling them why is it so important so that they get all their queries answered and they believe in you. Implementation of a these precautionary measures can reduce the risk of respiratory and gastrointestinal diseases by about 25-50%.
Thus, practice handwashing everyday sincerely and stay safe! Your hands are your future!