To navigate through rough terrains, you must have endurance, speed, balance, and technical skills. Mountain bikers, as opposed to road bikers, seek out obstacles and see the world as a natural and challenging playground full of winding trails.
So Before you head for a mountain bike ride, A guide for mountain biking is one of the essentials to look at for a safe ride. Vertical descents, steep ascents, loose rocks, water crossings, and tree roots: everything is an opportunity for them to put their skills to the test!
Mountain biking can be enjoyed in a variety of ways, and you don't even have to be in the mountains. Trails range from relaxing rides on wide, flowing logging roads to high-adrenaline adventures on technical singletrack.
Whether you are a seasoned biker or a complete beginner, you will most likely find a trail that matches your skill level and abilities. Going out with a guide is highly recommended for those who are new to mountain biking.
Types Of Mountain Biking
Trail riding is a type of cycling that is done for fun. It's all about having a good time on well-marked trails with uphill and downhill sections.
Cross-country cycling (or XC) is the most popular and also the least extreme discipline of mountain biking. Completing a defined round circuit or point-to-point long trail on terrain ranging from a single track a narrow trail to fit one rider at a time, to fire roads, or even paved roads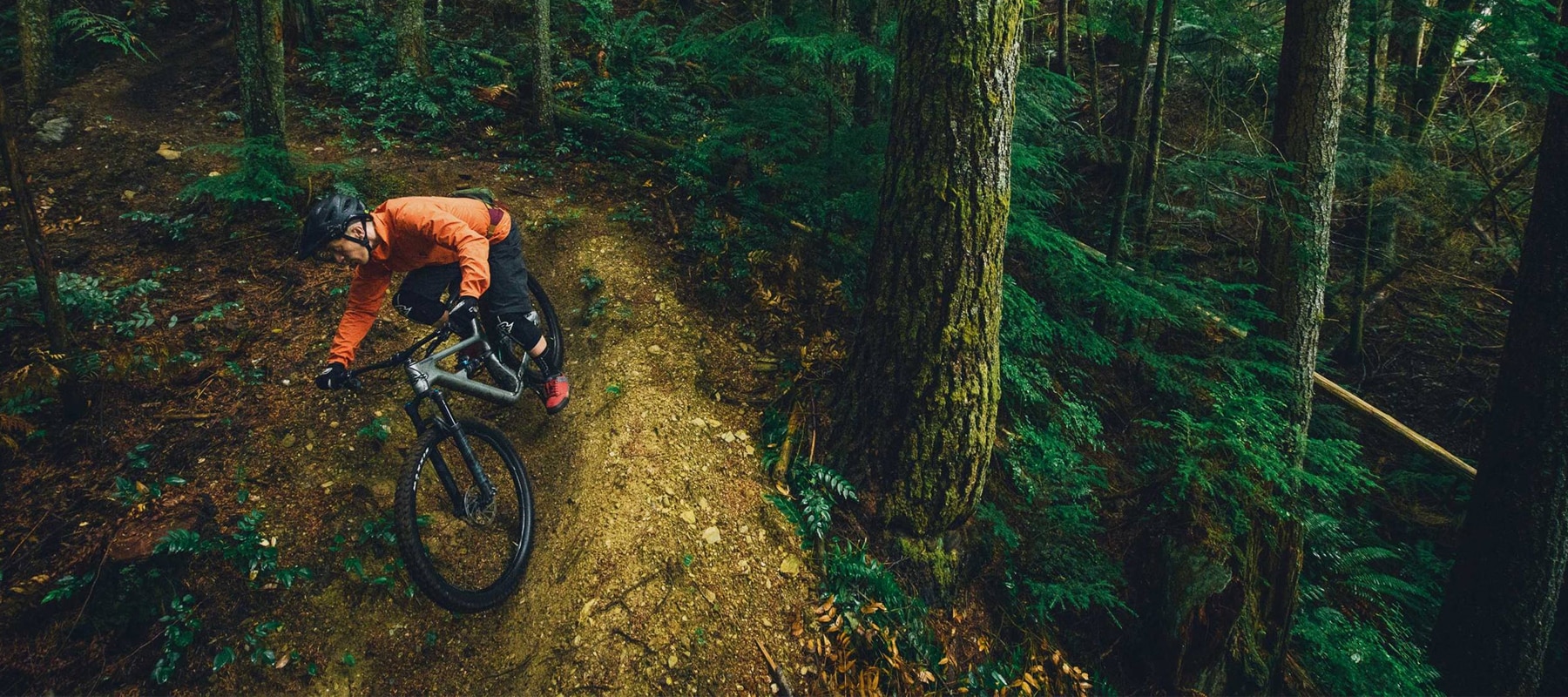 Downhill biking is a thrilling type of mountain biking that focuses on rapidly descending a trail. Typically, bikers will use a car or a lift to reach a mountain peak and then race down on their bikes. Summertime ski resorts are an ideal setting for this.
All mountains combine the best of both worlds: cross-country and downhill cycling. It connotes riding on a natural terrain riddled with obstacles, either up or down a mountain.
The term 'Enduro' refers to a specific competition that originated in Europe and consists of various stages that a rider must complete, including both uphills and downhills. Except that you're racing, it's the same as 'all mountain.'
Mountain Bike-Specific Trails
While you may begin on relatively smooth and flat trails, your ability to navigate around—or over—obstacles will develop as you gain experience and is part of the fun of the sport. Here is a list of mountain bike-specific trails :
Singletrack, the most common trail type, ranges in width from a little wider than your shoulders to a track just wide enough for two bikes to pass. Many singletrack trails are one-way only and wind through the best terrain the landscape has to offer.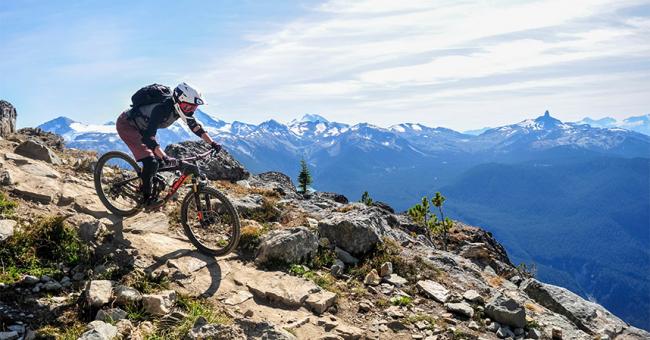 Doubletrack trails are typically twice as wide (or wider) than singletrack trails, with enough room for two bikes to ride side by side. Doubletrack trails are typically gentler in grade than singletrack and have fewer technical features.
Mountain bike terrain parks are springing up all over the place, from jump-and-pump tracks beneath urban overpasses to lift-serviced trails at ski resorts. Expect elevated bridges, halfpipes, various-size jumps, berms, and banked corners.
Best Time To Go For Mountain Biking
Mountain biking is a year-round sport. The same location can appear very different depending on the time of year and weather conditions, but that is part of what makes mountain biking so challenging and exciting.
With the exception of icy paths, which are obviously dangerous to ride on, riding on snow can be a fun experience if you have the courage to venture outside!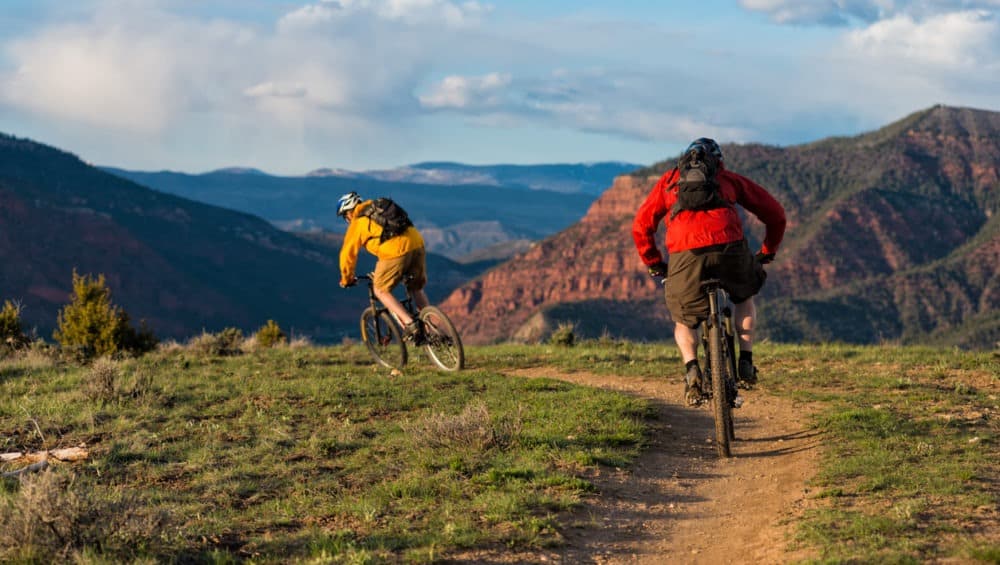 Mountain biking trails in National Parks and other types of protected areas are routinely maintained. When the weather is too wet, the trails become too muddy and dangerous for the riders, as well as damaging to the trail itself.
During the rainy season, trail closures are common. Depending on where you live, some trails may close during the winter and reopen in the spring.
The Outfit Required For Mountain Biking
Bike-specific clothing makes for a more comfortable ride, regardless of the type of biking you do. However, different types of mountain biking require different types of clothing.
Shorts: Mountain biking shorts come in a variety of styles, from form-fitting to baggy, with more coverage and durability for snags on the trail. These typically have an inner lining with a padded chamois that reduces saddle fatigue and some trail impact.
Jerseys, like shorts, range from form-fitting to looser and more casual-looking. Regardless of fit, you should choose a garment that wicks sweat and dries quickly. You'll also want something that's easy to wash and dry.
Gloves: You'd be surprised how much a good pair of gloves reduces hand and wrist fatigue; look for a pair with palm padding.
Full-fingered gloves keep your hands warm while also adding texture to the grip on the brakes and gear shifters. In the event of a collision, both fingerless and full-fingered gloves provide additional protection.
Gear And Accessories
Bike on the mountain. Depending on the cycling discipline, there are various types of bikes (downhill, enduro, cross-country, and so on). Other terms you may hear in the mountain biking world include: 'fat bikes,' which are particularly useful for riding on snowy trails as well as sand and mud.
Helmet for mountain biking: Never, ever ride a motorcycle without a helmet! When mountain biking, there is a high risk of falling, so head protection is essential. The characteristics of the helmet will vary according to the type of cycling. Downhill biking, for example, is considered extremely dangerous and necessitates maximum protection.
Accessories: Knee pads, elbow pads, and riding gloves are all recommended. Sunglasses for protection are also used. Mountain biking often makes use of hydration packs. Food, a first-aid kit, sunscreen, maps or GPS, extra clothing, and a bike-repair kit are also recommended.
Footwear. Waterproof hiking shoes that are also comfortable to use on the bike's pedals.
Conclusion
Mountain biking can be enjoyed in a variety of ways, and you don't even have to be in the mountains. In this article, we covered the fundamentals of what to expect before your first ride, including an overview of different types of mountain bike terrain, mountain biking styles, and gearing up for a fun time on the trails.
This can be a perfect guide for mountain biking, especially for beginners before they head for a smooth and thrilling adventure.
Also Read: 7 Fascinating Facts About Croatia You Didn't Know