Flight Lieutenant Gunjan Saxena is an Indian Air Force (IAF) officer. She joined the IAF in 1994, is a 1999 Kargil War veteran and the first female Shaurya Chakra awardee.
One of her primary roles during the Kargil War was to evacuate the wounded from Kargil, transport supplies and assist in surveillance. Gunjan's father and brother each served in the Indian army.
The current film is a fictional account of her achievements.Sharan Sharma's directorial debut is refreshing as the fighting sequences are now not characterish and show the ground truth of what should have taken place back in the day.
He narrated the story of Gunjan, very beautifully written via Nikhil Mehrotra, to a crisp in the right runtime. The movie showed feminism as the topic of discussion as an alternative than nationalism which is essentially the narrative of films with hostilities backdrop. Sharan confirmed the moments with great honesty and harsh actuality which Gunjan ought to have witnessed without a doubt while making a mark as IAF pilot.
Jahnvi as Gunjan in her sophomore feature (punctuated by way of a robust performance in the short movie anthology Ghost Stories) after Dhadak, has a strong presence. She shines in the film with her expressions, but at the same time she tails off a little in her dialogue delivery.
But overall her performance is noteworthy.
Gunjan faces many obstacles in her way of being a pilot and the story is all about how she clears them. How she pivots her dream from being just a pilot to join the air-force.
How she's the only woman of her batch dealing with a navy of men and the disparity. How she's dispensed one of the most important missions – Kargil War and plenty more. Gunjan's story is undoubtedly the star of the film.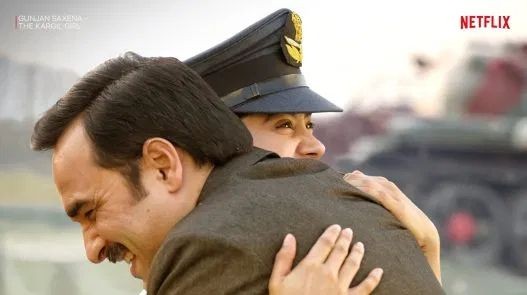 Apart from that, the performances are definitely there to win your heart. The cast with Pankaj Tripathi, Manav Vij, Vineet Kumar, Angad Bedi among others were spectacular in their roles. Pankaj Tripathi playing the role of Gunjan's father portrayed a heartwarming relationship with Jahnvi playing Gunjan. The father-daughter duo scenes were my personal favourite in the film. Jahnvi portrayed some of her best emotional scenes with Pankaj and Pankaj, well, what to say about him.
His magic is never enough for us, we always end up asking for more, Pankaj delivered some of the best dialogues in the film like "Pilot ladka ho ya ladki ho, use pilot hi kehte hain", "Jo log mehnat ka sath nahi chodte, qismat bhi unka hath nahi chodti" and many more which not just us experience Pankaj's emotional ease at dialogue delivery but the writing brilliancy as well.
Another aspect which is absolutely lovable in the movie is its music.
Amit Trivedi never fails to please his audience. "dori tutgaiyan" and "bharat ki beti" sung by Rekha Bhardwaj and Arijit Singh respectively, are my personal favourites from the film.
As mentioned earlier, the star of the film is its story which gives so many messages to take forward with us, such as "If one gets the right support to one's beliefs from the very start then the person can surely achieve success." Gunjan's story has paved way for many others to dream big and follow it without fearing the unsupporting society and system and it will continue to do so in the future too.
Her story also made us familiar with the already known fact that the system and society will never support or adjust to the uncommon dreams and wishes of the individuals but that shouldn't make us drop our dreams.
What comes as a great help in such situations is the support from our family which Gunjan had in special terms of her father. Gunjan's father is an example for many parents that if you support your child's dreams no matter if it is a son or a daughter or how tough the dream is, the child won't let you down.
Because in the end, we have to accept this fact that apart from Gunjan's own dedication, it was his father's constant support which made her what she is today. With all these messages infused, the film, we believe is definitely worth watching.
The movie will be available for everyone to watch from tomorrow on Netflix. If you happen to watch it then do share your views with us in the comments section below.
Also Checkout: 10 Best Intellectual Movies of All Time

Also Checkout : Angelina Jolie Net Worth – Early Life, Career, How Angelina Jolie Spends Her Millions, 2 Unknown Facts About Angelina Jolie