Best Indian Hindi Web Series to Watch: In recent years, the internet has become a haven of new talent and an incredible variety of Hindi web series, making binge-watching our preferred pastime.
With the introduction of the Hindi web series in the country, a new wave of original and engaging Indian web series material has swept the nation. Today's artists are not afraid to think and create outstanding content, which is assisting the audience in comprehending the depth of film while also enjoying it.
1. Rocket Boys
Dr. Homi J. Bhabha and Dr. Vikram Sarabhai are two exceptional guys whose tale is told in Rocket Boys. The drama follows India through three key decades in its history as it strives to become a great, courageous, and independent nation. Jim Sarbh, Ishwak Singh, and Regina Cassandra feature in the show.
2. Illegal S2
The crazy lawyer returns to pick up where she left off in the previous season. The second season sets loftier goals, but its horizons remain constrained. A scandal threatens the chief minister of Delhi, a social media influencer is killed, and data mining is a problem. The show, except for several new characters, treads familiar ground. The drama includes unexpected twists and is recommended for criminal thriller lovers.
3. Unpaused
From the importance of new beginnings to second chances at the end of dark tunnels, an anthology of films focusing on how people move on despite misfortune. In the current circumstance, it gives you colours of forgiveness, friendship, trust, love, and second chances. This show is unique and different from anything else you've seen recently.
4. Inside Edge S3
Inside Edge Season 3 on Prime Video explores the ramifications of the entire web of spot-fixing and illegal betting associated with the Mumbai Mavericks. As Vikrant and Zarina join forces to smash Bhaisaab, the season continues with more nasty betrayals, power lust, and cruel schemes. If you're a cricket fan, you probably wouldn't have waited this long to see Season 3 of Inside Edge since it's so compelling. It is riddled with controversy and depicts the world of gaming outside of the field.
5. Candy
'Candy' is set in the imaginary village of Rudrakund, where the assassination of a young student unleashes a can of worms that reveals the true nature of this small hamlet. The series is now available to watch on Voot Select. Candy is a good pick if you want an exciting thriller with a lot of suspense or if you enjoy a lot of drama.
6. Aarya S2
Season 2 of 'Aarya' continues Aarya as she tackles the dark world of crime and criminals to protect herself and her children from the unseen damage. It features better and larger performances, as well as a wonderful picture of a mother and the lengths to which she will go to protect her family.
7. Aranyak
The eight-episode thriller Aranyak analyses human impulses and sins under the disguise of a horrific case of rape and murder, with a dash of myth-making thrown in for good measure. Raveena Tandon is a joy to watch on television once more, but the city of Aranyak is as intriguing. Watch this show to learn the truth behind these enigmatic notions.
8. Human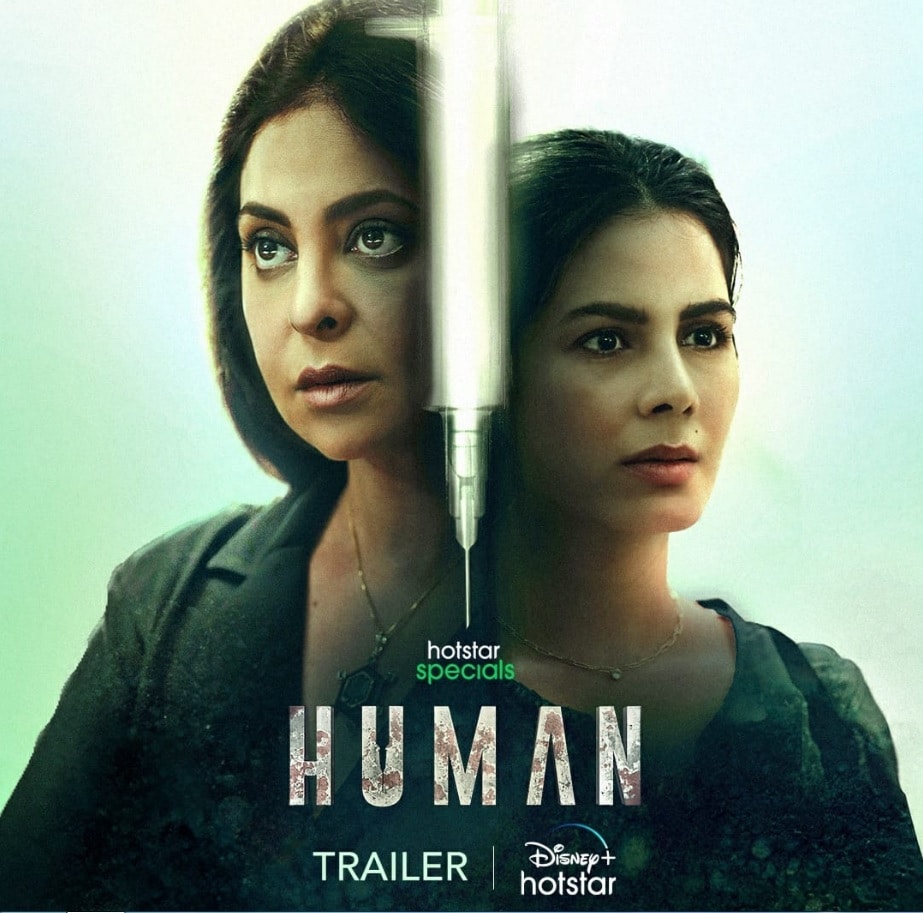 Doctors, aren't they the ones who save lives? The underbelly of human drug testing and the realm of medical scams are explored in this sad drama. "Human" depicts a distinct side of medicine. Keep an eye out for Kirti and Shefali Shah
9. Yeh Kaali Kaali Aankhein
Yeh Kaali Kaali Ankhein follows Vikrant (Tahir Raj Bhasin), an engineering graduate who longs to leave his village, Onkara (subtle nod to Vishal Bhardwaj there). In the thriller category, the series must provide something unique. A love triangle in which obsession replaces love and a middle-class lad unwittingly falls into a trap that alters his entire life. This show's dark humour keeps you hooked.
Also Checkout: Most aesthetic Anime to watch