In June 2021, Apple released iOS 15, the most recent version of its iOS operating system, which was launched on September 20. Redesigned FaceTime capabilities, tools to decrease distractions, a new notifications experience, enhanced privacy features, entire redesigns for Safari, Weather, and Maps, and more are all included in iOS 15.
iPhone and iPad users will notice some significant improvements in iOS 15, including a brand-new Safari experience. There's also support for native Background Sounds, as well as less spectacular privacy tools like iCloud Private Relay and Hide My Email that users will appreciate.
What's more amazing is that you'll be able to use FaceTime on Android and Windows, which is a first from Apple. This is an unusual move for the firm, which prefers a closed-door, proprietary approach. Unfortunately, Apple continues to refuse to make iMessage available on other systems.
Phone Compatibility
If you have an older iPhone, you may be wondering if iOS 15 is compatible with it. Your device has made the cut if it is an iPhone 6S (2015) or newer. However, you should be aware that certain features, including Portrait mode on FaceTime, Live Text, augmented reality directions in Maps, and spatial audio will only operate on iPhones with an A12 Bionic Chip or newer. To get the most out of the upgrade, you'll need an iPhone XS or newer.
How to Install iOS 15?
Make a backup of your iPhone before upgrading to iOS 15. When you use iCloud to back up your data, it's a breeze. Go to the Settings menu. At the top of the screen, tap your name, then iCloud. If it isn't already turned on, scroll down until you find iCloud Backup and turn it on. To force a new backup, tap Back Up Now if it's already active. You can turn off stuff you don't want to back up if you go back to the previous page. This is the simplest method for backing up your device. 
First, make sure your iPhone is charged (such a large update consumes a lot of battery life) and that you're connected to Wi-Fi (unless you're installing it on a computer). Then go to Settings > General > Software Update to see what's new. After that, go to iOS 15 and select Download and Install. Once that's done, press 'Install Now,' and your iPhone will begin updating automatically. You're good to go once it completes the process and the device restarts. It will take some time, so don't do it when you need to use your phone urgently.
Best Features of iOS 15-
1. Redesigned Notifications
Notifications have been entirely overhauled in iOS 15. People's contact photographs will now appear in notifications, and app icons will be larger to make them simpler to identify. A brand-new tailored notification summary aggregates non-urgent notifications and delivers them at a more convenient time, such as in the morning or evening.
The most essential and relevant alerts are displayed first in the summary, which is sorted by priority using on-device intelligence that analyses the user's interactions with apps. Urgent messages and notifications that are time-sensitive will still be delivered right away.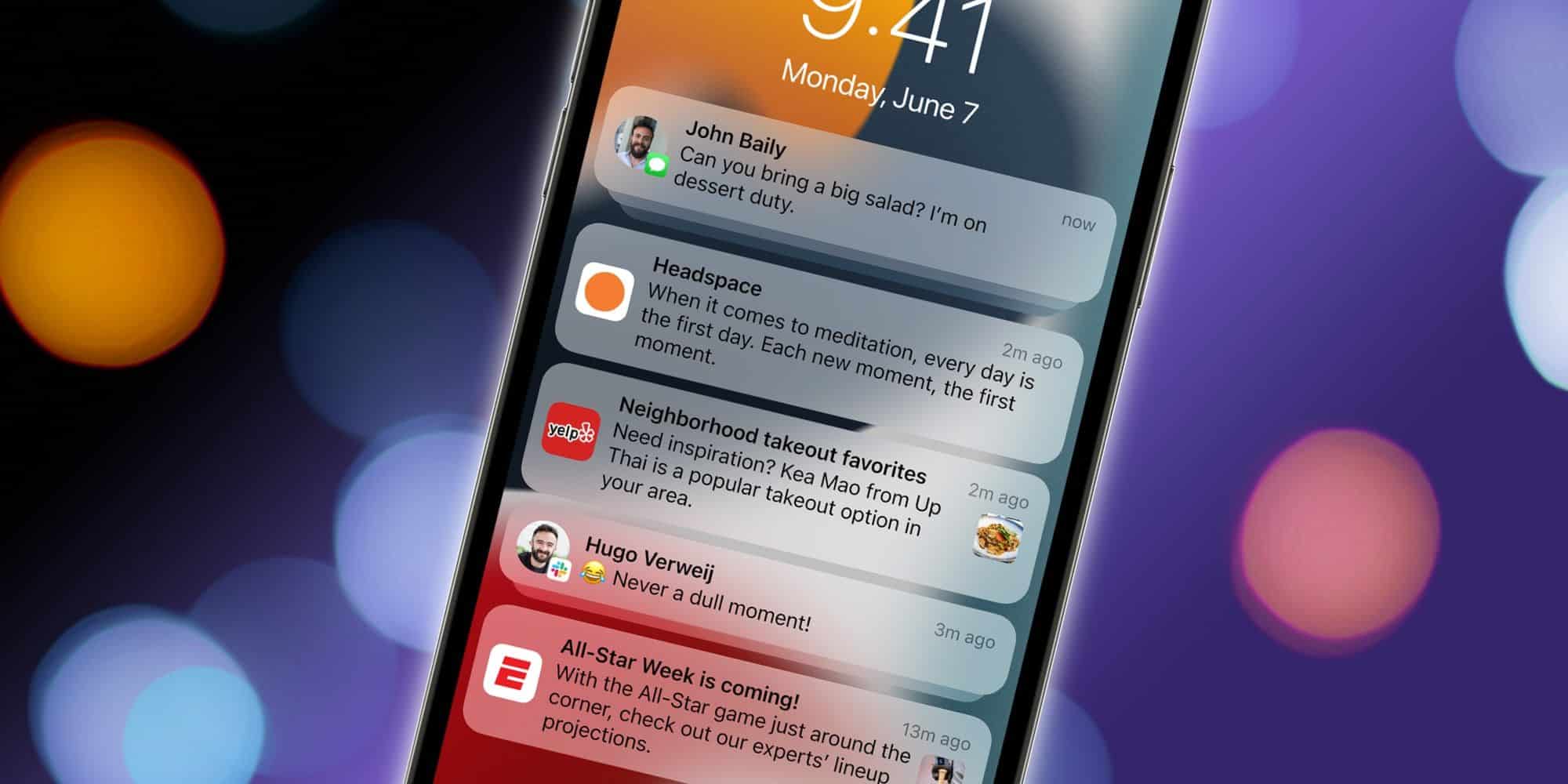 You may now temporarily mute the alerts of any app or message thread, and iOS 15 will recommend muting a thread if it is abnormally busy but you are not engaging with it. Developers can now send Time-Sensitive notifications and use the new design for notifications originating from people thanks to a new notification API.
2. Better FaceTime
FaceTime now has Spatial Audio in iOS 15, which makes sounds in video calls sound as if they are coming from where the person is on the screen. There are also new microphone modes that can segregate a user's voice from background noise or, in Wide Spectrum mode, introduce background noise.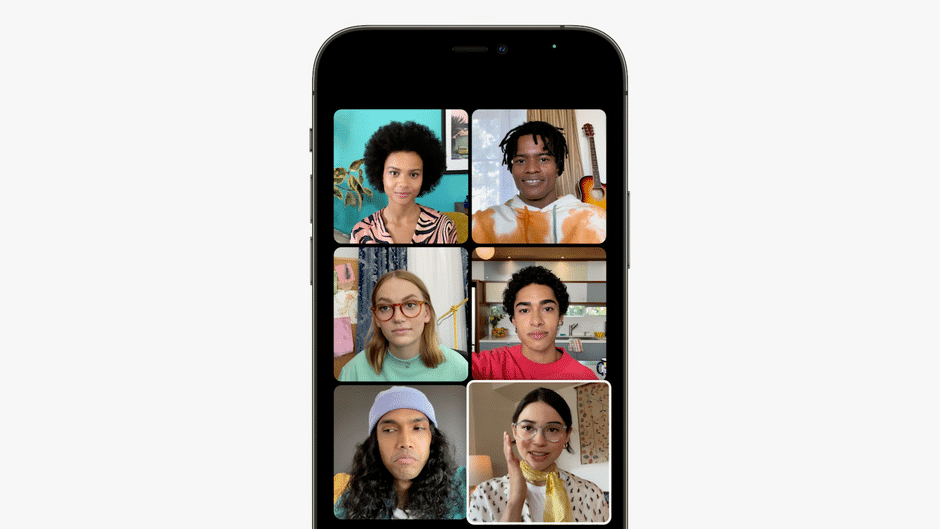 FaceTime now has Portrait mode for video conversations, which allows users to blur out their background and put themselves in focus, as well as mute alerts, which make it easier to hear when you're on mute. There's also an optical zoom option for the back camera, as well as a new grid view for group FaceTime conversations that allow users to see more faces at once.
3. Share Play
SharePlay is a new tool that allows users to share media such as Apple Music songs, TV episodes, and movies with each other during FaceTime sessions. Everyone in a SharePlay session can play, pause, skip and contribute to a shared queue, and there are shared playback controls, so anyone in the session can play, pause, or skip material. In a FaceTime call, participants can now share their screens to watch apps together via SharePlay.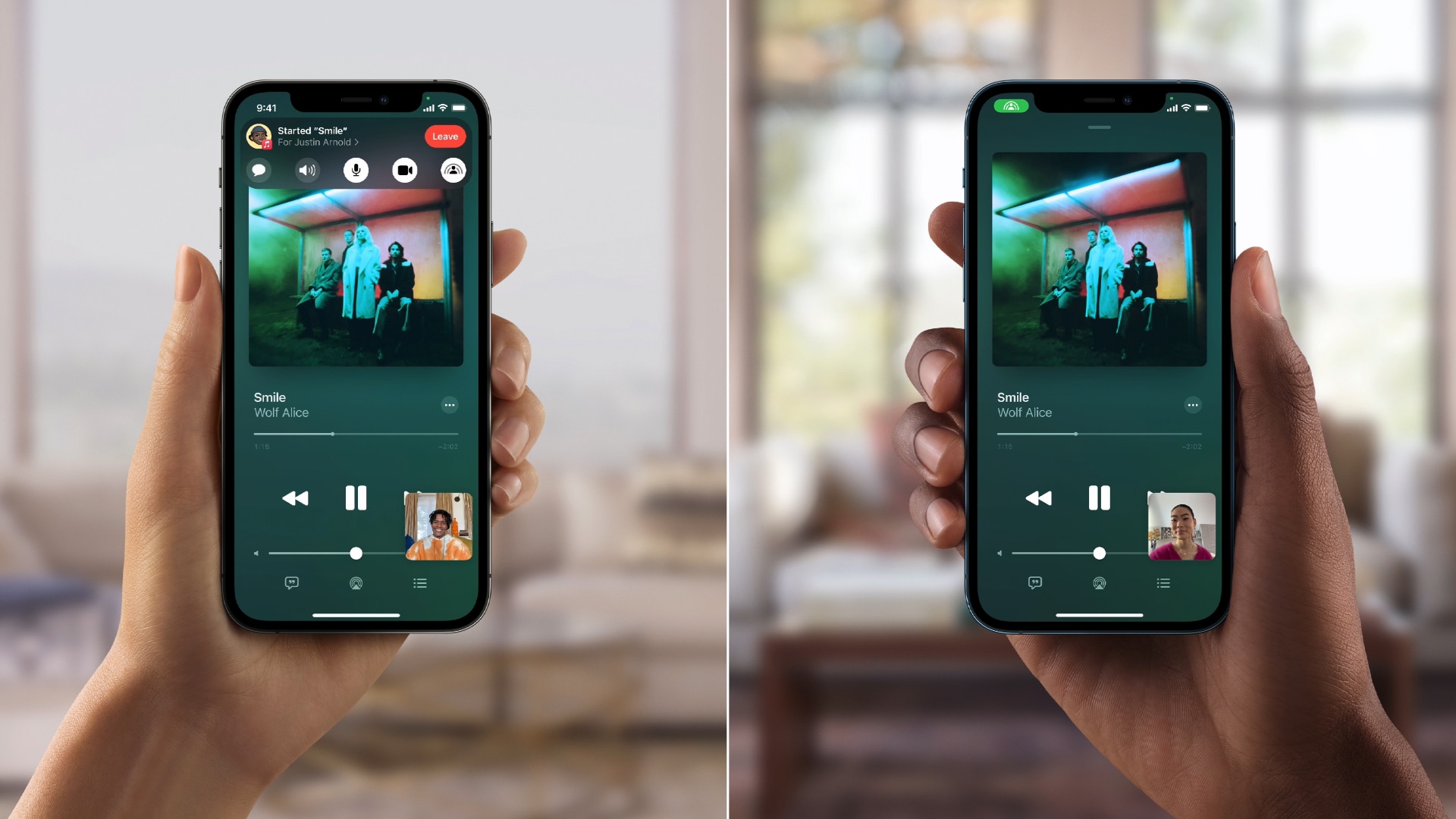 Disney+, ESPN+, HBO Max, Hulu, MasterClass, Paramount+, Pluto TV, TikTok, Twitch, and other third-party apps have pledged to integrate SharePlay. SharePlay works with the iPhone, iPad, Mac, and Apple TV, allowing users to connect over FaceTime while watching shows or movies on a larger screen. Even when shared material is playing loudly, smart volume management dynamically and automatically adjusts audio so you can hear your peers.

4. FaceTime Links
Users can now send a link to a FaceTime call using Messages, Calendar, Mail, or other third-party apps.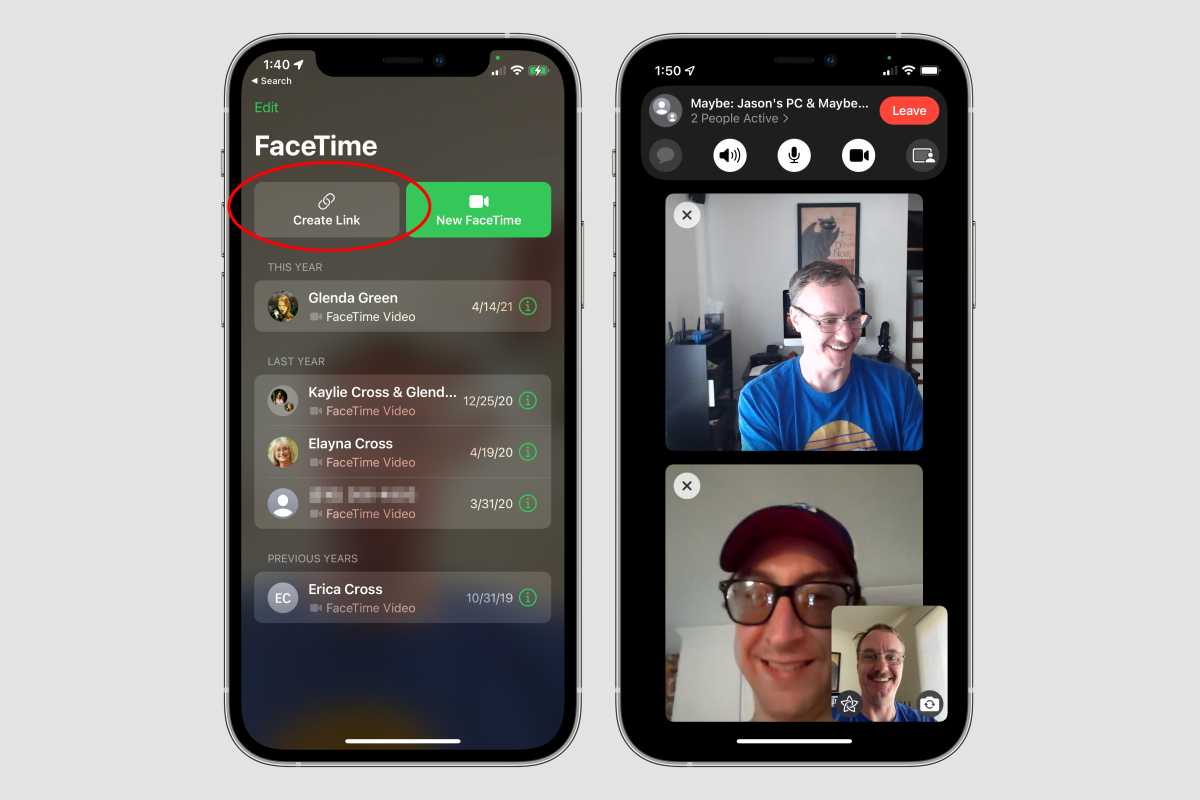 FaceTime links can be opened in the FaceTime software on Apple devices, but they can also be opened in a web browser, making FaceTime available for the first time on Android and Windows. To ensure privacy, FaceTime calls on the web are encrypted end-to-end.
5. Focus
With the Do Not Disturb function, which disables notifications, calls, and message dings, you've had the ability to create a quiet time for your iPhone for a long time.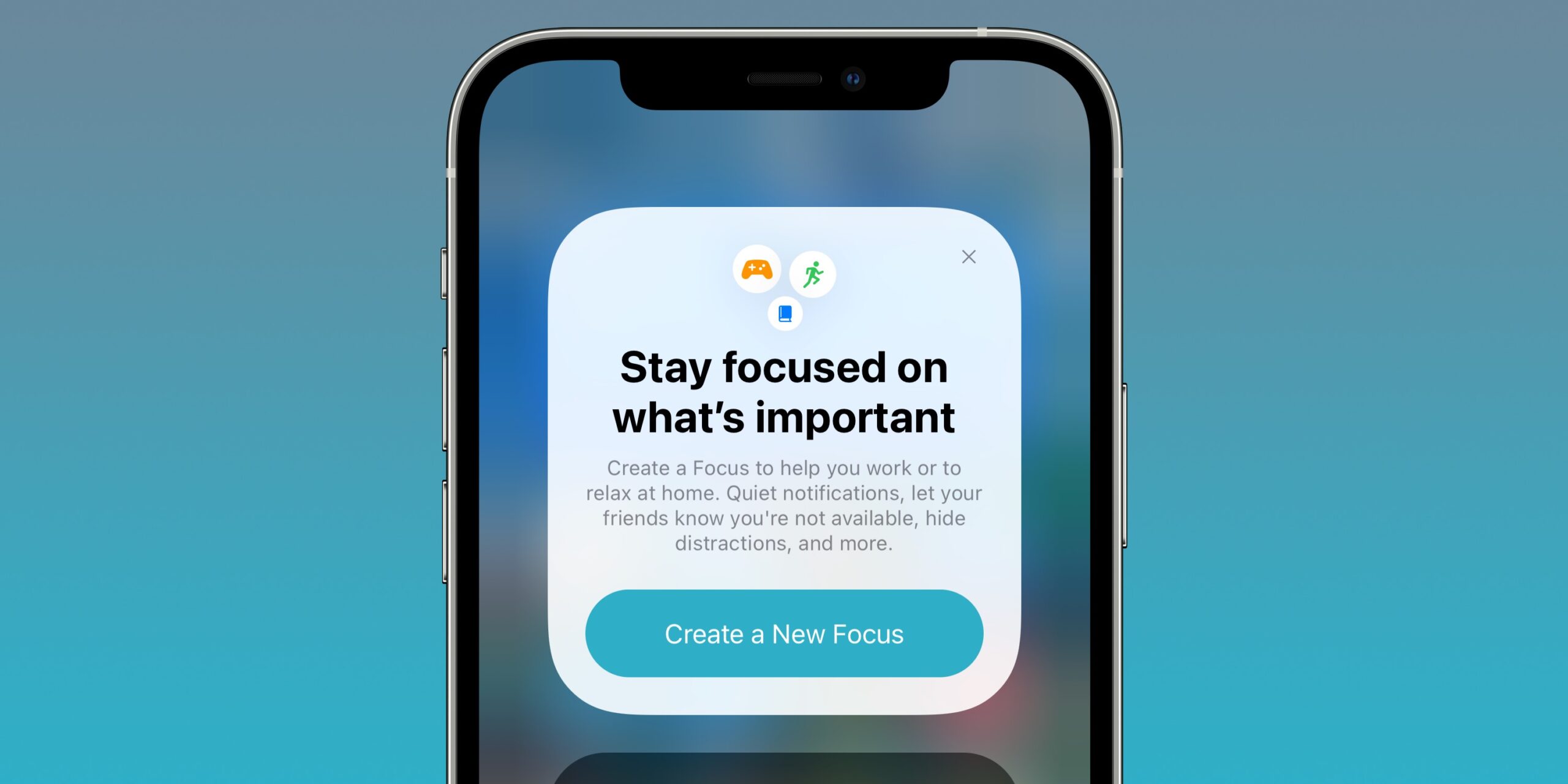 Apple extends on this with Focus in iOS 15, which provides not one, but four methods to take a break from your phone. It will employ artificial intelligence to recommend one of four modes: Do Not Disturb, Personal, Work, or Sleep. The middle two allow you to use specific apps for business or family time (for which you can build a separate home screen).
6. Live Text
Live Text is one of the most interesting features in iOS 15, and it's linked to improvements in Apple's computer vision capabilities. You'll see a text symbol on the bottom right of your camera app if you point it at something with text. This will enable you to highlight the content and copy and paste it into another program.
This also works for photographs in your Photos library that have text—just press the same text symbol in the bottom right. If the photo contains a phone number or an address, Live Text will convert it to a link that you may tap. Phone numbers are automatically entered into the phone dialer, and the address is displayed via Google Maps.
7. Photo Memories
When you open the Photos app and go to the For You page, you'll see a new version of Memories—this feature creates a mini-movie of specific travels or events and selects a song from Apple Music to accompany it (but only if you have a subscription to the music service).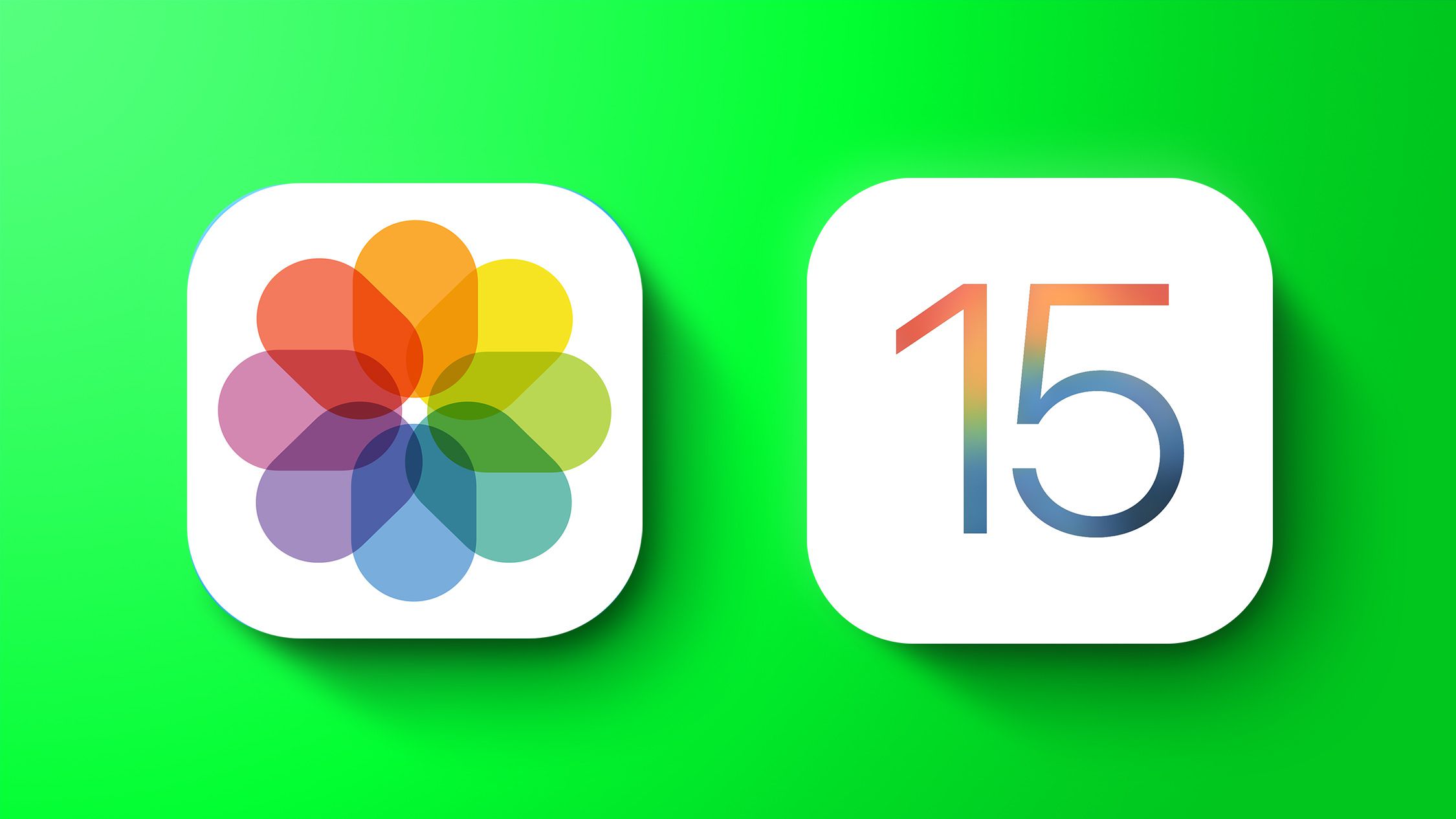 You can change the tempo of the movie as you watch it by switching tunes, altering filters, or swapping images. It's similar to a Google Photos feature that debuted in 2018, but Apple's music integration allows you significantly more power.
8. Better Safari
Safari now has a new tab view, which replaces the old stack view, which was my least favorite of any browser. A new tab bar at the bottom of the screen makes one-handed site switching even easier. The new Tab Groups function is similar to the more sophisticated Collections feature in Microsoft Edge (also available on iOS).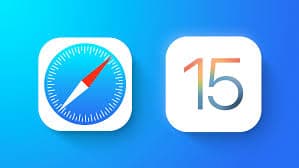 It allows you to keep a collection of websites and syncs them across all of your Apple devices. It does not allow you to add comments or output to documents, unlike Collections. Extensions for the mobile browser, on the other hand, are a significant plus for the new iOS Safari, albeit they're far from universal.
9. Privacy
Apple has added still more privacy protections to iOS 15 in an effort to differentiate itself from Android (which has also implemented some strong privacy features in recent versions). Siri's on-device speech recognition is a major one. This prevents your Siri requests from being sent via the internet, which is notorious for its lack of privacy. This local machine learning capability is undoubtedly aided by the iPhone's newest, more powerful CPUs.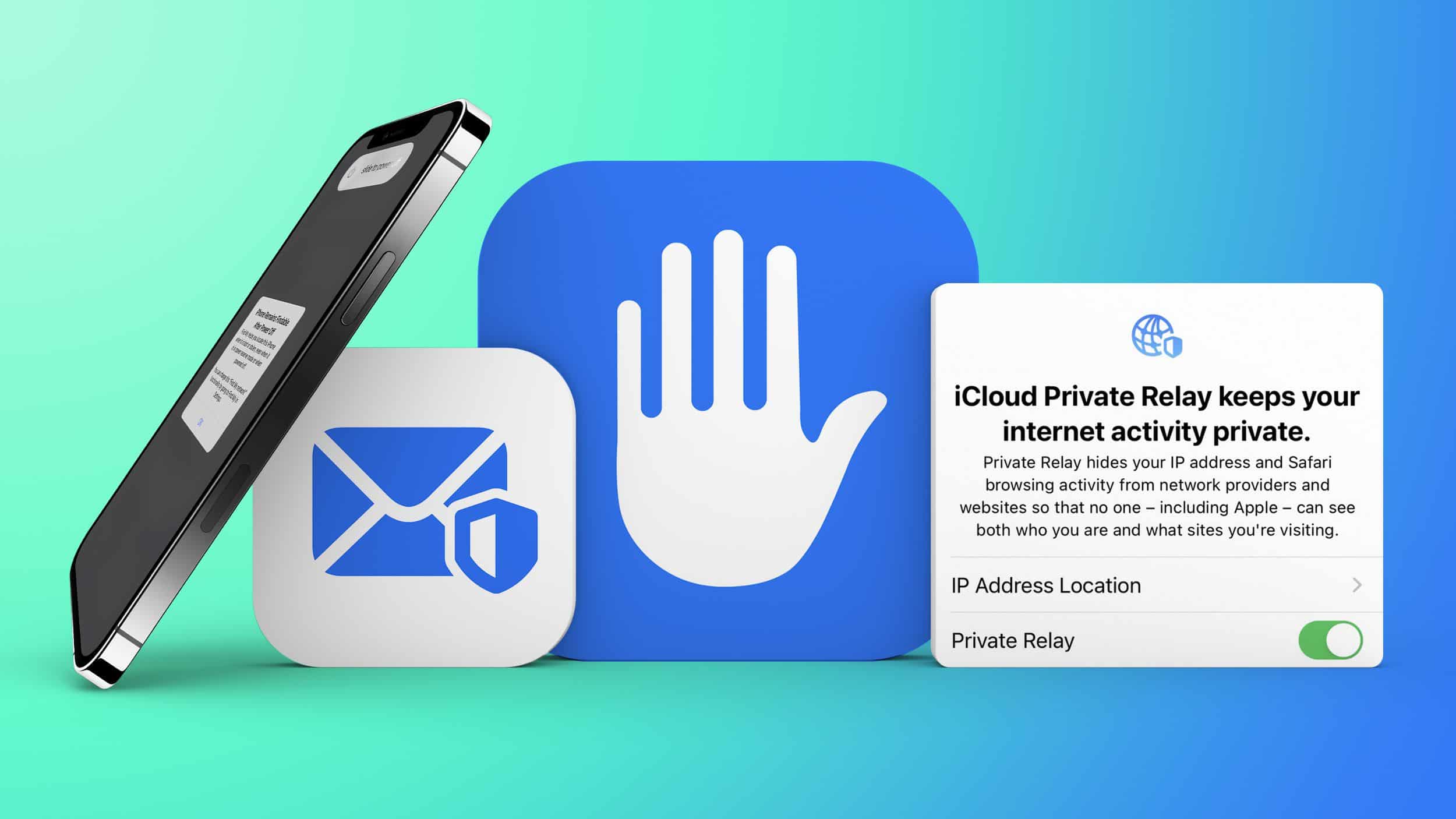 The Privacy Report is a new privacy tool that displays what personal data each app you've installed is gathering. Apple has already irritated internet advertisers by encouraging users to disable app monitoring, which may lead you to delete objectionable apps and replace them with Apple's own. However, any openness into how your personal information is handled is a good thing.
10. Improved Maps
An interactive globe view and greatly expanded details in a new 3D view for cities are now available in Maps. Neighborhoods, business areas, elevation, buildings, and other features have been enhanced, including new road colors and labels, custom-designed landmarks, and a new "moonlit" night mode. The Maps app now has a new 3D city-driving experience that works on both the iPhone and Apple CarPlay and includes road elements like turn lanes, medians, bike lanes, and pedestrian crosswalks.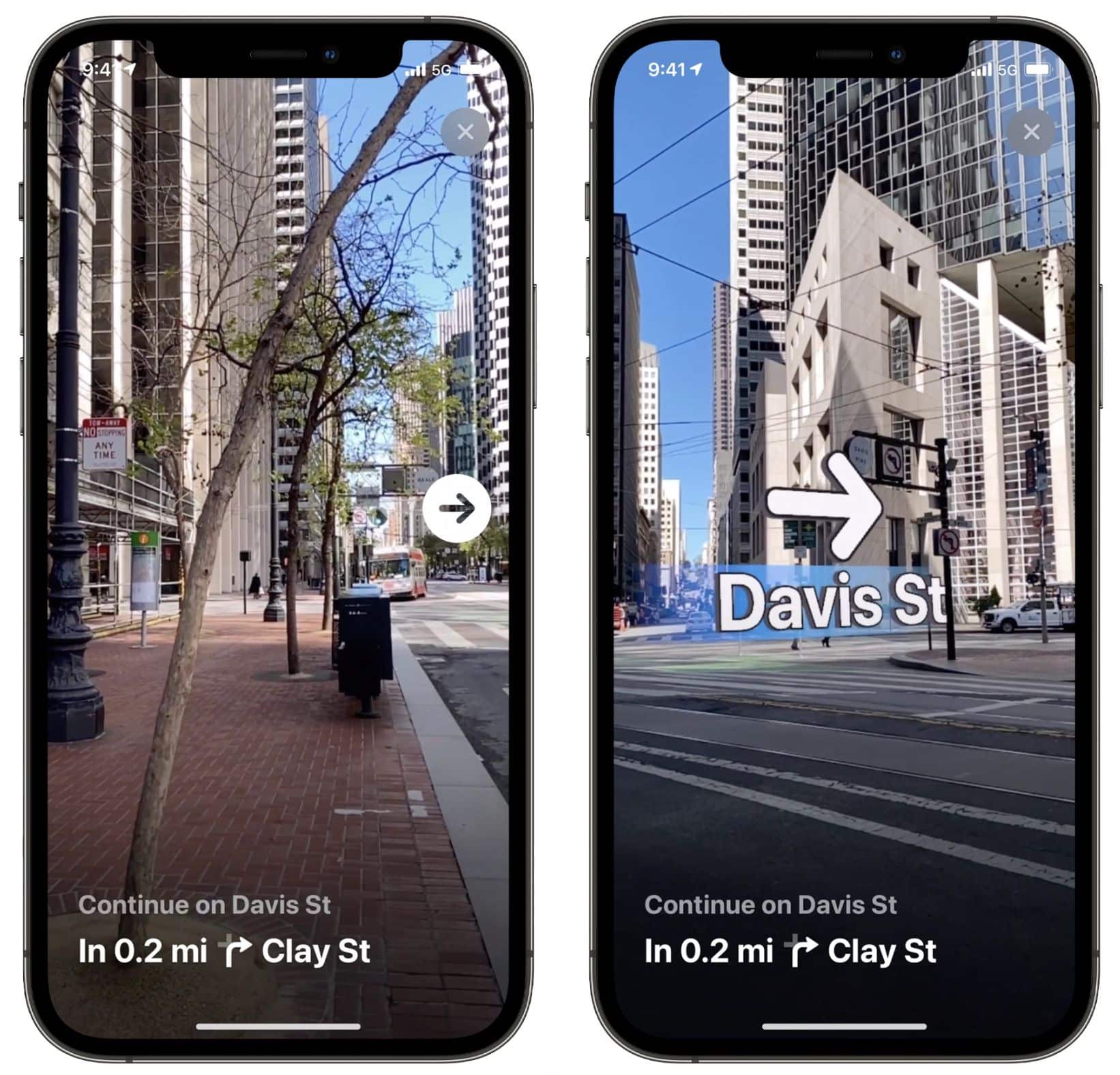 Travelers can now find local stations more easily and pin their favorite lines thanks to a makeover of transit navigation. Maps will automatically follow a user's chosen transit route and alert them when it's time to disembark. A new augmented reality-based walking instructions view is now available. Simply hold up their iPhone to the camera, and the Maps app will calculate an accurate location and provide comprehensive walking directions.
Information about businesses, locations, and physical elements is now easier to access and engage with thanks to redesigned place cards. A new Guides Home has been added, which contains editorially curated information on new places. There are new options for filtering results while looking for a new location, such as cuisine or opening hours. When you move around, Maps will immediately update search results, and the most-used settings are now all in one place.
11. Shared With You
Choose goods that your friends enjoy. In some apps, messages have been moved to a new "Shared With You" section. For example, if someone shares numerous photos from a trip you went on, the images will appear in the Photos app's new Shared With You area. If you get a news piece, you can discover it in Apple News' Shared With You section.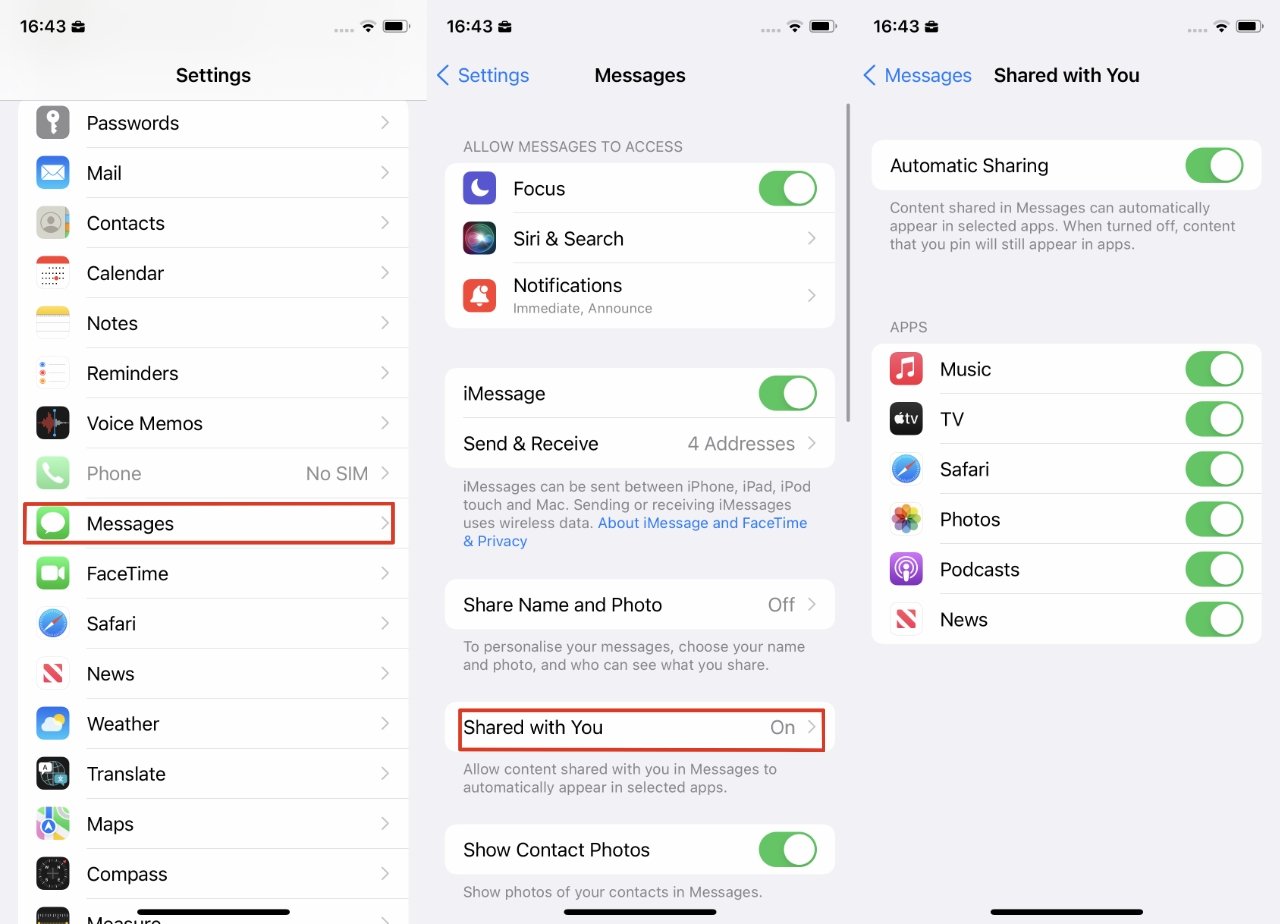 The goal is to offer you a second chance to look at what your friends and family members brought you if you didn't have time to do so previously. Apple Photos, News, Podcasts, Safari, TV, and Music now have new Shared With You sections.
12. Health App
The Health app in iOS 15 now features a new sharing tab that allows users to share their health data with family or carers. Descriptions, highlights, and the ability to pin results for quick access have been added to lab results. Trends can now be detected by Health, alerting users to significant changes in their personal health parameters.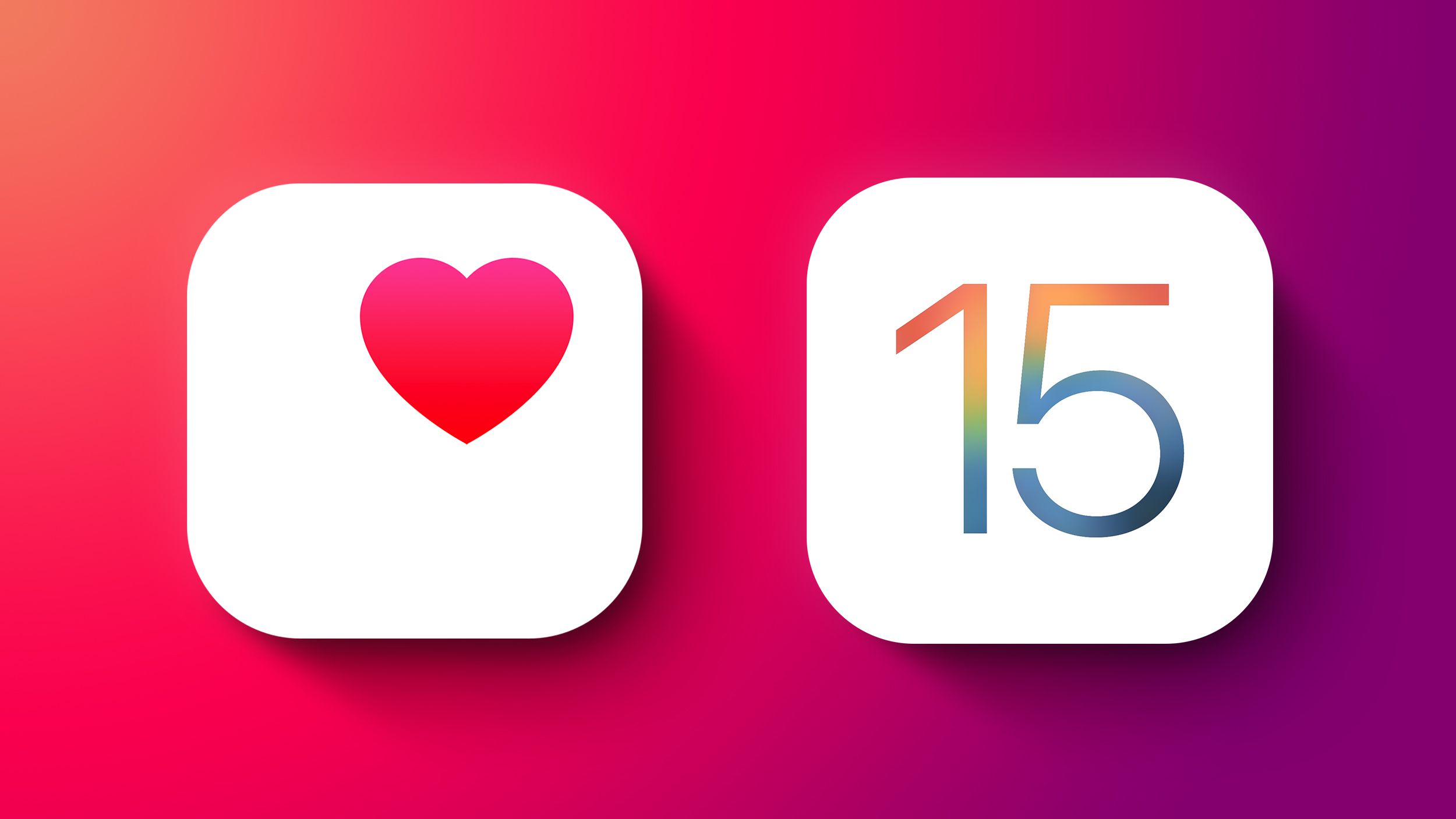 Walking Steadiness is a new metric added to the Health app to assist reduce fall risk. A QR code from a healthcare practitioner can be used to save COVID-19 vaccines and test results in the Health app. Blood glucose highlights now include interactive charts and show levels throughout sleep and exercise.
13. iCloud
This new feature is available to everyone who already has an iCloud subscription at no additional cost.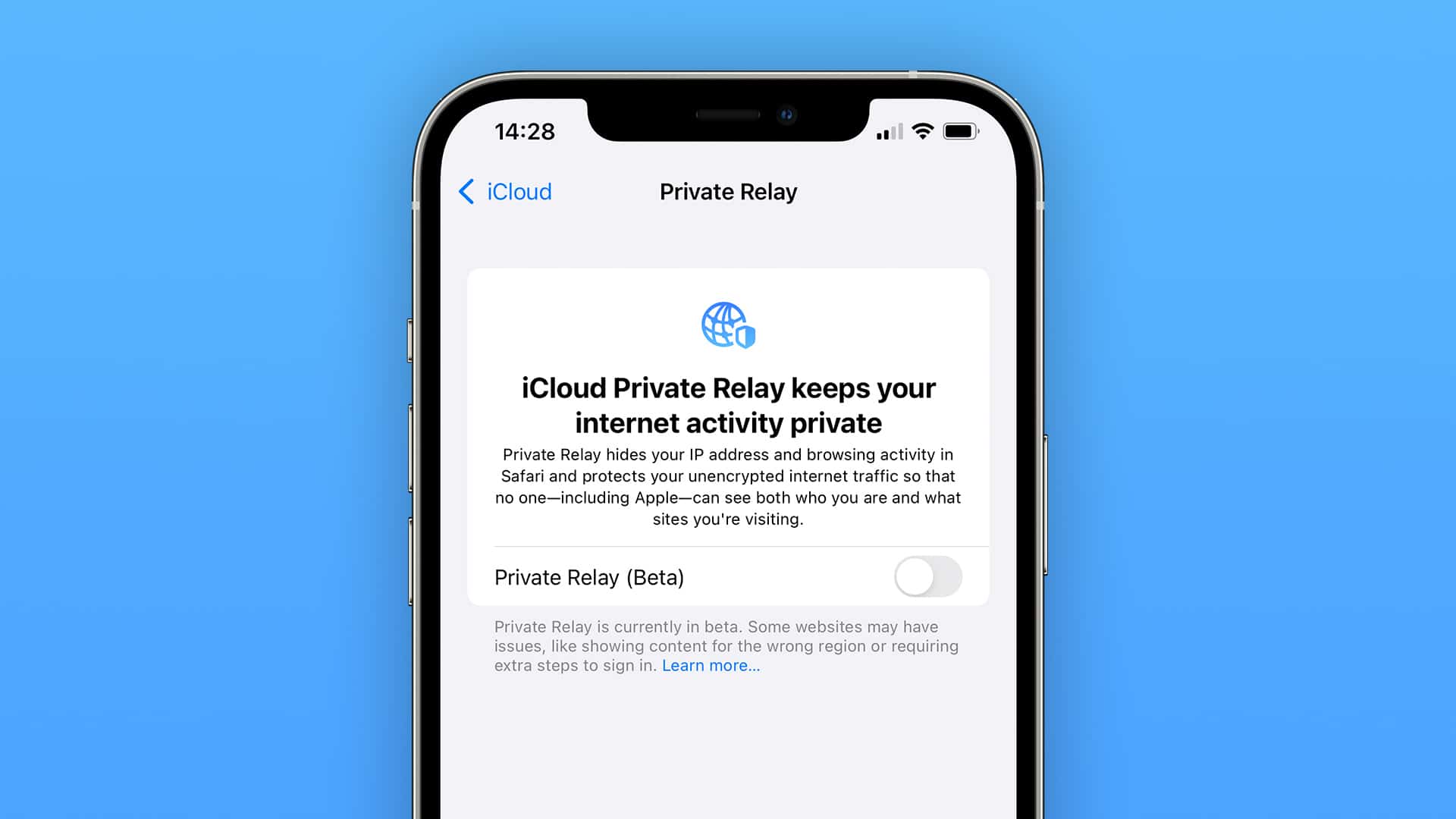 It enhances HomeKit Secure Video functionality and includes a feature called iCloud Private Relay (now available in beta with a final version coming later), which encrypts all internet traffic leaving your device so that no one can read your data, similar to a virtual private network.
14. Wallet App and Keys
In iOS 15, the Wallet app now accepts more sorts of keys, including as key cards for the home, business, corporate, or hotel accommodation. The Wallet app is also adding support for automobile keys, allowing you to open, lock, and start your car without taking your iPhone out of your pocket utilizing Ultra Wideband. Ultra-Wideband also provides exact spatial awareness, which means iOS will prevent you from locking your car while it is inside or starting it while it is outside.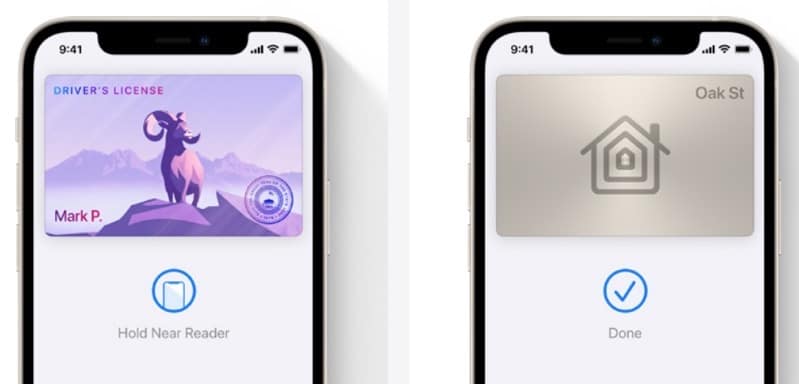 Remote keyless entry controls are now available in Wallet, allowing you to lock or unlock your car, honk your horn, preheat your car, or open your trunk. Expired boarding passes and event tickets will now be automatically archived in the Wallet app. Instead of needing to manually add one pass at a time, Safari now allows you to add multiple passes to Wallet in one step.
15. Spotlight
When you search for contacts, celebrities, or movies in Spotlight, the search bar that appears when you slide down on the home screen, you'll notice a new look with more details.
You may also use it to search for your photos and install new apps. You can now easily access it right from the Lock Screen too, by simply swiping down on the display.
Other Features-
In iOS 15, Apple has added lots of other features also which may excite you too-
1. ProRes Video: If you have an iPhone 13 Pro or Pro Max, iOS 15.1 now allows you to shoot ProRes video, which you can enable by going to Settings > Camera > Formats > ProRes. Then, on the video tab of the camera app, you'll find a ProRes choice. This format allows you more editing flexibility, but the file sizes are significantly bigger.
2. Auto Macro Toggle: When you approach a subject in the iPhone 13 Pro models, the camera switches lenses to allow macro mode, but it sometimes keeps switching back and forth. To avoid this, you can now turn off the Auto Macro feature in iOS 15.1 (Settings > Camera > Auto Macro). You must now manually switch to the ultrawide camera and get close to a subject in order to enable Macro.
3. iCloud Backup: Even if you don't have enough capacity on your iPhone, you can back up your data to iCloud and transfer it to a new one.
4. Messages: iMessage now neatly organizes many photographs (sent simultaneously) into a stack you can swipe through, rather than scrolling through one long message with multiple photos. You may also use the collage icon to see them all at once.
5. Mail Privacy: This function hides your IP address and location and prevents senders from seeing if you opened an email.
6. Siri: Speaking with Siri in iOS 15 is safer than ever before since your audio no longer leaves your device. You can use Siri to operate a range of on-device functions without using the internet, such as turning on Dark mode or setting an alarm, and it will run considerably faster.
Also Checkout: SLED Vs QLED Vs OLED: Which TV is the best to buy this season?