Iran's president on April 14 delivered an unprecedented speech to an annual pro-Palestinian rally in the Gaza Strip — a display of Iran's importance to the Hamas militant group that rules the territory.
In a virtual address to hundreds of supporters of Hamas and the smaller Islamic Jihad group gathered at a soccer field, Ebrahim Raisi urged Palestinians to press on with their struggle against Israel.
"The initiative to self-determination is today in the hands of the Palestinian fighters," Mr. Raisi said, dismissing Hamas' domestic political rival, the West Bank-based Palestinian Authority, which has long sought to win Palestinian statehood through negotiations with Israel. The Palestinian Authority administers autonomous enclaves in the Israeli-occupied West Bank.
Mr. Raisi's speech was seen as part of efforts to mend a rift between Hamas and its long-time patron, Iran, over the devastating civil war in Syria.
Mr. Raisi addressed the crowd on the occasion of "Jerusalem Day", or al-Quds Day after the city's Arabic name, which falls on the final Friday of the Islamic holy month of Ramadan. Jerusalem is home to the Al-Aqsa Mosque, the third holiest site of Islam. The mosque sits atop a walled esplanade, a compound that was the site of biblical Jewish temples and is revered as the most sacred site in Judaism.

ALSO READ | Violence at Jerusalem holy site raises fears of escalation
The compound has repeatedly been a flashpoint in the long-running Israeli-Palestinian conflict. Last week, Israeli police forcefully removed Palestinian worshippers who had barricaded themselves in the mosque with stones and firecrackers, demanding the right to pray there overnight.
After the raid, in which hundreds of Palestinians were detained and dozens hurt, Palestinian militants fired rockets from Gaza, Lebanon and Syria toward Israel.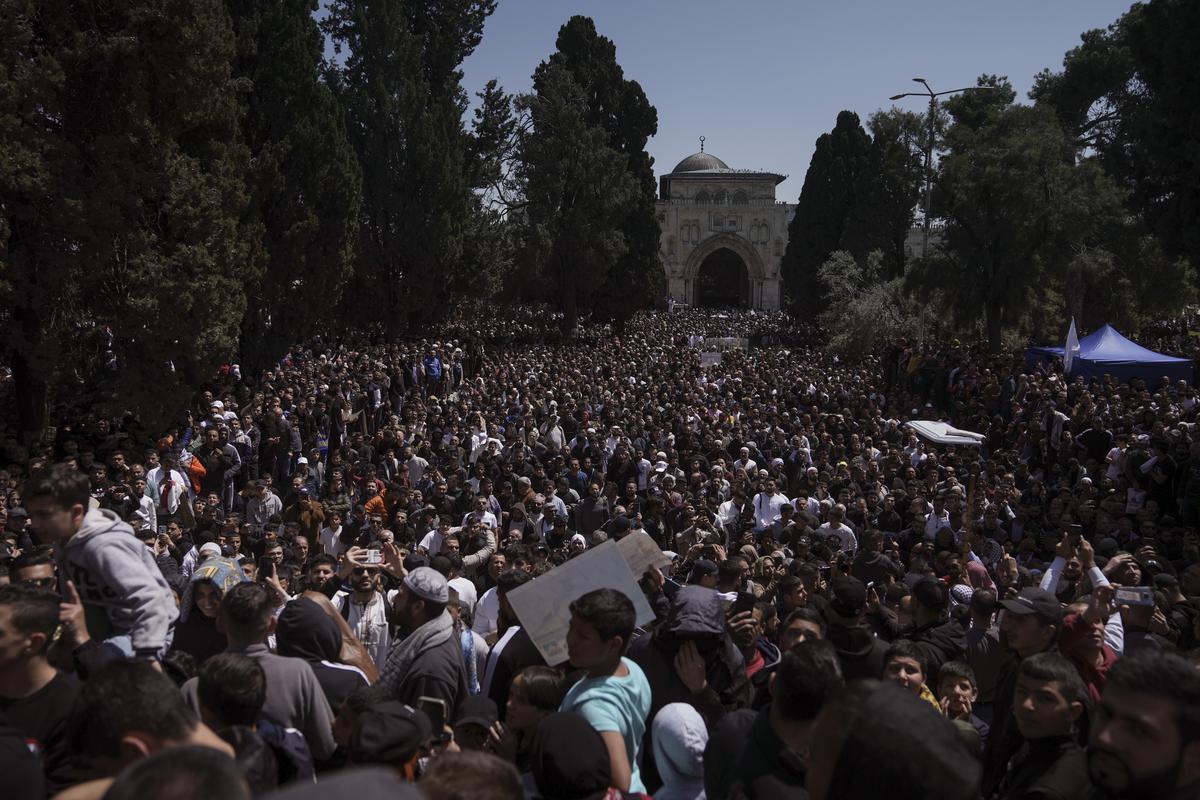 The Hamas leader in Gaza, Yehiyeh Sinwar, praised the rocket fire during Friday's rally. "The response came like a simple electric shock," Mr. Sinwar said.
For the past four decades, al-Quds Day parades have drawn thousands to the streets around the Middle East. The event is most dramatic in Iran, where crowds burn Israeli flags and chant pledges to liberate Jerusalem. Israel captured Jerusalem in the 1967 Mideast war and annexed it to its capital. Palestinians seek the eastern part of the city as a future capital.
Although Hamas is a Sunni Muslim group, it has a militant wing that has long nurtured close ties with Iran, a source of funding and a Shiite powerhouse. Hamas and Iran are brought together by a shared enmity toward Israel.
While Iran has not revealed the details of its support, Hamas has publicly praised the Islamic Republic for its assistance. Experts say Iran's support is both financial and political — now mostly blueprint technology, engineering know-how and training to help the militant group grow its own homemade arsenal of advanced rockets that can strike all of Israel's territory.
A crippling Israeli-Egyptian blockade imposed after Hamas violently wrested control of Gaza in 2007 has made it difficult for Hamas to smuggle Iranian-made rockets into the coastal enclave in recent years.
The U.S. State Department reports that Iran provides some $100 million a year to Palestinian armed groups, including Hamas and Islamic Jihad.
The civil war in Syria strained the relationship. In 2012, Hamas closed its Damascus office and left Syria following President Bashar Assad's brutal crackdown on a popular uprising — including on the Muslim Brotherhood, a political Islamist movement with which Hamas is aligned.
But the Hamas military wing has been drifting closer to Iran, a main backer of Assad. Recent steps toward reconciliation between Hamas and Assad late last year have pointed toward Iran's growing influence on Gaza's militant rulers.