External Affairs Minister S. Jaishankar signed comprehensive partnership agreements on migration and mobility with German Foreign Minister Annalena Baerbock in New Delhi on Monday. The two Ministers held wide-ranging talks focusing on ways to ramp up bilateral cooperation, especially in areas of energy, trade and climate change.
On conclusion of the talks, Mr. Jaishankar said that India and Germany have a common interest in ensuring a stronger and safer global economy.
"The agreement on migration will ease mobility issues. We hope the visa challenges (for Indians to Germany) will be resolved too," he said. He also expressed concern for Ariha Shah, a baby that was taken from Indian parents by German authorities.
Editorial | Welcome pragmatism: On India's G20 presidency 
Ms. Baerbock said the purpose of the migration agreement was to make it easier for students and researchers from India to go to Germany, and for German investors and businessmen to find it easier to travel to India.
Ms. Baerbock arrived in New Delhi this morning on a two-day visit, four days after India formally took over the presidency of the G20 grouping.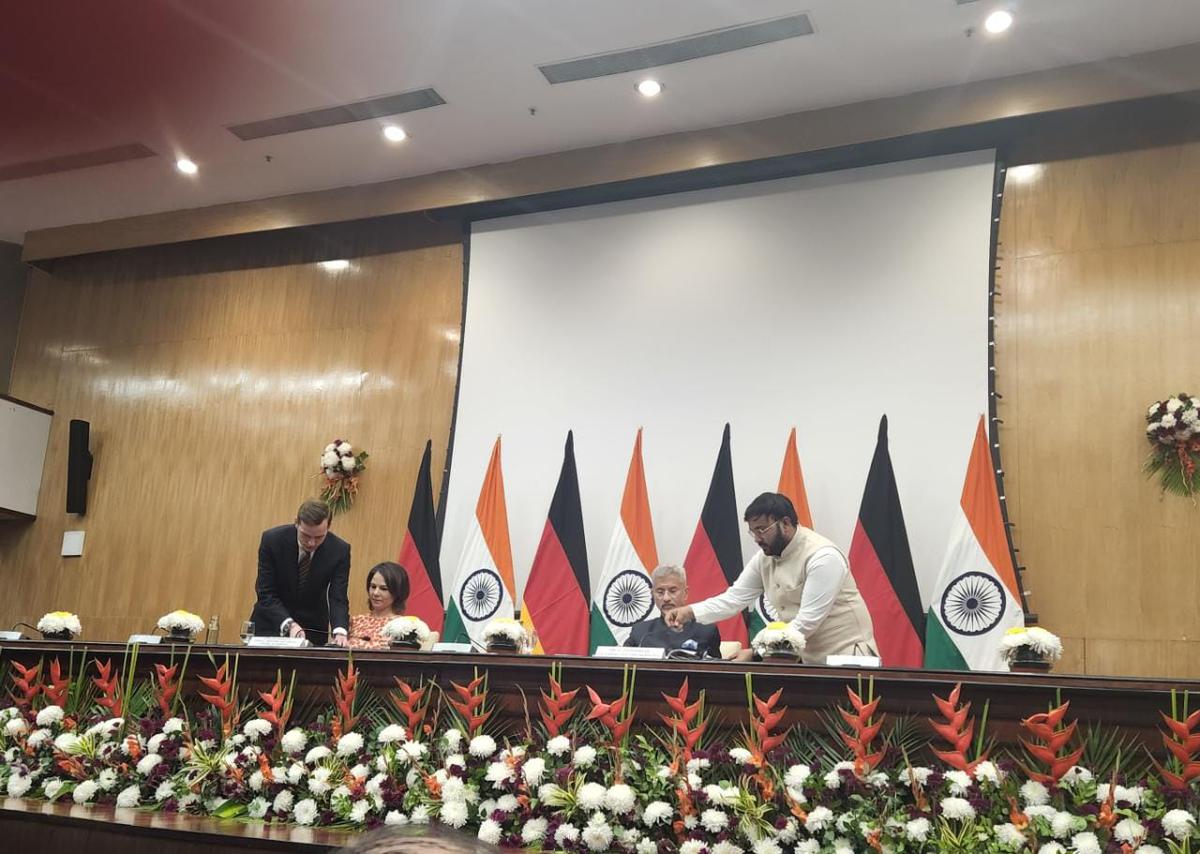 'Natural partner'

In a statement, Ms. Baerbock described India as Germany's "natural partner" and that the country will have a decisive influence in shaping the international order in the 21st century.
"The Indian Government has set itself ambitious goals not only in the G20 but also at home for its own people. When it comes to expanding renewable energies, India wants to push ahead with the energy transition more than before. Germany stands by India's side," she said.
"Because the dramatic effects of the climate crisis affect us all, destroying livelihoods in Europe as well as in India. That we want to strengthen our economic, climate and security policy cooperation with India beyond our strategic partnership, are not empty words," she added.
The German Minister said she and Mr. Jaishankar had an "open exchange" on issues with democracy and human rights, adding that "Seventy-five years after the murder of Mahatma Gandhi, India and Germany have a close engagement on democracy, human rights and rule of law".
On India's neighbours

The two Ministers also discussed matters relating to Pakistan, Afghanistan and China. "We had fairly intense conversation on Afghanistan and Pakistan," said Mr. Jaishankar. "We spoke about the challenge of terrorism. We engage Pakistan on bilateral issues, but we cannot have talks when there is terrorism. The German side understood this."
Ms. Baerbock noted that China was a partner, competitor and strategic rival. "The whole region can see China has changed in recent years. We have a new Indo-Pacific policy, refocusing ties with China," she said.
When asked if India was a substitute partner for Germany instead of China, the German Minister denied it and said, "We want to build a partnership of values with India, which is the largest democracy."
On Russian oil

With the ongoing oil crisis in Europe following Russia's invasion of Ukraine, Mr. Jaishankar said that European governments understand India's position on Russian oil, "but I wish European media would get it too".
"We have discussed with Russia how to expand our trade. If you compare, most European countries have multiple times that trade," he said. "The EU has imported more fossil fuel from Russia than the next 10 countries combined."
Given that energy sources are finite, Europe cannot make choices to prioritise its energy needs but ask India to do something else, he said.
India-Germany ties

The ties between India and Germany are on an upswing in the last few years.
Ways to expand bilateral economic engagement and defence collaboration figured prominently in a meeting last month between Prime Minister Narendra Modi and Chancellor Olaf Scholz on the sidelines of the G20 summit in Bali.
In May, Mr. Modi visited Berlin for the sixth India-Germany Inter-Governmental Consultations (IGC). It was followed by his visit to Schloss Elmau in Germany for the G7 Summit at Chancellor Scholz's invitation.
(With inputs from PTI)