The partition of India and Pakistan was a tragedy that has scarred both the nations for all times to come. It affected lives on both the sides of the newly emerged border; people lost their homes, their loved ones and their lives as well. The violence and brutality unleashed on either side of the border not only did cost millions of lives but took away people's identities or their multiple identities stood in opposition of one another and it also ensured that the newly created neighbours and people residing within them who had experienced the trauma would distrust each-other for decades to come. 
After the very bitter experience of partition, the beginning of an excessively strained relationship and mistrust between India and Pakistan must not come with a surprise. Like all significant events in history, the partition of India-Pakistan has an important place in the form of art. The pain of lost identities and the displaced sense of belonging has always found its place in literature, art and cinema, and even after over seventy-three years of partition, the theme of partition has not been abandoned. 
But, it is not only the very event of partition that found its way into art literature and cinema, but themes of love and human relationships across borders have also always been a part of mainstream cinema in India. So, the partition and the struggles with identity, belonging becomes one trend which deals immediate effects of partition on individuals.
A second trend is the exploration of human relationships across borders removed from the trauma of partition as Indians and Pakistanis and finally comes the political commentary on the partition, what led to it, which political ideology embodied by which faction or leader had what role to play in it? 
And a forth trend that has emerged rather recently is the action films that are set in the backdrop of terrorist activities that either root from Pakistan or reach to it such as Ek Tha Tiger, Phantom and many more. Of course, the proposed trends do not fit into clear categories because a number of times these categories are overlapping, these can only be thought of as some major aspects that are dealt with in Indian cinema with respect to the two South Asian Nations. However, it is also important to remember that the different genres may talk of the same themes but obviously in different tones.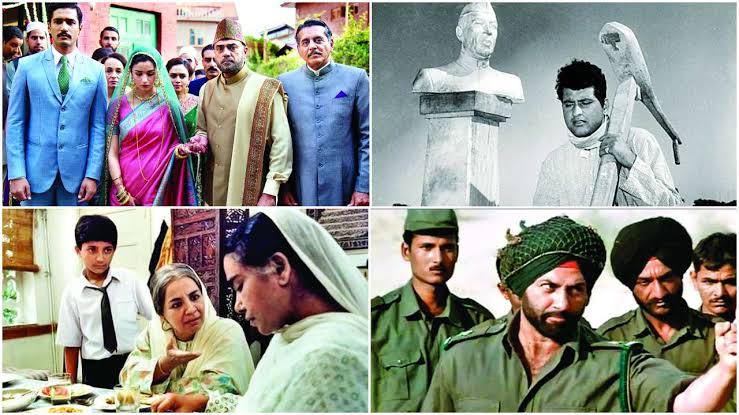 Among the films that discuss the immediate effects of partition on people lives, such as Pinjar (2003), Begum Jaan (2017), Earth (1999), Mammo (1994), all these different films have one thing in common, the reduction of human life so it becomes unimportant and a complete absence of choice. The partition, chaotic as it brought up a major question with it, "Where to go?" The dilemma had dawned upon all, especially on Muslims who wanted to live in India but feared being unaccepted in India as a response to Pakistan being a Muslim Nation. 
One great example of this category could be the film, Mammo directed by Shyam Benegal which talks of one such woman who left India to live in Pakistan, but as she is childless, she is thrown out of the house after the death of her husband on account of property issues and have nowhere else to go and therefore leaves for Bombay on a temporary visa to live with her sister. And eventually gets a permanent visa after bribing a local police inspector. 
But after the transfer of this officer, the new officer perceives her to be an illegal immigrant and sends her off to Pakistan, she eventually comes back and is declared dead to avoid any trouble while living in India. The film deals with the inability of a woman to be united with her family because of international borders, and her inability to find an abode in either of the nations and the absolute lack of choice when it comes to finding a home and being accepted in it. It showcases the fluidity and futility of national identity controlled by arbitrary power held by an institution like law and patriarchy in the two nations.
The second category deals with human affections and affectation after years of partition, these stories relate to people who aren't really affected by partition but rather the relationship between people from across borders who come across each other in different situations. There are a plethora of commercial films in the said category from Veer-Zaara (2004) to Bajrangi Bhaijaan (2015). 
Even after many decades of partition, India and Pakistan, it cannot be forgotten that there is a long history of shared culture and tradition between the two nations. The political states are akin in more than a few aspects of language and culture but is there anything that connects the two unfriendly neighbours? 
One of the most beautiful representations of human affinities beyond nationality is in the film, Filmistaan (2012). Filmistaan, directed by Nitin Kakkar beautifully narrates a story of a cinema lover or movie buff Sunny, who works as an assistant director but wishes to be a hero. He later is taken hostage from remote area Rajasthan by an extremist organisation and is taken across the border, touching upon the theme of Islamic extremism, the film doesn't rob even the "terrorists" off their human side.
Sunny's time in Pakistan helps him create deep bonds with all the people around him especially with Aftaab the owner of the house Sunny is captivated in who peddles pirated Hindi films across the border. Sunny is able to win the hearts of all the people around him including the old men and young children, even one of his captors and the one thing that connects these people is their love for cinema. Sunny is able to find affinity among people who were already like him but were separated on account of political and ideological rivalry but the love for films appealed to the human aspects of all these people and brought them together.
The partition marked the beginning of a rocky relationship with Pakistan since the two nations have gone into war several times, the films dealing with the themes of war can generally be thought of as "nationalist" narratives that glorify and eulogise both the war and the nation off course. And yet again there is a wide range of films that concern themselves with India Pakistan wars such as LOC: Kargil (2003), Border (1997) and the recent addition to this list could be Bhuj (2020). 
In the last few years, the narratives have grown to be jingoistic rather than nationalist and can have adopted an excessively political tone, one great example of this could be URI: The Surgical Strike (2019) directed by Aditya Dhar which is based on the retaliation of the 2016 Uri attacks. 
When it comes to a film that deals with war, there are some that have presented the Indian audience with fresh perspectives such as the 2013 comedy War Chodd Na Yaar, a film that represents war, not a necessary evil but a power play among leaders and Politicians internationally, another rather serious representation of the theme could be Lakshya (2004) which is a coming of age story with the 1999 Kargil war being its backdrop and not solely a war narrative.
For more such content keep checking our entertainment section.