When it comes to the decade of 90s there is a huge list of wonderfully created films, like DDLJ, Rangeela, Hum Aapke Hain Kaun and a lot more, which the audience as well the Hindi film industry will always be cherishing. 
Today, TSA has brought you some films that may not be as popular as others now, but are really entertaining to watch or re-watch. 
Jo Jeeta Wohi Sikander (1992)
Jo Jeeta Wohi Sikander is among the few coming of age sports dramas that India has produced. Set in the backdrop of rivalry between an elitist school and a local school, is a story of a carefree boy Sanju, played by Aamir Khan, who upon realising his responsibilities after his elder brother suffers serious injuries in an accident,  took part in the sports competition. With amazing music, beautiful visuals and a fresh theme for the Indian audience, Jo Jeeta Wohi Sikandar was a great entertainer back then and still is.
Chachi 420 (1997)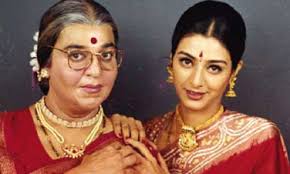 A remake of the Hollywood film Mrs Doubtfire, Chachi 420 directed by Kamal Hasan is without a doubt a great entertainer, studded with actors like Om Puri, Tabu, Amrish Puri and Kamal Hasan is a real rib-tickler, which shows a father's desperate attempts to be able to stay close to her daughter by cross-dressing as a nanny and what follows after is a hilarious chain of events.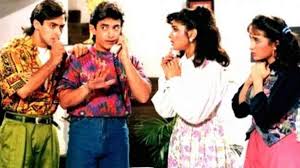 Okay, so this one is probably already on your list, and rightly so. Andaz Apna Apna bombed at the box office when it released in 1994 but over times has acquired the status of a classic and rightly so, with Aamir and Salman's bromance, the eternal question of who is Teja, and Raveena and Karishma posing as one another and off course the not so menacing, Mogambo ka Bhatija GoGo. It's all entertainment from start till the end and we absolutely do not mind watching it again and again.
Kabhi Haan Kabhi Naa (1994)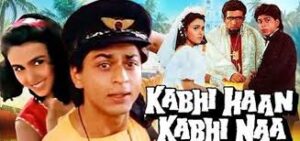 Shahrukh Khan has given us some amazing films in 1990, but one film that everyone remembers is Kabhi Haan Kabhi Naa, the Kundan Shah directed film, is the story of a happy go lucky urchin Sunil who is in love with a girl Anna (Suchitra Krishnamurthy) and the constant ups and downs of his romance keeps not only him but even the audience guessing whether Anna will choose him over his rival Chris (Deepak Tijori). This film turned the concept of a Hero upside down since Sunil was all together with a loser who was neither rich nor too macho and not even so much of a ladies' man. If you're among the rare that haven't watched the film, then this is your cue to watch it now. The film is available on Netflix.
Hero No.1
If we're talking about entertainment in the 90s and not mentioning a Chichi-Lolo film it's almost a crime. These films may not be very intelligent works of cinema but are surely entertaining. Rajesh played by Govinda, after meeting Meena, played by Karishma, on a world tour poses as cook cum servant to please her grandfather, the hilarious situations are made side-splitting by Govinda's comic timing in the David Dhavan directorial inspired by Rishikesh Mukherjee's Bawarchi, is something which can entertain anyone. And it is our absolute favourite among this list. 
Let us know which other films, according to you can be added to this list. And check our previous listicle on the same theme which will further introduce you to more such re-watchable Bollywood films from the 90s.
Read: Who is the richest actor in the world? Top 10 list.
For more, like us on Facebook or follow us on Twitter, Instagram  and Telegram