Synchronising plans for the G7 summit in Hiroshima in May this year and the G20 summit in Delhi in September will be on the agenda for Japanese Prime Minister Fumio Kishida's 24-hour visit to Delhi on March 19, said a senior Japanese official.
Mr. Kishida will meet Prime Minister Narendra Modi and also deliver a major speech on Japan's Indo-Pacific strategy and its new defence posture, more than 15 years since PM Shinzo Abe first spoke about Indo-Pacific cooperation during a visit to Delhi. Mr. Kishida and Mr. Modi will also take a walk together at a park in Delhi to visit a venerated tree with deep roots to Gautam Buddha's time.
Mr. Kishida has been on a whirlwind spree of meetings with international leaders beginning in January, when he travelled to the U.S., Canada, U.K., France and Italy, and also hosted German Chancellor Olaf Scholz in Tokyo this weekend to discuss the G7 agenda with member countries.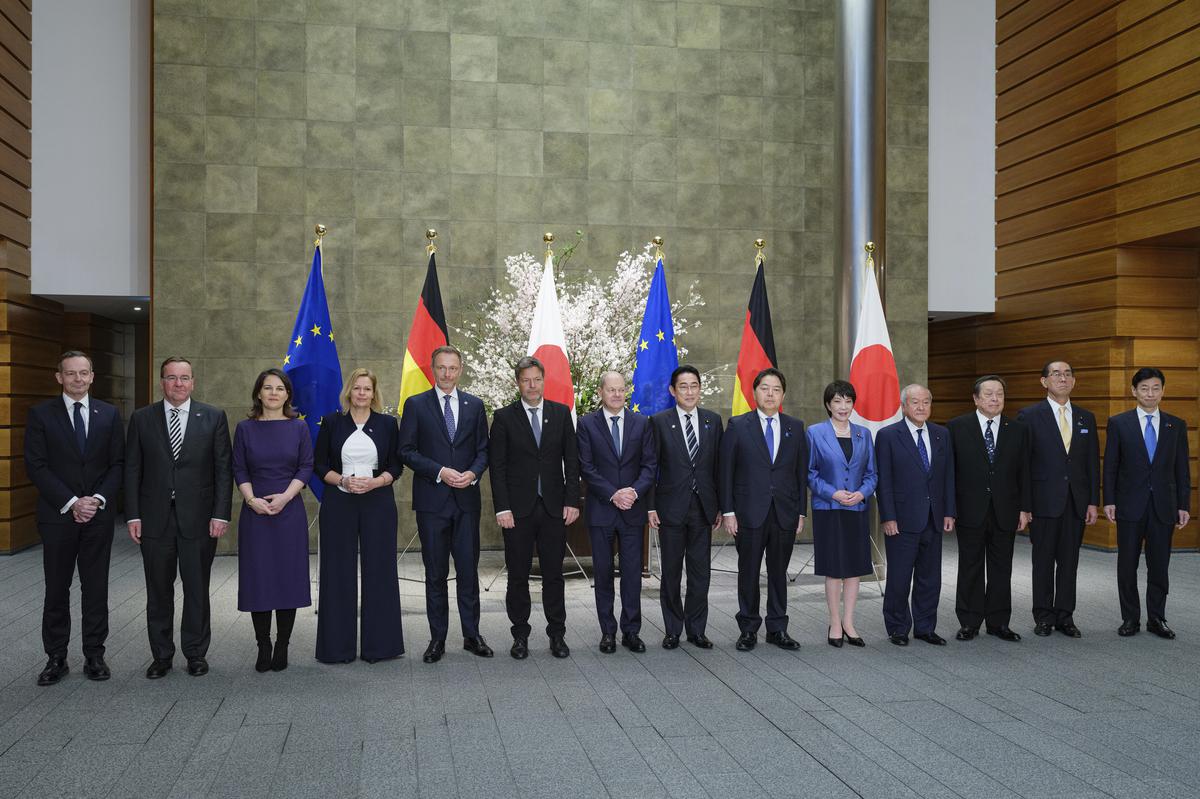 He will make the short trip to Delhi to work with Mr. Modi on more cooperation between G7 and G20 Presidencies, and is likely to make another attempt at bringing India on board with more tough language on Russia during the Hiroshima G7 meeting, something India didn't sign on to during last year's G7 summit in Germany.
While India is not a member of the G7 grouping of the world's most developed economies, the Indian Prime Minister has been invited several times as special guest to summits since 2008.
"As Japan and India assume the Presidencies of the G7 and the G20 respectively this year, Prime Minister Kishida looks forward to engaging in candid discussions with Prime Minister Modi on the roles that the G7 and the G20 should play in overcoming such global challenges as regional and international security, food security, climate and energy, fair and transparent development finance," Noriyuki Shikata, Cabinet Secretary for Public Affairs at the Japanese Prime Minister's Office, told The Hindu when asked about the visit.
Mr. Kishida's visit is unusual, as it is not a part of the annual bilateral summits Indian and Japanese leaders have held since 2006. Government sources also said that the visit would focus on "converging priorities on critical global issues, including food and health security, energy transitions and economic security," indicating discussions on the impact of the Ukraine conflict and the COVID-19 pandemic were on the agenda for talks.

ALSO READ | Japan Foreign Minister to skip G-20 Foreign Ministers' meeting; Deputy to represent Japan at meet
Mr. Kishida will land on Monday morning, and meet with Mr. Modi after laying a wreath at Mahatma Gandhi's memorial at Rajghat. After talks, the two leaders are expected to announce a detailed commitment on coordination between the G7 and G20 summits this year. In particular, Mr. Kishida will speak about increasing engagement between the G7 and the Global South, much like the Indian presidency of the G20 has done.
In addition, the leaders will discuss bilateral issues including Japan's targeted 5-trillion Yen public and private investment in India, connectivity projects in the North-East, and the much-delayed Shikansen high-speed rail project. Sources said the two sides will also outlook India-Japan cooperation under their "Special Strategic and Global Partnership" over the Free and Open Indo-Pacific (FOIP), which will be outlined by Mr. Kishida during his "Sapru House lecture" later in the day.
"[PM Kishida] thinks that it was in India where the vision of FOIP was born," Mr. Shikata said, referencing Abe's "Confluence of the Seas" speech to the Indian Parliament in 2007. "He looks forward to discussing the future of the 'Indo-Pacific' with the people of India on this occasion of his visit to India," Mr. Shikata added.
Mr. Kishida will also visit Buddha Jayanti Park in the capital along with Mr. Modi, and see the Bal Bodhi Tree, which is believed to be connected to the "Mahabodhi tree" that Gautam Buddha attained enlightenment under. The tree grew from a sapling presented by former Sri Lankan Prime Minister Sirimavo Bandaranaike of a branch from the Jaya Sri Mahabodhi tree in Anuradhapura, and was planted by former PM Lal Bahadur Shastri in 1964.