Learning how to ride a jet ski properly is simple, and to make things even easier, we've included some pointers below to get you started. You have two options if you want to experience the exhilaration of accelerating from zero to 60 mph in under five seconds without jeopardizing your safety on the road: buy a ticket and ride the Space X, or hop on a high-octane jet ski.
In the spirit of it all, we've put together some Jet Ski Tips And Tricks that will quickly turn you from a Beginner to a seasoned wake jumper!
Be Prepared
You must ensure that you have enough gasoline for the day, that you have the proper papers, and that you have a life jacket on hand. Life jackets and, in certain situations, permits are required for jet ski rental riders in some states. It's preferable to know what's needed ahead of time.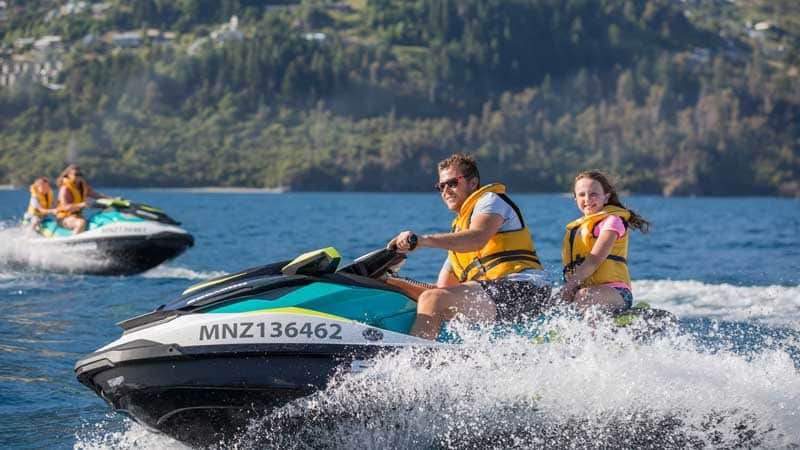 The first thing you should do is double-check that you're riding safely. Wear a life jacket at all times, and maintain the engine shut-off clip on your waist so you can cut the engine if you lose your balance and fall into the water. Always be alert of your surroundings when riding a jet ski, and never drink and drive.
Get Going
First and foremost, you must sit securely and grip the handlebars with both hands. Once the jet ski is started, steadily increase the throttle.
Up until you've moved away from the shoreline, cruise at 5 to 10 mph. Some people like to keep close to the shore until they become used to the throttle's sensitivity.
Begin by gripping the grips of your jet ski tightly. Engage the throttle while maintaining a low speed of 5 to 10 miles per hour and staying close to the beach until you feel at ease. This is an excellent opportunity to work on your turns, which can be difficult for beginners.
Cornering And Turning
Once you've established a safe distance from the coast, gradually increase your speed. Maintain a moderate speed and stay in your comfort zone when turning your jet ski. Lean in the direction you want to go, and make sure your passengers do as well.
Always keep in mind that most jet skis will demand you to raise your speed in order to turn because they lack a rudder. Other recent jet ski models can spin without increasing speed, but most of them are unable to do so.
You'll have more enjoyment if your jet ski lasts longer without breaking down. You must maintain your jet ski if you want it to last.
Simple maintenance will ensure that your jet ski runs well for many years. One of the most important jet ski recommendations that newbies neglect is this.
Try For The Ocean
Riding in the ocean is a blast once you've learned how to jump a jet ski. You can practice your technique on an endless number of jumps in the water. Until you get the hang of it, go on days when the water is calmer than usual. It's difficult to ride in the ocean when it's choppy.
Final Tips
When you've finally figured out how to ride a jet ski, there are a few extra things to consider. You must determine whether or not it is permissible for you to use a jet ski. Remember to check your local rules to see whether you need a license to ride a jet ski rental.
Take note of what's going on around you. Because many individuals are unaware of their surroundings, you must keep an eye out for yourself. Waterways are normally open and uncrowded, but that does not rule out the possibility of an accident.
Never push yourself above your limits once you've gotten used to riding a jet ski. There's nothing wrong with having a good time, but you must draw a limit to protect yourself and your passenger.
Also Read: 10 Best Rafting Spots In Indonesia That You Must Try