Many people are becoming more interested in adrenaline-pumping sports. Most of them regard this sport as both a recreational activity and a form of fitness training. Increasing your adrenaline means pushing yourself to your limits; you can try to measure your bravery and conquer the adventure fear by visiting these best rafting spots in Indonesia.
The majority of tourists visit Indonesia to go whitewater rafting in the swift currents of Indonesian rivers. The majority of Indonesia's major islands are well-known rafting destinations.
Some of the most popular and visited rafting spots by tourists are listed below to make your trip more convenient and memorable.
Here are some of the best rafting spots in Indonesia:
1. Nimanga River, North Sulawesi
The Nemanja River in Minahasa Regency is the best rafting spot in North Sulawesi. This location has distinct tracks. The river's condition, which is not too steep, makes Nimanga River suitable for beginners.
Furthermore, the Nimanga River remains very natural and beautiful to explore. You can still see a variety of wildlife roaming around the banks of the river as you travel down it.
2. Alas River, Aceh
This river separates the Leuser National Park from Aceh by flowing directly into the Indian Ocean. It has many bends and sharp and swift currents.
Beginners should start from Muarasitulan Kutacane to Gelombang, while advanced rafters should start from Anugusan. While rafting, you can see the beautiful rainforests and their wildlife.
The Alas river rafting trip lasts four days and covers 100 kilometers from Ketambe Village in Southeast Aceh Regency to Kuta Cane Village in Southeast Aceh Regency. You can also go on a 40-kilometer day trip.
3. Serayu River, Banjarnegara
The Serayu River in Banjarnegara, Central Java, is one of the best places in Indonesia for rafting. Because this river is not well known among rafting enthusiasts, it is relatively quiet and has not yet been extensively explored by tourists.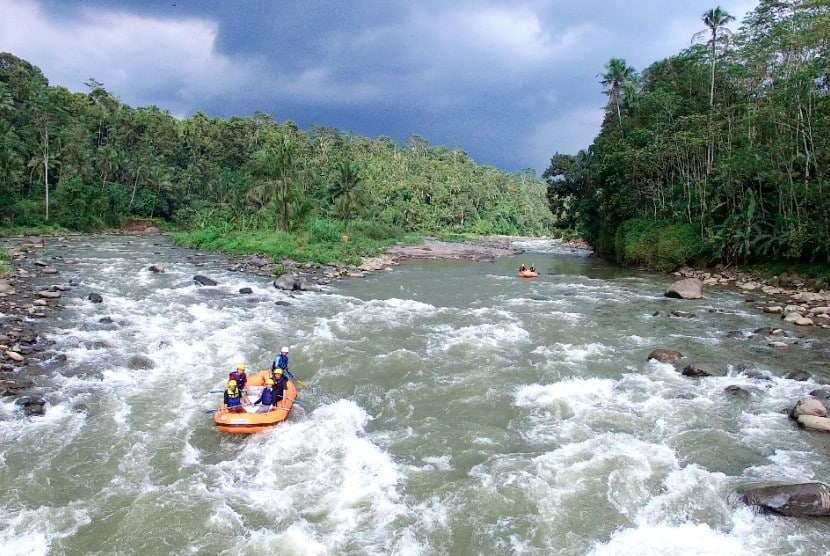 What you should know is that the Serayu River has a very difficult contour that only experienced rafters should attempt.
Furthermore, Serayu River offers outbound facilities, which will add to the excitement of your rafting adventure.

4. Asahan River, North Sumatra
The Asahan River in North Sumatra is next on the list; this is a difficult ride because the river is known for its strong currents and is ranked third in the world for rafting.
This river hosts a number of international rafting competitions. It is a 22km ride and a three-day trip to see the highest waterfall in Indonesia, the Panot, which stands at 250m. Your instructor will provide safety tips; pay close attention and act accordingly.

5. Pekalen River, East Java
East Java is not to be overlooked either; it has one of the best rafting spots on the Pekalen River. Pekalen River is located in Probolinggo Regency and has a depth of about 3 meters.
You will be treated to a view of 7 waterfalls while rafting on this river. The river contour is quite difficult, with a cliff rising to about 5 meters in height.
The cliff is also used as a jumping-off point. The Pekalen River should be on the bucket list of anyone who enjoys adrenaline-pumping activities.
6. Ayung River, Bali
Rafting on the Ayung River in Bali is 12 kilometers long, beginning in Payangan and ending in Kedewatan Village, and is not particularly dangerous except during heavy rains.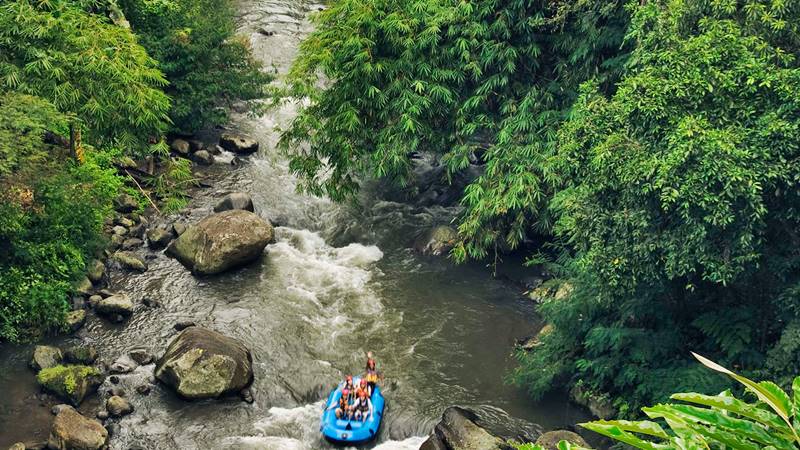 It is appropriate for beginners. It is a four-hour adventure that costs Rs. 1,110 and includes an English-speaking guide, transportation, meals, and insurance.
Rafting without a shared transfer and Rafting with a shared transfer are the two options. People with heart or lung problems, asthma, or other respiratory problems should not participate in rafting activities.

7. Citarik River, Sukabumi
Mount Halimun National Park contains this river. Rafting on the Citarik River is extremely popular because it is a popular destination for tourists looking for a rafting spot in West Java.
This river's difficulty level is appropriate for beginners to professionals. The shortest route requires only one hour of wading.
8. Lamandau River, Central Kalimantan
Kalimantan, known for its long and large rivers, is a popular destination for rafting enthusiasts. The Lamandau River in Central Kalimantan province is one of the rivers that must be tested.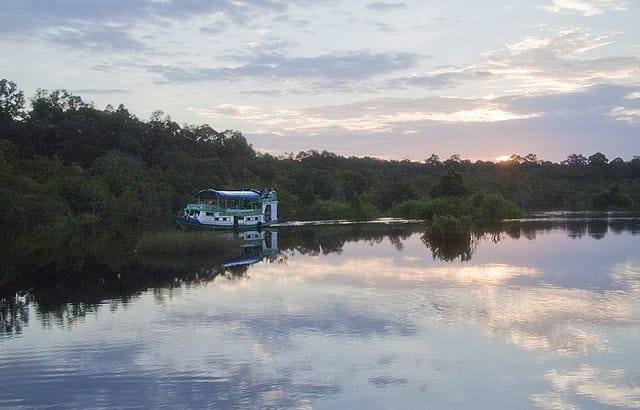 Rafting enthusiasts will have a unique and challenging experience at this location. With a strong river current, the path is difficult.
Furthermore, the scenery provided by rafting on the Lamandau River is breathtaking. This means you can quench your thirst for adrenaline while also treating yourself to stunning scenery.
9. Green Canyon, Pangandaran
Pangandaran is well-known not only for its beaches but also for its rafting spots. In Green Canyon, you don't take a boat down to the river; instead, you use tires, also known as body rafting.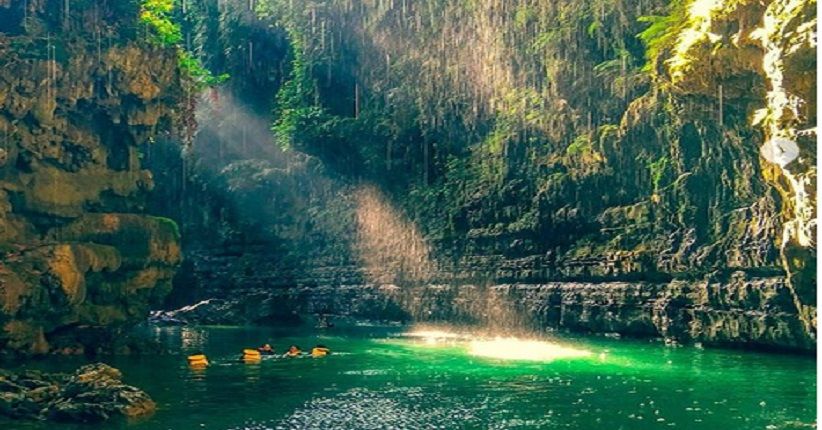 The location and safety of Green Canyon mean that it is frequently visited by tourists who want to experience the sensation of rafting in a different way.
Green Canyon may be one of the best rafting destinations in Indonesia if you are interested.
10. Elo River, Central Java
The Elo River in Magelang, Central Java, is near the Borobudur Temple. It is a three-hour trip with swift currents that costs around Rp.3,329 per group of one to five people.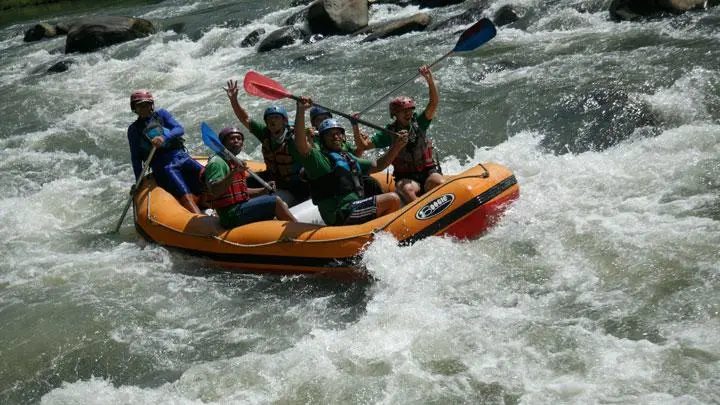 Weekend trips begin in the morning, while weekday trips begin in the afternoon and conclude with a meal, either lunch or dinner.
Safety precautions include a minimum age of 8 years old, and the exclusion of people with disabilities, and those under the influence of alcohol. For safety and convenience, participants are asked to wear swimwear, t-shirts, and river sandals or shoes.
Conclusion
Rafting is a challenging sport that has always piqued the interest of adrenaline junkies. It emphasizes teamwork and forces you to overcome your fear of the water. However, most people have no idea where to begin their rafting adventure.
If you enjoy rafting and are looking for the best place to practice your hobby, Above are the best rafting spots in Indonesia where you can explore the adventure within you. Which of these spots would you try first if you head for rafting in Indonesia? let us know in the comment section
Also Read: 5 Things To Do In Spiti Valley For Adventure