As days move on, it now looks actor Kangana Ranaut is not giving up on making controversies any time soon. Yet again, she has taken a verbal spat with Samajwadi Party MP Jaya Bachchan in Rajya Sabha, when the latter on the second day of Monsoon Session of the Parliament, took the opportunity to speak that
"People in the entertainment industry are being flogged by social media. People who made their names in the industry have called it a gutter. I completely disagree. I hope that the government tells such people not to use this kind of language. "

"Just because there are some people, you can't tarnish the image of the entire industry. I am ashamed that yesterday one of our members in Lok Sabha, who is from the film industry, spoke against it. It is a shame, Jis thali mein khate hai usme chhed karte hai. Galat baat hai (they bite the hand that feeds, it's wrong)."
she added, referring to comments made by BJP MP Ravi Kishan in the Lok Sabha on 14th September 2020 who raised drugs related allegations that have emerged against the film industry in the Sushant Singh Rajput's probe.
Some days ago Kangana has also made a comment on the industry, she alleged that 99% of the film industry feeds upon drugs and people there have made it a gutter. And after this it seems that part of Jaya Bachchan's speech where she asked the government to stop people who have called the industry, a gutter, to not use such kind of language, was indirectly made for Kangana.
To this Kangana replied with the following tweet.
https://twitter.com/KanganaTeam/status/1306122855759790083
It loosely translates to, "Which thali (plate) is Jaya Ji referring to? The one that was offered to appear in a two-minute role, item numbers and a romantic scene; and that too after having sex with the hero? I taught the industry feminism and decorated the thali with patriotic and feminist films, this is my own plate Jaya ji, not yours."
Earlier to this tweet Kangana tweeted using Jaya Bachchan's children Abhishek and Shweta over indirect allegation on her for colluding to defame the industry during zero hour session of the Rajya Sabha.
https://twitter.com/KanganaTeam/status/1305742115255668736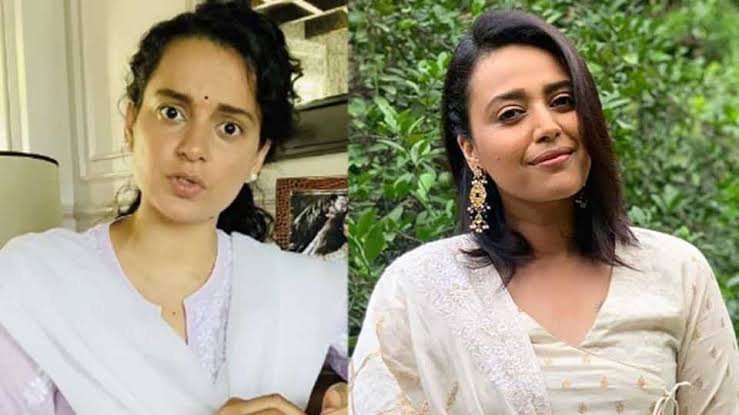 Amid all this actor Swara Bhaskar, who has acted alongside Kangana in Tanu weds Manu, tweeted,
Sickening Kangana. Shameful comment! बस करो please. अपने ज़हन की गंदगी ख़ुद तक सीमित रखो, गाली देनी है तो मुझे दो.. मैं तुम्हारी बकवासें ख़ुशी ख़ुशी सुनूँगी और यह कीचड़ कुश्ती लड़ूँगी तुम्हारे साथ। बड़ों की इज़्ज़त भारतीय संस्कृति का पहला सबक़ है- और तुम तो कथित राष्ट्रवादी हो। https://t.co/RC8WUilBbD

— Swara Bhasker (@ReallySwara) September 16, 2020
Which loosely translates to, "Sickening Kangana. Shameful comment! Stop it, please. Keep the dirt of your mind limited to yourself, if you want to abuse me, do it .. I will gladly listen to your nonsense and fight this mud wrestling with you. Respect for elders is the first lesson of Indian culture – and you are a self-proclaimed nationalist."
Many members from the film industry like Sonam Kapoor, Richa Chadda, Farhan Akhtar, Anubhav Sinha have hailed Jaya Bachchan's speech for saying on behalf of the industry who don't like to respond to hatred filled tweets against the industry.
Keep checking our entertainment section for more updates on this issue and the industry in general.
Also Checkout:Top 10 Horror Films Where Nobody Dies