Manto was, is and will always remain alive among us as a writer who wrote in the most honest way. As Manto has said, If you find my stories dirty, the society you are living in is dirty. With my stories, I only expose the truth.
Today, on Saadat Hasan Manto's  108th birth anniversary, TSA brings you 8 of his hard-hitting quotes which will remind you of the reality we all are living in and give you some lifelong lessons we are in dire need of. These quotes will make you realise that Manto was way ahead of his times and that he indeed wrote the hardcore reality of life, there is absolutely no doubt about that. In Manto's words "Sach Bolne Walon Ko Meethi Batien Bolna Nahi Aata"

If you cannot bear these stories then the society is unbearable. Who am I to remove the clothes of this society, which itself is naked. I don't even try to cover it, because it is not my job, that's the job of dressmakers.
Food is the only religion of an empty stomach.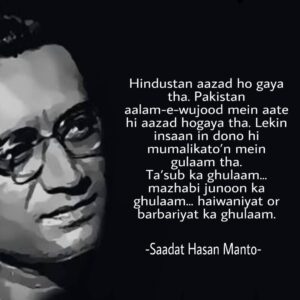 Hindustan had become free. Pakistan had become independent soon after its inception but man was still a slave in both these countries — slave of prejudice … slave of religious fanaticism … slave of barbarity and inhumanity.
A man remains a man no matter how poor his conduct. A woman, even if she were to deviate for one instance, from the role given to her by men, is branded a whore. She is viewed with lust and contempt. Society closes on her doors it leaves ajar for a man stained by the same ink. If both are equal, why are our barbs reserved for the woman?

Religion becomes poison when it leaves the heart and ascends to the mind.

Only fools can think that Religion can be shot dead.

I send thousands of curses on the society which has a principle that after one's death his character will be sent to laundry where it will be washed.
We've been hearing this for some time now — Save India from this, save it from that. The fact is that India needs to be saved from the people who say it should be saved.
Also Checkout: Movies And Web Series Releasing In May 2022