Menstrual Hygiene becomes a silent need during the pandemic of COVID-19
One thing that is constant in the world of absurdity is a woman's periods. "Periods don't stop during a pandemic, but managing them safely and with dignity has become a whole lot harder," Susanne Legena, chief executive officer of Plan International Australia, said in a statement to mark Menstrual Hygiene Day.
Starting March 24, 2020, access to essential items was curtailed for millions in the country for the duration of the 21-day lockdown and that brings to my mind another very essential need that we too often ignore and in worst case stigmatize – Menstruation.
Menstruation is a normal biological process that is experienced by half of the world's population. Everyday roughly 800 million girls and women around the world have their period. Millions of people who menstruate struggle to manage their monthly menstruation safely comfortably and with dignity.
The biological needs of women are often met with silence. Since needs are addressed as an afterthought, policy around women's needs also becomes an afterthought.
 After a tweet by Union Minister Smriti Irani on March 29, sanitary pads have now been listed as "essential" commodities.
On this World Menstrual Hygiene Day, my heart can only bleed for girls and women who don't have access to menstrual hygiene and already have been reeling under this "period-poverty" and now are even in more trouble. Imagine the women migrants, managing periods on the long and tough road home without access to any type of amenity.  
Menstrual Hygiene Day is an annual awareness day on May 28 to highlight the importance of good menstrual hygiene management. It was initiated by the German-based NGO WASH United in 2014 and aims to benefit women and girls worldwide.
In the view of menstrual hygiene day, Plan International Australia invited those who menstruate to share their experience during the lockdown. Some reported unavailability of the product as panic buying led to bare store shelves. some have to substitute in different ways instead. While some have to forgo buying hygiene products as money will have to be used on food and bills first.
Does anybody care about female healthcare providers?
Reports say In Italy and China many female healthcare workers are taking pills to postpone their 'unspeakable' special periods rather than stain their protective suits with blood. Burdening women with a disproportionate share of the sacrifice is unfair and counter-productive. In this vicious cycle, the veil of silence around menstruation contributes to sexism, gender inequality, and holding women back.
Looking at the current scenario of COVID-19, potentially extending until next winters, product availability could be affected by the store closure and stock-outs because of broken supply chains during the lockdown. With pad making factories shut down in rural India, Is there a mechanism to ensure pads reach women?
Menstruating girls and women in rural India already face inadequate access to toilets and water and many lack the most basic materials needed to manage blood flow, underwear, and soap. Privacy is often scarce, and when toilets are available, they often lack locks, functioning doors, proper lighting, ventilation, and separation by gender.
To observe the MH day of this year, UNICEF started an initiative, called Red Dot Challenge against period shamming. Netizens took a very active part in the challenge. Many Bollywood beauties like Dia Mirza, Diana Penty, Aditi Rao Hydari, Kubbra Sait and former Miss World Manushi Chhillar also came out to take part in the Red Dot Challenge and shared monochrome pictures showing of a red dot on their hands with powerful messages.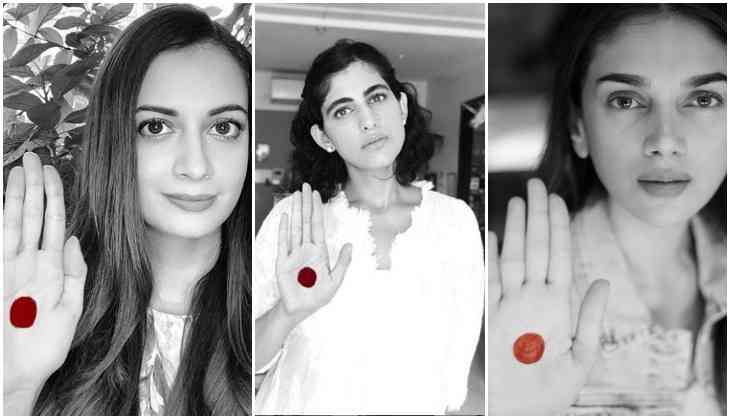 So here I wish all the girls and women a healthy and safe Menstrual Hygiene Day!