These uncommon decks of playing cards don't resemble the ordinary decks that most people have lying around the house. Instead, the graphics and designs on these limited edition decks are beautiful and one-of-a-kind. In this article we are going to discuss some of the most expensive decks of playing cards of all time.
These are quite popular among magicians, and they usually sell out quickly. While the original retail price of these unusual decks is generally about $15 or $20, they sell for hundreds of dollars on the resale market. These cards may even sell for $1,000 in some circumstances! Some of the world's best gamblers are also ardent collectors. They are enthralled by the design of a deck or the tale behind its construction. Those who are more superstitious may only wish to utilize their collection of playing cards. Collecting cards is a wonderful activity for whatever purpose. You can also check out some poker resources on Fliptroniks.
We have curated a list of 10 most expensive decks of playing cards ever made below.
Check out our list of 10 most expensive deck of playing cards ever:
1. Microsoft David Blaine
($425)
Microsoft David Blaine Playing Card by Expert Playing Card Co. is extremely uncommon and difficult to find. These cards were allegedly presented to Microsoft interns who were present at a Microsoft-sponsored event where David Blaine performed. In 2015, just 2,015 decks of the card were created. The deck includes a double-seal Split Spades, which is becoming increasingly rare.
2. Gold Venexiana
($425)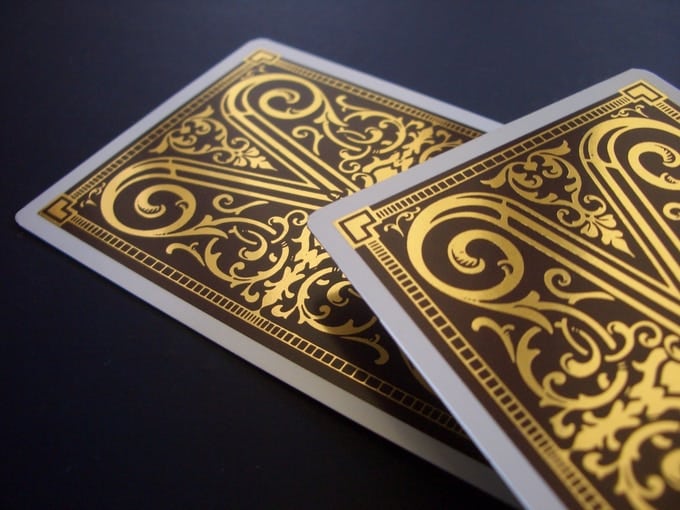 Lotrek's art is celebrated in this ultra-luxurious and one-of-a-kind playing card. Each of the 52 cards in the Venexiana Gold Playing Card Deck has a gold foil hot-stamped on it and is printed on a 3,300 gsm French casino card paper. Metallic gold ink is also used to print all of the Venexiana faces. The Venexiana is a card collector's fantasy, with just 212 numbered decks ever created and sealed in an exquisitely gold-accented tuck box.
3. Smoke & Mirrors Gold Private Reserve
($270 – $350)
The magicians Dan and Dave's first signature series of cards was called Smoke & Mirrors. Dan and Dave released a limited edition Smoke & Mirrors Gold Private Reserve deck in 2013. Instead of using typical colors, the cards included gold accents. There were only 2,500 Smoke & Mirrors Gold Private Reserve decks made, and they weren't offered to the general public at first. The Gold Private Reserve cards could only be obtained by visiting Dan and Dave's private showroom.
4. White Centurion
($325)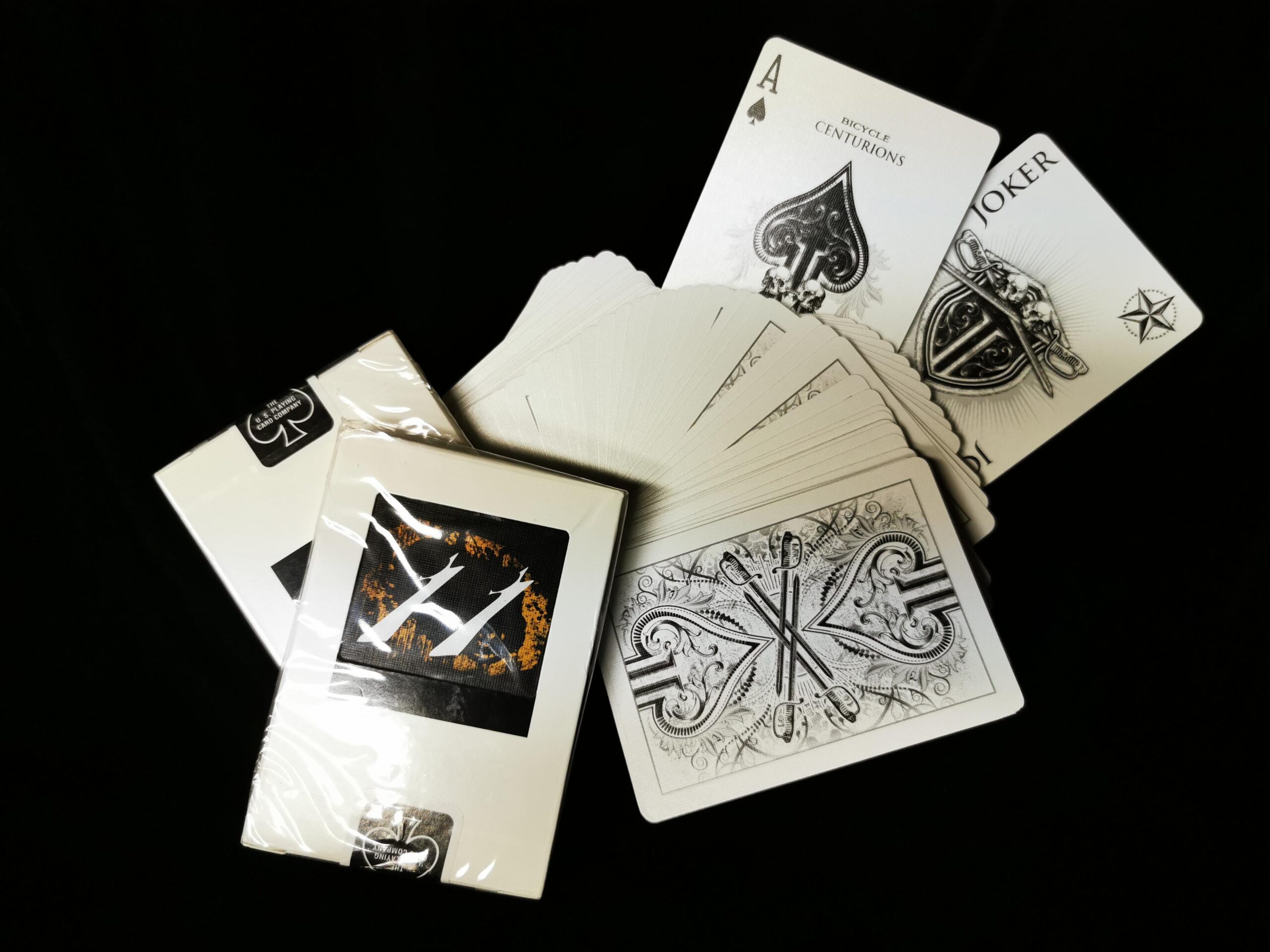 The White Centurion Playing Cards are based on Theory11's Bicycle Centurion design idea. Chris Kenner's 1-on-2 impact Blueprint debuted this brilliantly designed card deck. Following the performance, card collectors expressed interest in obtaining the aforementioned deck, especially after learning that only roughly 1,100 White Centurions exist.
5. Unbranded Black Reserve Note
($250 – $300)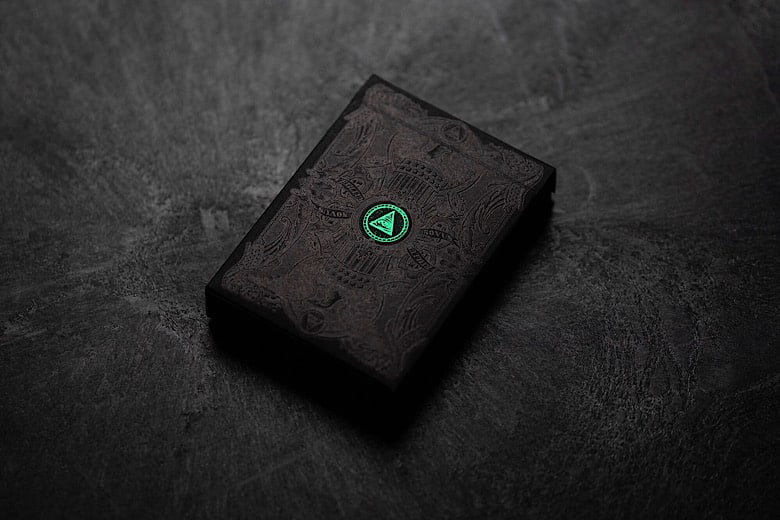 Jackson Robinson's immensely famous Federal 52 card set, which included artwork based on American banknotes, was followed up with Federal 52 Part 2. The Unbranded Black Reserve Note deck was the rarest of the Federal 52 Part 2 variants published by Robinson. Only 1,000 of these Unbranded Black Reserve Note cards were made, and they sold out rapidly through Robinson's Kickstarter campaign. The Unbranded Black Reserve Note deck is still highly sought after over a decade later, and they may sell for as much as $300 on the secondary market.
6. Zenith
($240)
Zenith, the first deck in the Encarded Signature Series, was released in 2014 by card designer Paul Carpenter. Zenith had a print run of 1,000 decks and was only available once. The decks were individually numbered and sealed. The Zenith cards were initially priced $20, but their value has skyrocketed over the years, with some fetching well over $200.
7. Red Fontaine
($200)
Zach Mueller initially started Red Fontaine as a crowdsourcing initiative on Indiegogo in 2013. The initiative was such a popularity that the $10,000 funding target was surpassed in just 18 hours after it was posted. Within a month, it had doubled its financing, and since then, card collectors have been on the lookout for the rare Red Fontaine card deck. Prices rose as a result of the increased demand.
8. Scarlett Tally-Ho
($180)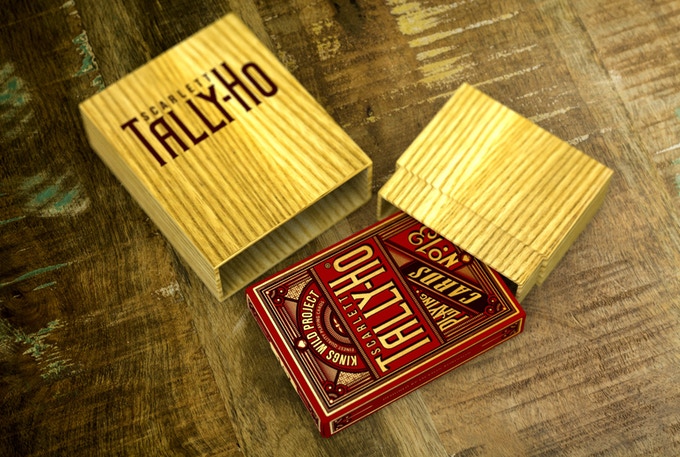 Jackson Robinson of Kings Wild Project produces the Scarlett Tally-Ho, which is named after his daughter Scarlett. The tuck case is available in a deep crimson with gold foil embellishments. The tuck features a lattice design on the inside. The playing cards are totally customized, with two gold metallic ink accents on the face and one gold metallic ink on the back design, which is recognised for Kings Wild Project's exquisite design.
9. Blue Blood
($100)
The first of six cards in Uusi's series to be issued by the United States Playing Card Company is Blue Blood. Each card has elaborate hand-drawn pictures by Peter Dunham and Linnea Gits, making it one-of-a-kind and highly sought after. Only 2,500 copies of this difficult-to-find playing card deck are available. The cards were printed on air cushion card material and polished with a bicycle-grade finish.
10. Green Rarebit
($100)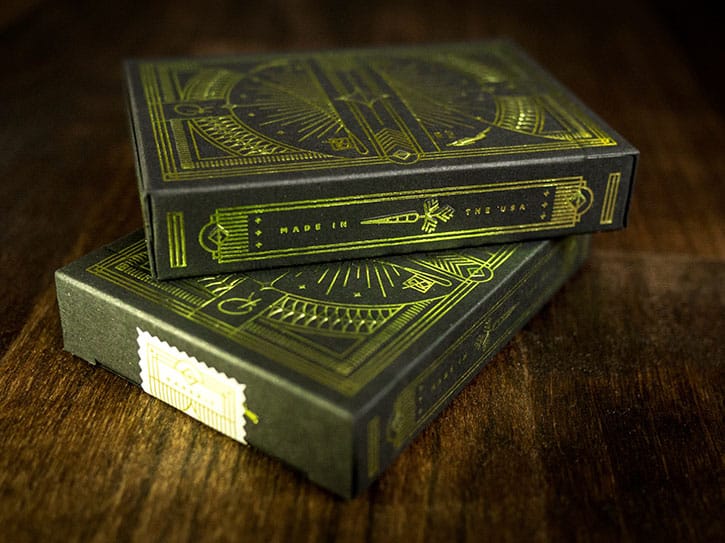 The Rarebit Playing Cards were designed by Theory11 for The Rarebit Restaurant and Lounge in Charleston, South Carolina. If their meals cost more over $100, patrons of the stated eatery can order the original Green foiled version. Collectors like this card deck, which includes a black matte finish tuck box that showcases the exquisite foil line. A personalized seal is also included with the tuck.
The market for playing cards is filled with fantastic and intricately-designed cards, and card collectors have their own preferences for which decks to keep in their collection. Some of the most expensive decks of playing cards are listed above.