Even if you've never seen a Studio Ghibli film, you've almost certainly seen some of its most recognisable iconographies in pop culture. Studio Ghibli has given the world some enduring pop culture emblems, whether it's No Face, the dark spirit who looks like a black humanoid wearing a white mask from Spirited Away, or the titular Totoro, a large rabbit-like creature from My Neighbor Totoro. The studio, which was founded in 1985 by Hayao Miyazaki, Toshio Suzuki, and Isao Takahata, has produced over 20 critically acclaimed feature-length animated films.
The films mainly depict the coming-of-age experience through artistically spectacular hand-drawn animations, with passionate themes and aspects. They are not afraid to discuss topics that are rarely addressed in animated films aimed at children, such as old age, death, misogyny, the horrors of war, humanity's negative impact on nature, and self-doubt. Take a look at our choice of the best and most iconic Ghibli films to watch right now, whether you're a newcomer or a seasoned fan.
1. Porco Rosso
Porco Rosso, directed by Hayao Miyazaki and released in 1992, is the best Studio Ghibli film in our opinion. This Ghibli film takes place on the magnificent Adriatic Sea during the Great Depression of World War I.
Porco Rosso (which translates as "Red Pig" in Italian) is the primary character, and he is a pig who was once a human being, but he is more than that. He confronts air pirates and an American ace called Donald Curtis while flying a seaplane as a bounty hunter. The film's attractions are Porco Rosso's relationships with the heroines Giza and Fio Piccolo, in addition to the air battles. We enjoy the lines "A pig who doesn't fly is just an ordinary pig" and "This… this is what Cool is" from Porco Rosso, which is one of the coolest movies ever made.
2. The Wind Rises
Hayao Miyazaki wrote and directed The Wind Rises, a drama film by Studio Ghibli that was released in 2013. It was inspired by Jiro Horikoshi's biography, which existed until 1982, and Tatsuo Hori's novel The Wind Has Risen, which was published between 1936 and 1938.
The story begins in Tokyo, shortly after the Great Kanto earthquake of 1923. The Wind Rises is a film about Jiro, a fighter aircraft designer, and his love interest, Naoko. Hayao Miyazaki is fascinated by aircraft, and the flight scenes in the anime film are masterfully represented.
3. The Tale of The Princess Kaguya
Isao Takahata's final film, The Tale of the Princess Kaguya, was released in 2013, and he died in 2018 at the age of 82. The drama film is based on the Japanese folktale The Tale of the Bamboo Cutter, which was written in the 9th-10th centuries.
Princess Kaguya is the protagonist of the story, who is discovered by an old bamboo cutter in a stalk of bamboo. The video depicts a young girl growing up in an old Japanese society, as well as unique Japanese rituals and cultures.
4. Spirited Away
Spirited Away is the highest-grossing film in Japan. It has been at the top of the list of highest-grossing films in Japan since its 2001 release.
Chihiro, a 10-year-old girl, experienced a fantasy realm where she forgot her name and was renamed "Sen." She does, however, make an effort to maintain her identity in this weird world. We are moved by Spirited Away because Chihiro, who is just ten years old, is working hard at the bathhouse.
The most appealing aspect of the film is the cast of characters, which includes a gentle kid named Haku (who is actually a river deity), the witch and bathhouse owner Yubaba, and her twin sister Zeniba. Kaonashi (No-Face) is a really interesting character, and who on earth do you think he/she is? The essence of lushness or greed? Just a pure guy? 
5. Whisper of the Heart
Whisper of the Heart, based on the manga by Aoi Hiiragi and released in 1995, is one of Ghibli's most popular films, particularly in Japan.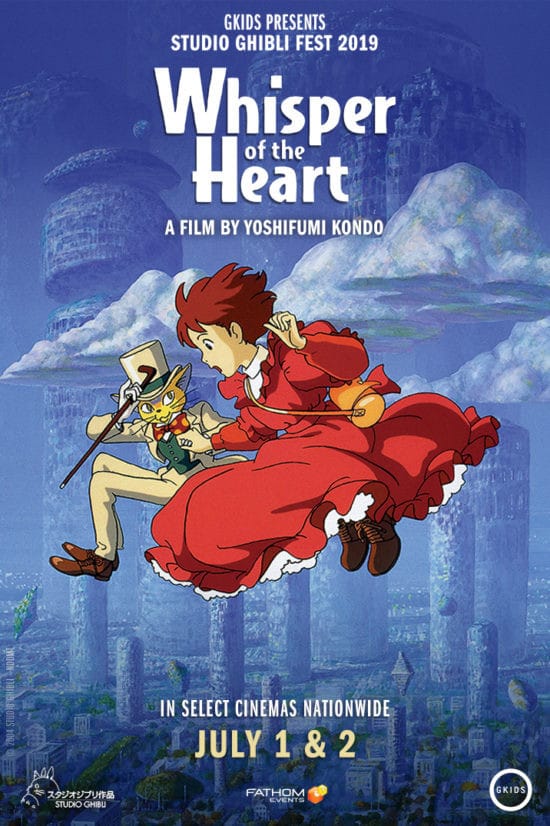 The romance anime focuses on two major characters: Shizuku Tsukishima and Seiji Amasawa, and depicts their genuine love. Shizuku falls into a mystery antique shop called Chikyuya, which is run by Shiro Nishi, and then she meets Jiro's grandson Seiji Amasawa. On the other hand, she works her hardest to finish a novel, while Seiji pursues his dream of becoming a violin maker. They encourage each other to pursue their goals, and he promises to marry her once he has completed his training as a full-fledged violin maker.
6. Kiki's Delivery Service
Since its premiere in Japan in 1989, Kiki's Delivery Service has been a hit with both home and international audiences.
The primary character is a 13-year-old witch named Kiki, who leaves home with her pet black cat Jiji in search of independence. Ghibli fans have been wowed by the plot, in which Kiki faces and overcomes numerous challenges while working as a dreamy witch. Some people identify with her, while others are inspired by her plight. In this film, the scenery of the aquatic capital is also quite well-drawn. It appears to be based on northern European countries. Kiki's Delivery Service is especially recommended for Ghibli beginners.
7. Castle in the Sky
In 1986, Hayao Miyazaki directed his first Ghibli animated film as a member of Studio Ghibli, Castle in the Sky. The fantasy adventure film was created from scratch, which means it is a wholly unique Studio Ghibli production. Many Studio Ghibli fans consider it to be the best Ghibli film ever made.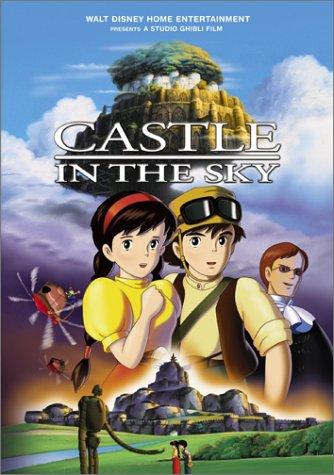 The two main characters in Castle in the Sky are a young boy named Pazu and a young girl named Sheeta. Her crystal pendant is the focus of air pirates and government agencies pursuing her. Her journey with Pazu starts to get away from them.
8. Howl's Moving Castle
Even though opinions on the concepts in this film are mixed, it is widely agreed that it is one of the most visually spectacular Ghibli films ever. One of the film's key themes is the senseless destruction produced by war, which was heavily influenced by Miyazaki's vehement opposition to the US invasion of Iraq in 2003. 
In the film, Sophie falls in love with Howl, a wizard who, despite his opposition, is recruited to fight a war for his king. Sophie is cursed by a witch for falling in love with Howl, and she is transformed into an elderly woman. The story follows them on their quest to overcome their obstacles and find happiness.
9. Princess Mononoke
Princess Mononoke is regarded as one of the most well-known Ghibli films of all time. The historical fantasy anime is set in Japan during the late Muromachi period (1336–1573). Personally, we think the film has two fundamental themes: harmonious cohabitation of nature and mankind, and life. 
The main character, Ashitaka, is the last prince of the Emishi tribe, and he meets Princess Mononoke, who dwells in a wilderness with wolves. San despises people who ruin nature for financial gain. Ashitaka, on the other hand, insists that they can coexist in their separate universes. Yakushima Island in Kagoshima Prefecture influenced Princess Mononoke's world.
Also Checkout: Bachchan Pandey Review: Unconvincing Film Saved by Actor's Performances