There are few places more alluring than those with over-the-top hotels, whether you're a jet-setter planning your next expensive vacation or saving up for a splurge-worthy dream trip. This article explores some of the most expensive hotels in the world. These expensive hotel rooms have everything, from villas with amazing ocean views to penthouse suites with city views.
A hotel is a business that provides paid short-term accommodation, but the level of comfort varies, and this is what separates one from another. Some hotels are heaven on earth, with 'out of this world' facilities in prime settings. Hotel costs vary not just seasonally, but also by room type. We used real facts to establish which hotels qualified for the "most costly" superlative in order to find an accurate sample of the world's most expensive hotels.
10 Most Expensive Hotels in the World:
1. Lover's Deep Luxury Submarine – St. Lucia – $235,000/Night
St. Lucia is an ideal romantic getaway for you and your loved one if you want to get away from the hustle and bustle of everyday life. It is an exceptional and most magnificent underwater hotel created inside the Lover's Deep, a sumptuous Submarine specifically designed for lovers to spend valuable time together underwater in full seclusion and peace. 
The private luxury submarine will carry you deep into the Caribbean Sea, allowing the couple to escape all of the world's concerns and stress and spend the most precious moments. The deluxe submarine – the underwater hotel is also an excellent option for couples looking to spice up their honeymoon.
2. The Empathy Suite – Palms Casino Resort – Las Vegas – $100,000/Night
This boutique Las Vegas resort is located 2 kilometers from The Strip and has a one-of-a-kind art program weaved throughout the property with pieces by internationally renowned artists. Guests may visit the casino 24 hours a day and dine at one of the on-site restaurants. Palms Casino Resort's modern guest suites include beautiful décor and a selection of trendy amenities.
The Empathy Suite Sky Villa, the world's most expensive hotel suite, costs $100,000 USD a night at the hotel. This apartment, designed by British artist Damien Hirst, features two master bedrooms, massage tables, a salt relaxation area, and a cantilevered jacuzzi with views of the Strip.
3. Royal Penthouse Suite – Hotel President Wilson – Switzerland – $80,000/Night
The renowned Hotel President Wilson, a Luxury Collection Hotel, faces Lake Geneva and is one of Geneva's most modern locations, situated against the stunning background of Mont-Blanc. The 226 guest rooms and suites are tastefully equipped, with elegant furniture, sophisticated facilities, and floor-to-ceiling windows offering spectacular city or Lake Geneva views.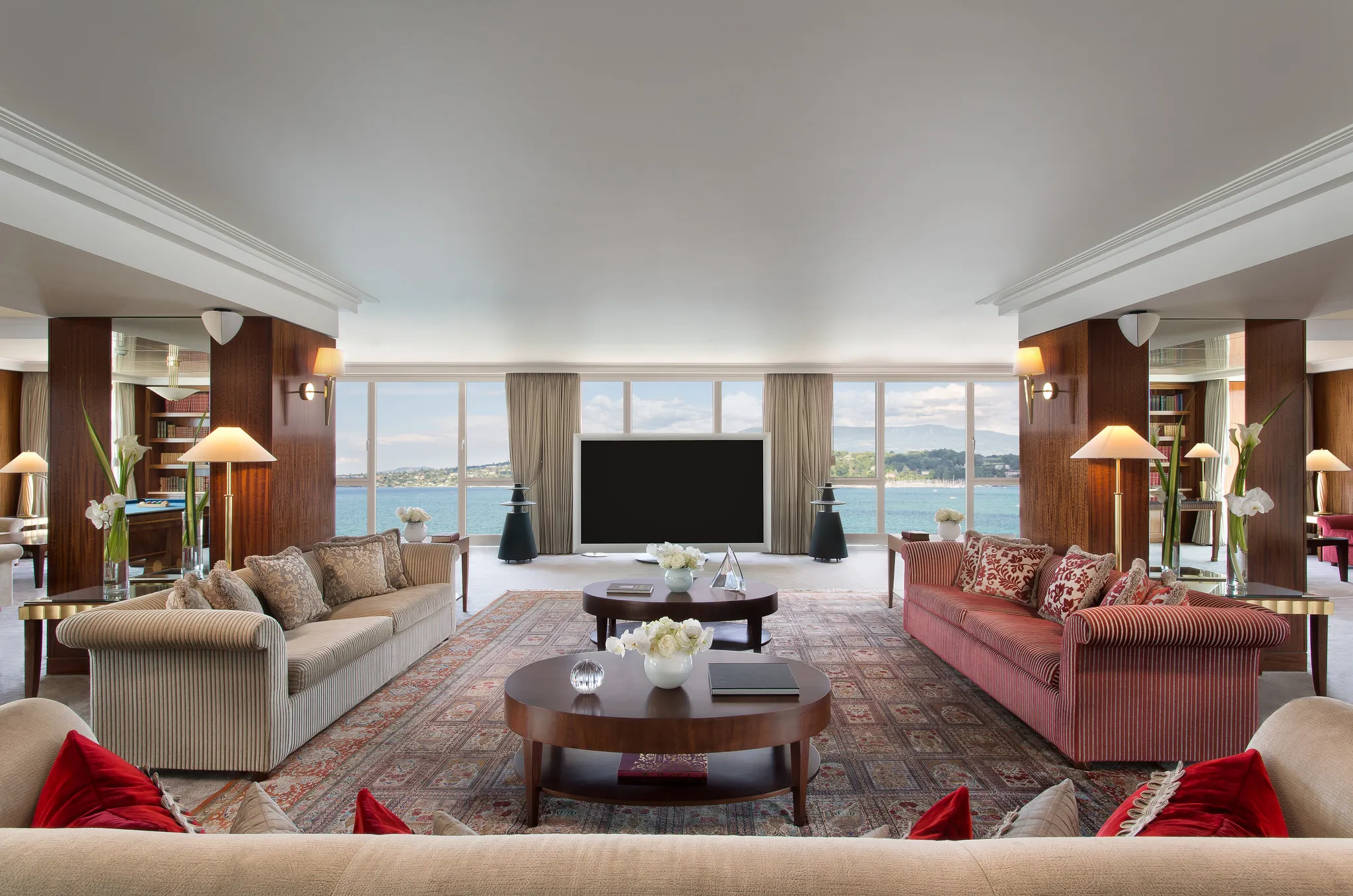 The Royal Penthouse Suite, which takes up the whole 8th level of the hotel and is the most costly suite, comes with a Steinway grand piano, a telescope for stargazing, a wrap-around patio, and 12 bedrooms, and the world's largest TV screen (103 inches).
4. The Mark Penthouse – The Mark Hotel – New York – $75,000/Night
The Mark, housed in a historic building from 1927, is located in the heart of Manhattan's social and cultural wealth, on one of the Upper East Side's most beautiful streets, surrounded by museums, boutiques, restaurants, and Central Park. The hotel mixes old-world luxury with cutting-edge design and unrivaled service. The rooms and suites are havens of subtle grandeur.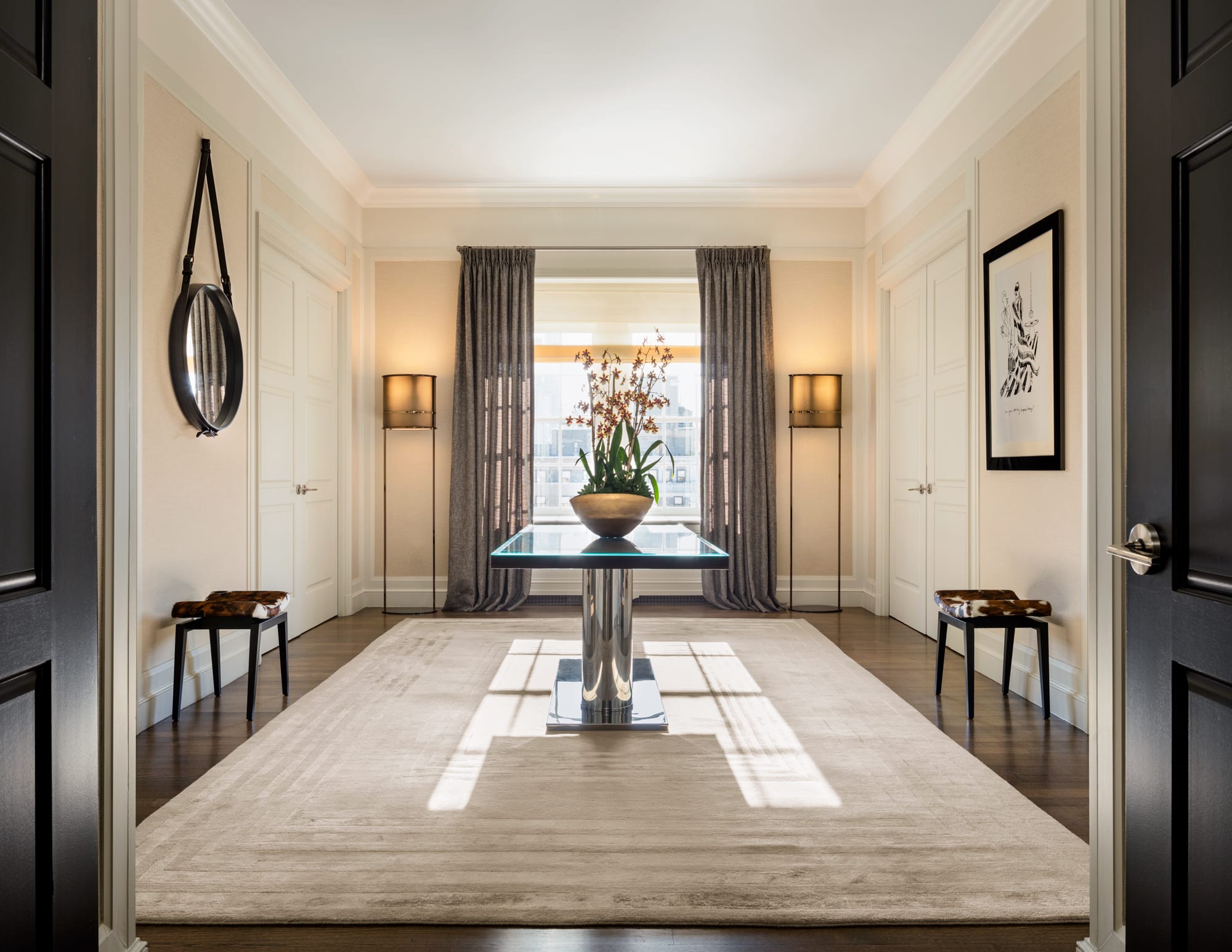 The 10,000-square-foot interior area, also designed by Grange, is located on the 16th and 17th floors and has five bedrooms, four fireplaces, six bathrooms, and two wet bars. The living room, which has 26-foot ceilings, is positioned in the building's corner tower and is large enough to be turned into a full-sized grand ballroom. Outside is a 2,500-square-foot rooftop patio with views of Central Park.
5. Ty Warner Penthouse – Four Seasons – New York – $60,000/Night
The luxurious, one-of-a-kind Ty Warner Penthouse apartment in New York stands 800 feet above the street and is located in Four Seasons NY, a city famed for its iconic skyscrapers. Find inspiration in the spectacular, unimpeded vision of one of the world's best cities from your castle in the skies. Four glass balconies are arranged on a diagonal to Manhattan's north-south, east-west grid, catching various vistas.
Oversized, single-paned windows and glass railings keep your view unbroken. Every detail, from the fabrics to the furnishings to the unique artwork, has been exclusively commissioned by world-recognized artists and crafters in order to provide a sensory experience unlike any other.
6. The Penthouse Suite – Hôtel Martinez – France – $55,000/Night
This iconic art deco hotel on the French Riviera, reminiscent of the Roaring Twenties, has 409 rooms. La Palme d'Or, a two-Michelin-starred restaurant, tantalizes the senses with its film-themed design, while L. Raphael Spa provides a selection of specialty treatments.
Guests are welcome to appreciate and share the Riviera's simple pleasures in a sophisticated yet comfortable ambiance at the new Mediterranean-inspired restaurant Le Jardin du Martinez. The exclusive Penthouse Suite ($55,000 USD a night) is located on the highest level of Hôtel Martinez and features a big private wood-paneled terrace overlooking the sea, one king bed, living and dining room, and a large private wood-paneled terrace overlooking the sea.
7. Hilltop Villa – Laucala Island – Fiji – $50,000/Night
Laucala Island, owned by Red Bull CEO Dietrich Mateschitz, features untouched rain forests, mangroves, beaches, and unrivaled levels of luxury living. The huge 3-bedroom Hilltop Villa ($50,000 USD a night) is perched at the highest top of the island and comes with a private chauffeur, nanny, and cook.
The resort's integrated concept integrates the island's resources into guest experiences, with goods and foods cultivated and grown on the island used in the spa and across the five gourmet restaurants.
8. Private Island – Cheval Blanc Randheli – Maldives – $50,000/Night
The ultraluxe Cheval Blanc Randheli Resort is situated on a smattering of little islands that are shielded from the ocean by a massive coral reef. The journey begins with a flight aboard a Twin Otter of Havilland seaplane specially created for the Maison, mixing the brand's distinctive taupe with Randheli's sunny yellow.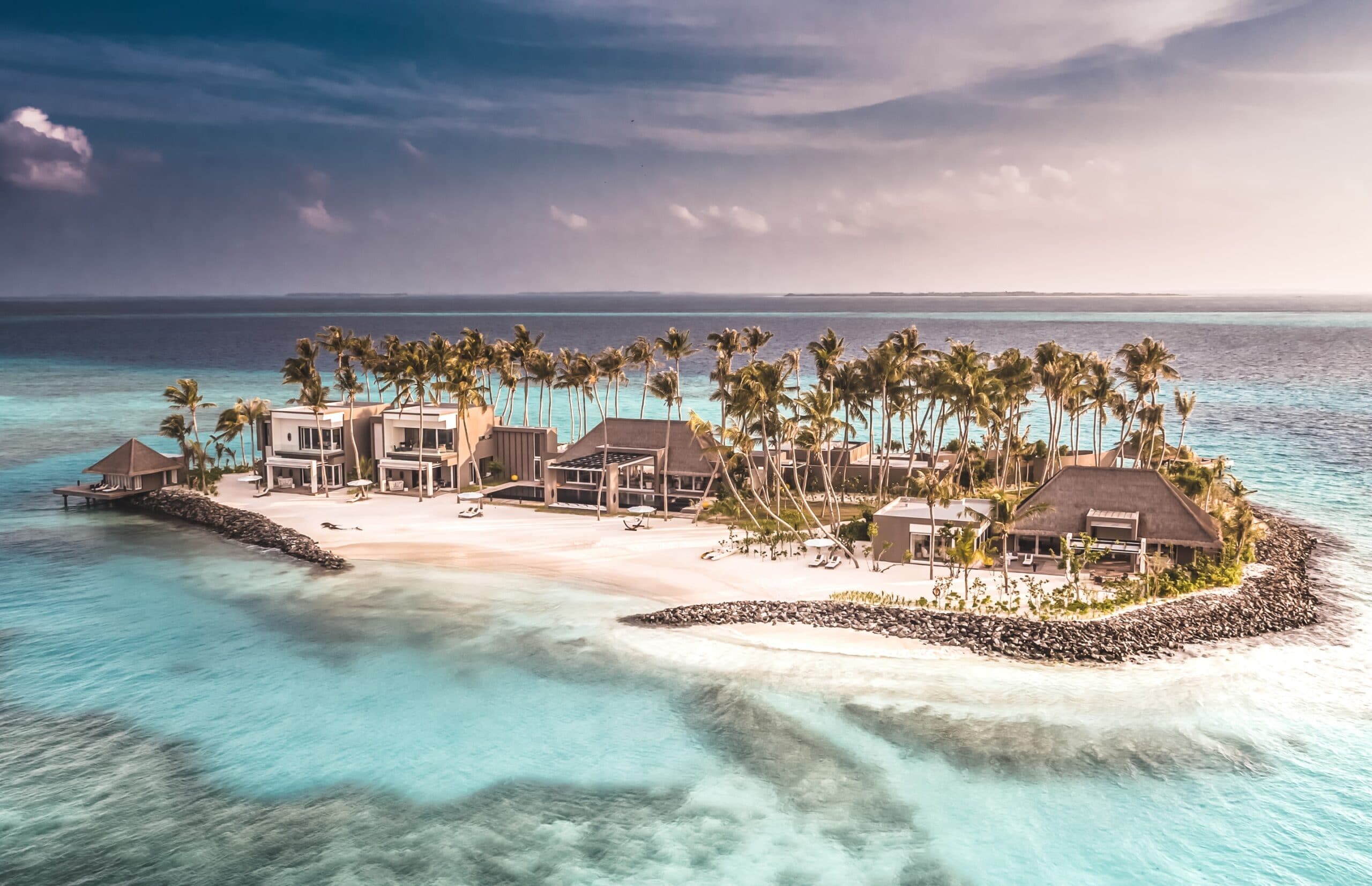 There are 46 island, lake, and garden villas available at the resort. The Cheval Blanc Randheli Private Island is the most costly hotel 'room,' featuring extraordinary interior and outdoor areas, a dedicated team of ambassadors, and a colorful array of bespoke services and facilities.
9. The Royal Villa – Grand Resort Lagonissi – Greece – $45,000/Night
Grand Resort Lagonissi is a dreamy island-style resort in Athens' south suburbs, with exceptional sea view rooms and seafront bungalows, private pools and private beaches, upscale hotel facilities, delectable dining options, holistic spa and wellness treatments, and tailored concierge services designed to meet the needs of distinguished guests.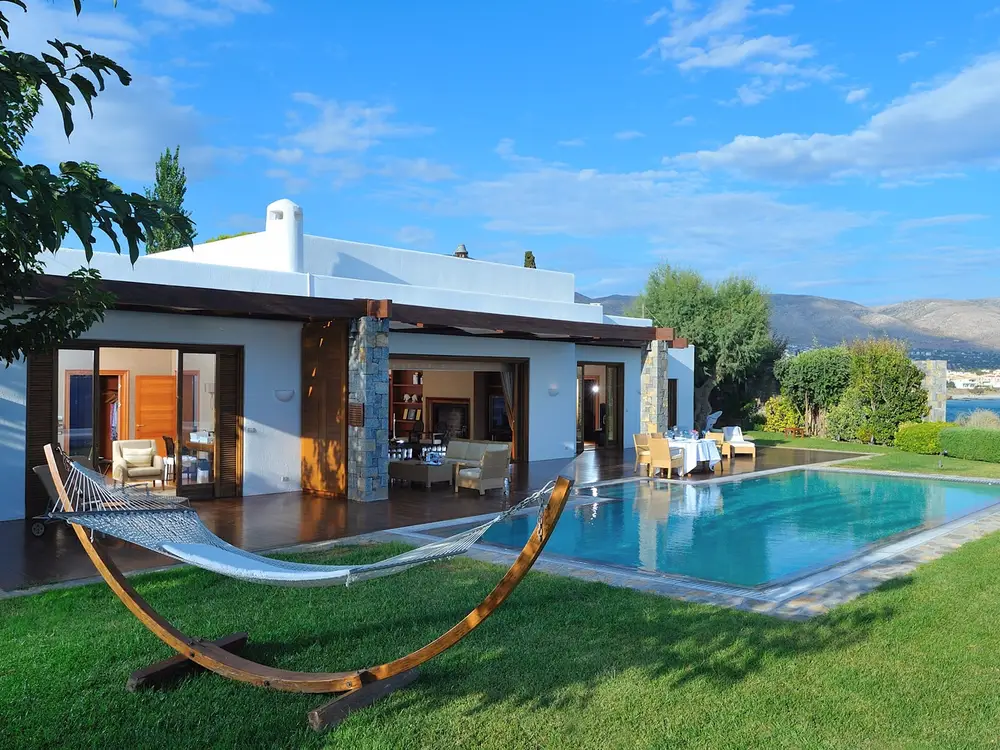 The hotel's Royal Villa, designed for royal and prominent visitors, encompasses the essence of luxury in its wonderfully outfitted interior and external areas, allowing guests to experience the pinnacle of luxury living. The property includes both an internal and outdoor heated pool.
10. The Bvlgari Villa – The Bvlgari Resort Dubai – UAE – $35,000/Night
The Bvlgari Resort Dubai is a genuine 'urban sanctuary' for visitors and locals alike, located on the exclusive, man-made Jumeira Bay, an island cut into the shape of a seahorse. The sunny complex, designed entirely by Antonio Citterio Patricia Viel, has 101 rooms and suites, as well as 20 Bvlgari villas with pool, garden, and sea views.
The hotel's finest accommodation (named 'The Bvlgari Villa') is the ultimate opulent destination for family and friends, with its beautiful oval pool, vast garden and wooden covered patio, a private home theatre, indoor hydromassage, and hammam ($35,000 USD per night).
Conclusion
While some people want to travel on a budget, others do not care about money. They redefine luxury with private aircraft, luxurious rooms, and chauffeur-driven limos. The state of extreme comfort and luxurious lifestyle is characterized as luxury. It comes in many forms and sizes and may be found all over the world, particularly in hotels. Hope you enjoyed this list of the most expensive hotels in the world. Keep following for more such interesting content. 
Also Checkout: Top 5 Luxury Hotel Chains In India