The comedy industry in India is in its growing stage. They have a tightly knitted group with only a handful of names making rounds. We have all seen them ace in their individual sets. And since the lockdown we've been seeing more of them on various live streams, which gives us a little insight into how much fun it would be if these comedians were to perform together.
Netflix didn't let go of this opportunity and on Friday 20th August came out the first four episodes of Comedy Premium League.
The show stars 16 comedians and actors/social media stars divided into four groups that compete against each other in various rounds. The teams are as follows:
Lovable Langoors includes Amit Tandon, Samay Raina, Rytasha Rathore, and Aadar Malik.

Naazuk Nevle has Mallika Dua, Rahul Subramanian, Urooj Ashfaq, and Rahul Dua.

Gharelu Gilaharis comprises Kenny Sebastian, Prashasti Singh, Kaneez Surka, and Aakash Gupta.

IDGAF Iguanas includes Sumukhi Suresh, Tanmay Bhat, Rohan Joshi and Sumaira Shaikh.
The various genres of comedy including sketch, roast, stand up, improv and debate make up the four rounds of the game as 'Scene Kya Hai?', 'Ikke pe Ikka', 'In slide jokes', 'Punchlines' and 'Tu Tu Mai Mai' respectively.
The show is hosted by the YouTube sensation Prajakta Koli. While the show starts off with a great concept of bringing India's very own Saturday Night Live, some aspects need to be addressed.
It's always a delight to watch some of the biggest talents of the comedy industry come together which also gives us a hint that this is just a start.
It does reflect upon how someone like Rytasha Rathore who's an actor can have her moments in comedy. Also, somebody needs to cast Mallika Dua and Prashasti Singh in good Bollywood roles, they're really cut for it.
Prajakta Kohli is a great addition to a lot of names who have a huge fan following and would increase the viewership, but unfortunately, there's little to be offered from her side. She only chimes in to move from one round to another.
The comedians do a decent job in creating comic moments but don't really hold it up for long. It is very evident that these comics were not entirely in control of their pieces due to which so many jokes don't land well. If you don't believe it, the forced laughs of the other participants who know the srt are bombing will give it away.
Marking scheme- the scores are awarded by the live audience seated the teams get awards for their performances and participation.
In every round, the winning team gets 50 marks for performance and 30 for participation while the losing team gets only 30 for participation but that could also be deducted if they go over time. Yes, it's very complicated.
And at times the scoring of the audience doesn't make any sense at all which makes Rahul Dua's constant remark 'F*** the leaderboard' very relatable.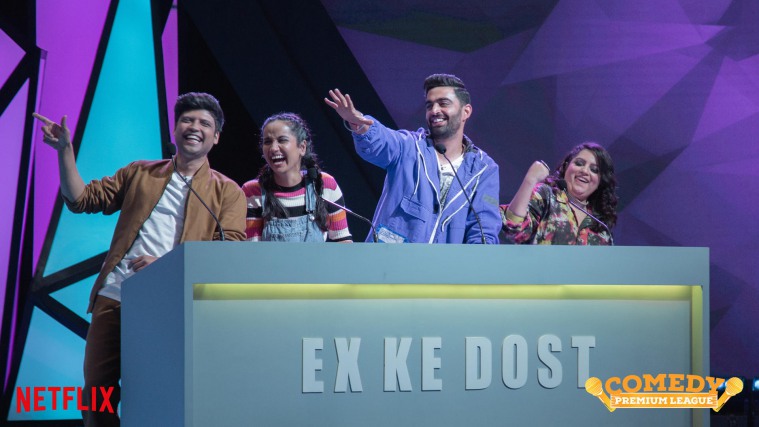 The attempt was really great but looks like we have a really long way to go before we come up with a proper comedy show that has more to offer than just moments of laughter that turn relevant only when the audience is aware of the niche that these comedians work in. Anyways the four episodes are a decent way to spend your time. 
The last two episodes come out on Friday, 27th of August catch the other four now streaming on Netflix. If the episodes are not available in your geo, you can either try using a VPN or for those who stream via Fire TV, you can try this jailbreak firestick method to unlock the episodes.