Nigel Farage is lobbing fresh allegations against Coutts, alleging that the private bank closed his account because of his politics.
The former Brexit Party leader posted a video on Twitter Tuesday saying that he had obtained a 40-page document after filing a "subject access request" with Coutts to learn more about the bank's rationale for closing his account.
Coutts, a unit of taxpayer-backed bank NatWest Group, was previously reported to have closed Farage's accounts because he had fallen below the financial threshold – something Farage said he was not aware of.
Farage said the document he obtained mentions "Brexit" 30 times; "Russia" 22 times; "Donald Trump" 14 times; "Racist" nine times.
UK PRIME MINISTER APOLOGIZES FOR TREATMENT OF GAY VETERANS, CALLS LGBTQ+ SERVICE BAN AN 'APPALLING FAILURE'
Fox News Digital has reached out to Coutts for comment as well as Farage's spokesperson seeking a copy of the memo. The Daily Telegraph, a British newspaper, said the memo showed Coutts had decided that Farage's views did "not align" with the bank's values.
Coutts told media outlets that its decisions to close accounts "are not taken lightly and take into account a number of factors including commercial viability, reputational considerations, and legal and regulatory requirements."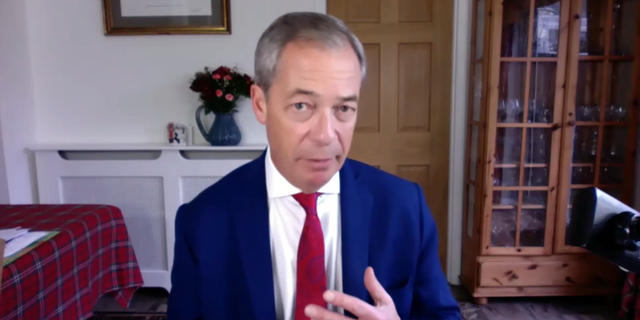 "As the client has previously confirmed, alternative banking arrangements have been offered within the wider group."
Farage told Reuters the issue "raises very broad questions about our banks and how deeply political they have become."
"A lot of people in prominent political roles will be scratching their heads and thinking will I be next?" he said.
BRITAIN'S MI6 CHIEF ENCOURAGES RUSSIAN DEFECTORS TO SPY FOR THE UNITED KINGDOM: 'OUR DOOR IS ALWAYS OPEN'
Farage previously said he believed it was because he was deemed a "politically exposed person" (PEP), meaning banks have to apply additional scrutiny to accounts.
The government has said it is looking into concerns that banks are blocking customers over their political views and has said it passed legislation to make rules for a "politically exposed person" (PEP) less onerous.
CLICK HERE TO GET THE FOX NEWS APP
"This is wrong. No one should be barred from using basic services for their political views," British Prime Minister Rishi Sunak said. "Free speech is the cornerstone of our democracy."
Reuters contributed to this report. 
(this story has not been edited by TSA Mag staff and is published from a syndicated feed.)