Former Pakistan President and Army Chief General (Retd) Pervez Musharraf, who proposed the "Musharraf formula" for peace over Jammu Kashmir between India and Pakistan, that he later disowned, passed away in Dubai on February 5, five years after he was diagnosed with a rare condition called amyloidosis, former spokesperson and close aide Raza Bokhari told The Hindu.
Musharraf had been living in the UAE for more than six years, in virtual self-exile after a Pakistani court framed charges of treason against him for his imposition of emergency in 2007 during his tenure as leader of Pakistan, that lasted from 1999, when he came to power in a military coup, only to resign in disgrace in 2008.
General Musharraf had defended his actions, claiming that he had fought corruption, "restored" grassroots democracy, and eventually held general elections there in 2008, months before he was forced to step down.
After graduating from the Pakistan military academy in Quetta in 1961, Musharraf, who rose to be a four star General saw several conflicts with India in 1965, 1971 and the Siachen conflict in 1984. Born in 1943 in Delhi, Musharraf moved to Pakistan as a child with his parents during Partition. He was educated in Karachi, and then in Turkey, where his father was a diplomat posted to Ankara. Musharraf often spoke of his admiration for Mustapha Kemal Ataturk, the military leader who modernised and secularised Turkey. As a result, when he first took power in Pakistan, he set up a cabinet of technocrats, attempted modernising the education system, and brought an ordinance meant to bring about media reform.
In pictures | Pervez Musharraf — Pakistan's last military ruler
Born on August 11, 1943, in New Delhi, Pervez Musharraf was the son of a diplomat. His family moved to Karachi in 1947, joining millions of other Muslims in fleeing westward.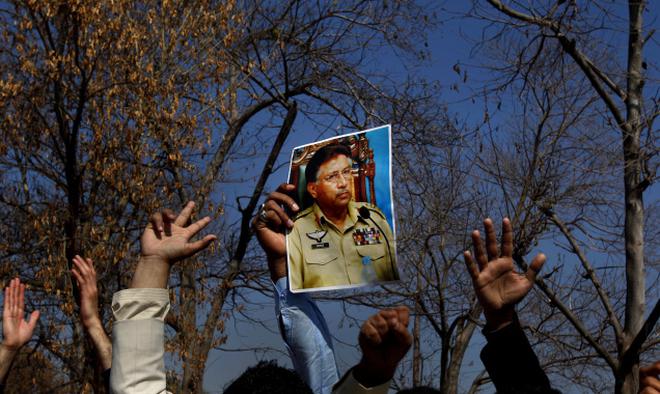 He joined the Pakistan Army in 1964 at age 18 and was a graduate of the Army Staff and Command College, Quetta. Musharraf assumed the post of Chief Executive after imposing martial law in the country in 1999.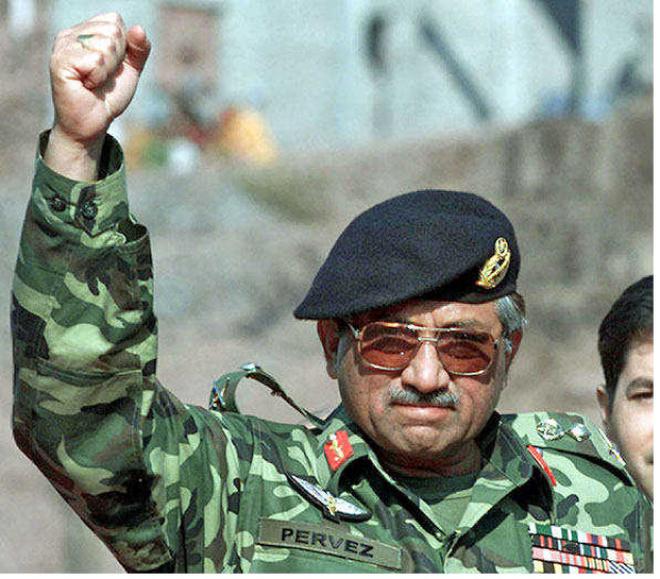 Musharraf seized the presidential office in 2001, shoring his power up in a 2002 referendum questioned by opponents. But he reneged on promises to quit as army chief until late 2007. He served as the President of Pakistan from 2001 to 2008.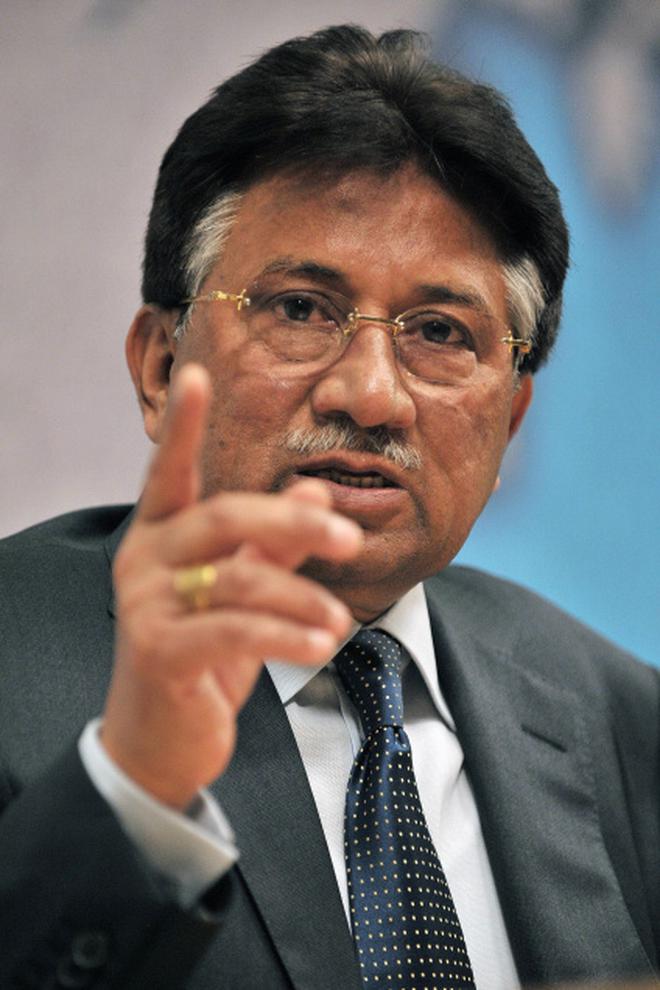 He aligned with the United States after the 9/11 attacks, earning international praise for trying to tackle Taliban and al-Qaeda militants. In more than seven years in office, Musharraf oversaw a stint of economic growth while dodging at least three assassination attempts.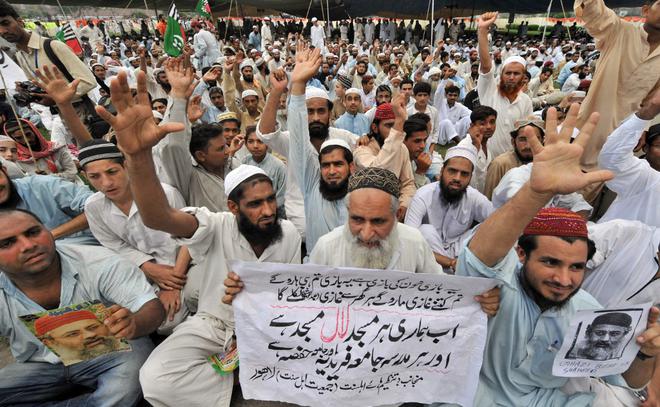 Militant anger toward Musharraf increased in 2007 when he ordered a raid against the Red Mosque in downtown Islamabad. It had become a sanctuary for militants opposed to Pakistan's support of the Afghan war. The weeklong operation killed over 100 people. The incident severely damaged Musharraf's reputation among everyday citizens. Fearing the judiciary would block his continued rule, Musharraf fired the chief justice of Pakistan's Supreme Court.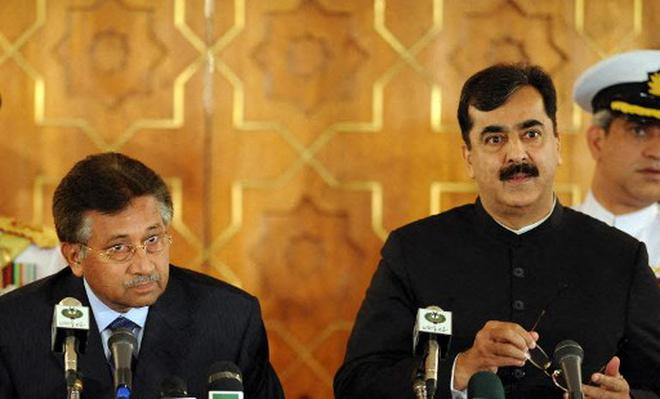 Under pressure at home and abroad to restore civilian rule, Musharraf stepped down as Army chief. Though he won another five-year presidential term, Musharraf faced a major crisis following former PM Benazir Bhutto's assassination in December 2007 at a campaign rally as she sought to become Prime Minister for the third time. In the picture, Musharraf (L) glares at supporters of slain former premier Benazir Bhutto who were shouting slogans "Bhutto is alive" as newly elected Prime Minister Yousuf Raza Gilani (R) looks on after taking oath at the presidential palace in Islamabad on March 25, 2008.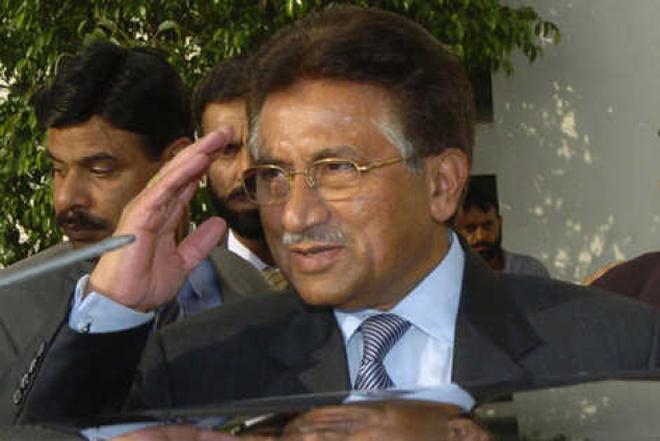 The public suspected Musharraf's hand in the killing, which he denied. A United Nations report later acknowledged the Pakistani Taliban was a main suspect in her slaying but warned that elements of Pakistan's intelligence services may have been involved. Musharraf resigned as president in August 2008 after ruling coalition officials threatened to have him impeached for imposing emergency rule and firing judges.
Musharraf's plan to return to power in 2013 was dashed when he was disqualified from running in an election won by Nawaz Sharif — the man he deposed in 1999. He lived in self-imposed exile in Dubai to avoid criminal charges. Supporters of Musharraf hold his posters as they shout slogans during a rally outside his farmhouse in Islamabad on April 18, 2014.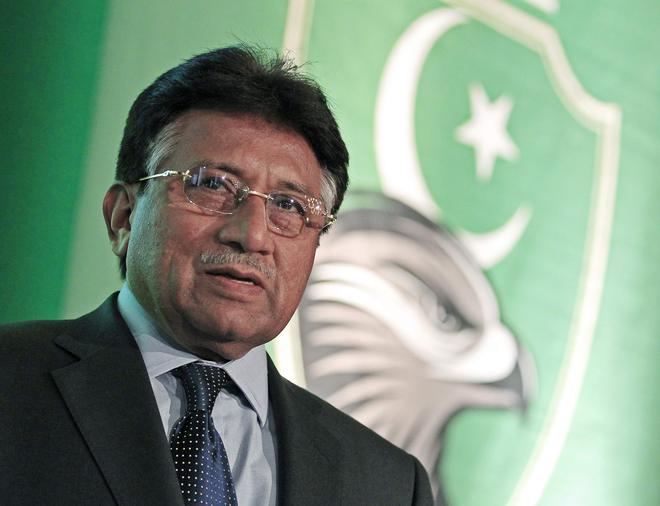 In October 2010, Musharraf launched his own party, the All Pakistan Muslim League (APML). The party, however, failed to pick up steam, winning just one Parliamentary seat in the 2013 elections and none in 2018.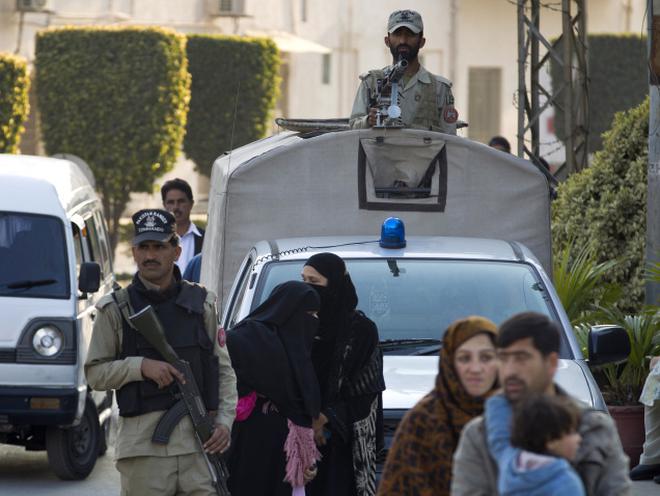 In 2016 a travel ban was lifted and Musharraf flew to Dubai to seek medical treatment. Three years later, he was sentenced to death in absentia for treason, related to his 2007 decision to impose emergency rule. However, a court later nullified the ruling. Musharraf's family announced in June 2022 that he had been hospitalised for weeks while suffering from amyloidosis, an incurable condition that sees proteins build up in the body's organs.

Less than three years after the Kargil conflict, Musharraf surprised many when he reached out to former Prime Minister Atal Bihari Vajpayee for a handshake after addressing delegates at the 11th South Asian Association for Regional Cooperation (SAARC) Summit on January 5, 2002, in Kathmandu.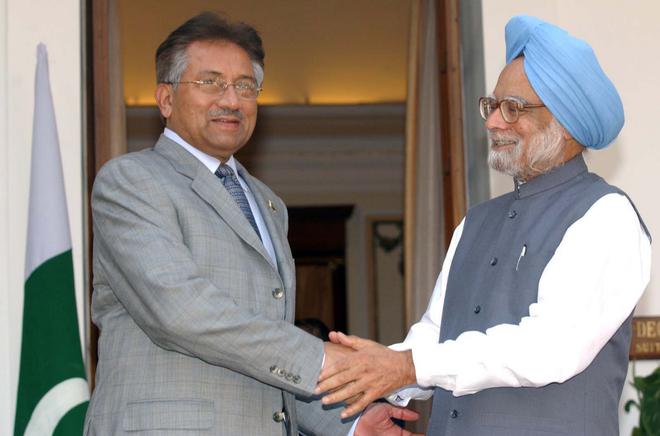 On April 17, 2005, Musharraf met former Prime Minister Manmohan Singh at the Cricket Summit in New Delhi when the Pakistani Cricket Team visited to play a test and ODI series with India. It was on the sidelines of this summit when the two leaders reportedly reached some kind of a resolution on Kashmir. It is believed that among Pakistani leaders, Musharraf came the closest to reaching a solution with India on the Kashmir issue, despite playing a key role in triggering the Kargil conflict. His administration held backchannel talks with both Vajpayee's and Manmohan Singh's Governments.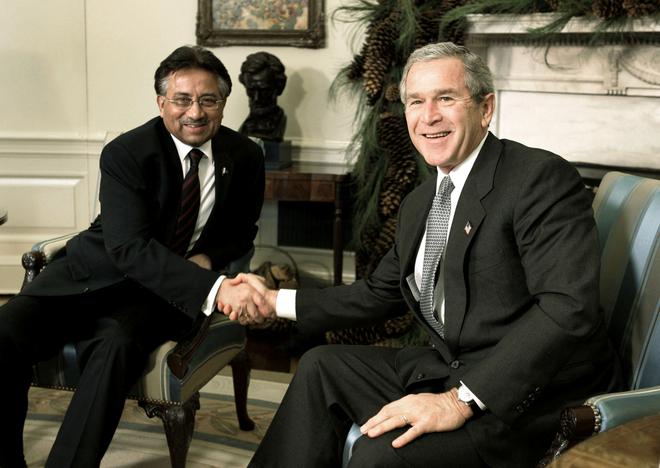 Former U.S. President George W. Bush meets Musharraf in the White House on December 4, 2004. Musharraf managed to lobby Mr. Bush, who often described the former as an ally and as a leader who was "strong in the war on terror". The late leader convinced Mr. Bush to pour funds into Pakistan's military, while it was publicly unambiguous that Pakistan's intelligence was cutting deals with the likes of the Taliban and helping strengthen insurgency against U.S. troops in Afghanistan.
1/3
However, subsequent years in power saw Gen. Musharraf's claims at reforming the country sour. Apart from the suspension of democracy, Gen. Musharraf faced many other allegations, including bringing false cases against the entire Pakistani political leadership including Benazir Bhutto, Nawaz Sharif and Imran Khan, dismissing the Chief Justice of Pakistan Ifthikar Chaudhury and about 100 other judges unconstitutionally.
The other allegations include orchestrating the "disappearance" of hundreds of activists and fighters and the drone killing of Baloch leader Akbar Bugti in a brutal crackdown on the insurgent movement in Balochistan, allowing the U.S. to use Pakistani bases to bomb thousands in Pushtun areas during the "War against Terrorism", and for conspiracy to destroy evidence in the Benazir Bhutto assassination trial, where he was declared a fugitive by the court.
In India, the General's legacy is particularly mixed – as he was remembered for both setting off the Kargil war, by sending in army-trained militants to capture Indian posts along the Line of Control in 1998. But he is also remembered for the "Musharraf Formula" for peace in Jammu-Kashmir, where Indian and Pakistani interlocutors worked towards a non-territorial resolution to the dispute, which would allow greater movement across the LoC. He was also seen as the man in charge of both the military and the country, who was complicit or turned a blind eye through a series of major terror attacks in India carried out by the Jaish-e-Mohammad – including the 1999 IC-814 hijacking, 2000 Parliament attack, 2000 Jammu Kashmir Legislature bombing and others.
In 2002, Musharraf narrowly escaped an assassination plot by the JeM founder Masood Azhar, who had been released during the IC-814 hijacking, and ordered a crackdown on the group and its suspected backers within the Pakistan Army's "special wing". However, the Lashkar e Toiba led by Hafiz Saeed took over and carried out attacks in India over the next decade. General Musharraf had resigned and left the country in August 2008, months before the 26/11 Mumbai attacks, but it was during his tenure that the conspiracy behind the attacks would have been made in Pakistan, where the LeT operated training camps.
Musharraf denied any involvement in the attacks, but admitted in interviews that the Pakistani military had trained Islamist radicals as a continuation to the U.S.-funded efforts to build the Mujahideen army in Afghanistan to oust Russian forces. From 2002-2007, Musharraf and Indian PM Manmohan Singh worked through a back channel to try and implement the Kashmir formula. However, after Musharraf, no government agreed to be associated with the peace deal, and his interviews in India became increasingly hawkish.
"Musharraf's legacy vis a vis India is that he stands doubly condemned in Pakistan: For his disastrous adventurism on Kargil and then for his defeatism by unilaterally accepting that the onus for restraining terrorism lay with Pakistan," said former HC to Pakistan TCA Raghavan.
After he moved to Dubai in 2016, the former leader was admitted to hospital after a collapse. According to Mr. Bokhari, he was diagnosed with amyloidosis, a protein linked rare disease in 2018 at the Royal Brompton Hospital in London. By June 2022, his family said in a statement that "recovery is not possible" and that his organs were malfunctioning. He passed away in Dubai on Sunday at the age of 79.