PIn an era when feminine expressions were more hidden than revealed, there was a woman who took delight in calling herself "larkee" ushered us all in an experience to celebrate feminity- in all its forms. She had the softness of "Khushboo" (Fragrance), and "Sadbarg" (A Hundred Petals) and persistence of "Humkalami" (Soliloquy), and "Inkar" (Denial). Who could not have known by now? This woman was Parveen Shakir, the "Paro" of Urdu literature. Rightfully so- an epitome of beauty, creativity, and perseverance. From the last decades of 20th century till date, nobody who ever loved without emphasizing with her poetry.
TSA gives a heartfelt tribute to this commemorated poetess in both India and Pakistan on her birth anniversary which we just celebrated on November, 24.
A self-made literati
kaun utrā hai ye āfāq kī pahnā.ī meñ

ā.ina-ḳhāne kī hairat nahīñ dekhī jaatī

(Who has landed on the surface of the worlds,

It's hard to see the mirror houses in absolute awe)
Nearly, five decades ago, a girl with big eyes and bigger talent was born in a neighbourhood of Karachi on 24th day of November in an Urdu speaking Pakistani family. She was named Parveen which means a cluster of stars and so she was, just like her name- enigmatic, imaginative and creative.
Writing in the Ghazal and free verse form, she stepped into the literary world at a very young age. Initially, she wrote under the pen-name "Beena". She wrote both in prose and poetry, contributing her articles to Urdu and English dailies. She published a collection of her newspaper columns under the name "Gosha-e-Chashm" (Corner of the Eye). She had already started to amaze the world with the serenity of her expressions, especially with a proud feminine realization.
Besides being a soulful poetess with a knack of weaving magic into words, she was also a civil servant joining in the Customs Department. Her terrific recognition met her while creating a history when she was asked to write a note on the famous poetess, Parveen Shakir in the same civil service examination she sat for.
About her job in the Customs Department, she writes:
Hindsay gidh ki tarha din mera kha jatay hain

Harf milnay mujhe atay hain zara sham ke baad

(Hindsay- "numbers")
From "Khushboo" to "Mah-e-Tamam": An Absolute Delectation
By the time Shakir's first collection "Khushboo" (Fragrance) appeared in 1976, she was already an established personality well known through magazines and "mushairahs". Her first book got an instant acclamation and went through three editions in a month, a rare honour for any book in Urdu. It also won her "Adamjee Award' and "Pride of Performace Award", the two of highest awards given by Pakistani government. And with this began an age of Parveen Shakir.
terī āvāz kā jaadū hai abhī mere liye

tere malbūs kī ḳhushbū hai abhī mere liye

terī bāñheñ tirā pahlū hai abhī mere liye

sab se baḌh kar mirī jaañ tū hai abhī mere liye

ziist karne ko mire paas bahut kuchh hai abhī
In the latter part of her career, Parveen elaborated upon the then-contemporary societal and political milieu. With "Mushtarqa Dushman ki Beti" (Daughter of a common enemy), "Inkar" (Denial), "Shahzadi ka Almiya" (The Dilemma of a Princess) and several of the kind, Shakir viewed the social and political consciousness through the lenses of a "larkee" (girl) and thus gave a reflection of her all-encompassing literary horizon.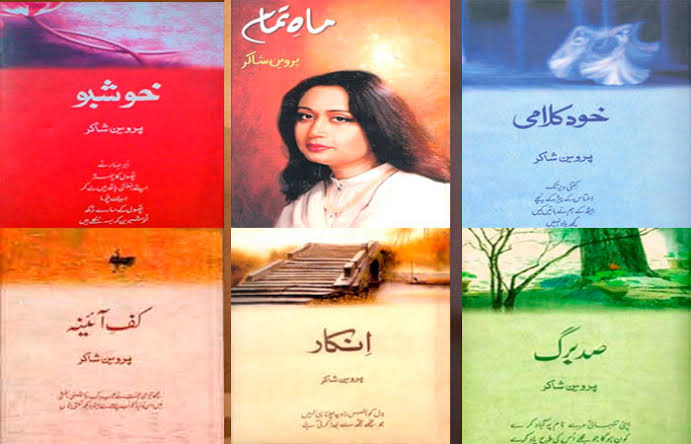 This journey is quoted by Hidaayat Hasan, a researcher and translator in these words- "She had a psychological journey from her first collection titled Khushboo to the last one Mah-i-Tamam, which trace her emotional journey of being from where she started till the very end of her life."
How "Larkee" became an emotion? 
Notwithstanding the presence of various hallowed female writers during her time, Shakir's voice still sounded fresh and alluring. Undeniably, she persisted in giving expressions to female emotions, in a way standing up to male dominance that resonated throughout was new in its own kind.
Her fresh concept of "lover" did not restrict a woman to being an object to admire and woo but provided her with an agency to assert herself as the lover, as a human with physical and emotional needs. This unthinkable undertaking is what that makes her unique- indisputable and indomitable. With this, she emerges out as one of the first women to establish a reputation for themselves in Urdu language poetry.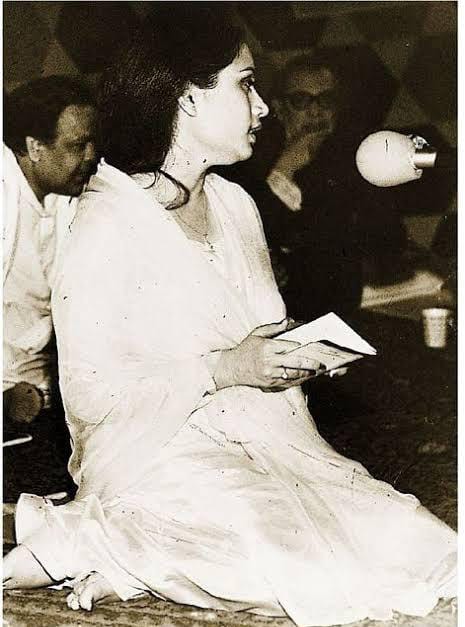 Her inclusion of the word "larkee" (girl), her use of feminine first-person pronoun along with referring the "mashooq" (beloved) by using male syntax were revolting in their very presence in a poetic universe that never concerned itself with the same. This made her writings iconic as soon as they came out.
Barish me kya tanha bheegna ladki!

Use bula jiski chahat me tera tan-man bhiga hai

Pyar ki barish se badhkar kya baarish hogi!

Or jab is barish ke baad hijr ki pahli dhoop khilegi

Tujh par rang ke ism khulenge!
She would have been 67, had she been alive today. But sadly, she died unexpectedly on December 26, 1994, in a car crash leaving behind a legacy of uniqueness and wholesomeness which might be repeated but never replaced.
mar bhī jā.ūñ to kahāñ log bhulā hī deñge

lafz mere mire hone kī gavāhī deñge
Also Read: 9 Rahat Fateh Ali khan Songs That Went Unnoticed

Also Read : Top 10 Most Handsome Men in the World | June 2022 Updated