The Union Ministry of Education is making a move for the nationwide replication of the Gujarat Education Department's Vidya Sameeksha Kendra (VSK). At the National Education Ministers' two-day conference which began in Gujarat's Gandhinagar on 1st June with a focus on the implementation of the new National Education Policy (NEP), education ministers of various states and Union Territories were present. They visited Vidya Samiksha Kendra in Gandhinagar that day. "Union Education Minister Dharmendra Pradhan called for a collaborative approach among all stakeholders for developing quality e-content for all classes from Balvatika to Class 12, including in local languages," the union education ministry said in its official statement. 
They further added to the statement, "He also lauded VSK as an AI and data-driven approach that has given a boost to enrolments & participation, and improved learning outcomes. To achieve the goal of enhanced learning outcomes across India, the Minister encouraged the Government of Gujarat to organise workshops for sharing best practices in governance & technology-enabled learning".
During his visit to VSK in Gandhinagar on April 18, Prime Minister Narendra Modi called for the adoption of the same across India. "It gives great pride to see the success and development of Gujarat in all walks of life. I experienced this yesterday at Vidya Samiksha Kendra in Gandhinagar. The use of such a huge technology for our government primary school is a wonder for the world. I have been associated with this sector before, but yesterday I specially went to Gandhinagar to see it," he stated. "I would also ask the concerned ministries and officials of the Government of India to study Vidya Samiksha Kendra. The concerned departments of different states should also come to Gandhi Nagar and study the initiative" he added.
Anita Karwal, Secretary Department of School Education and Literacy, Ministry of Education during her presentation at the two-day 'National Conference of School Education Ministers' at Mahatma Mandir in Gandhinagar stated "As per the national-level calculation, of the total 25 crore children, child-wise data of 21 crore has already been prepared by states. These need to be connected to all benefits and learning levels of the child. We need to go from the student database to the registry for which we will fund you, this year itself" as she was telling the other states to take action immediately to get funds and implement this system.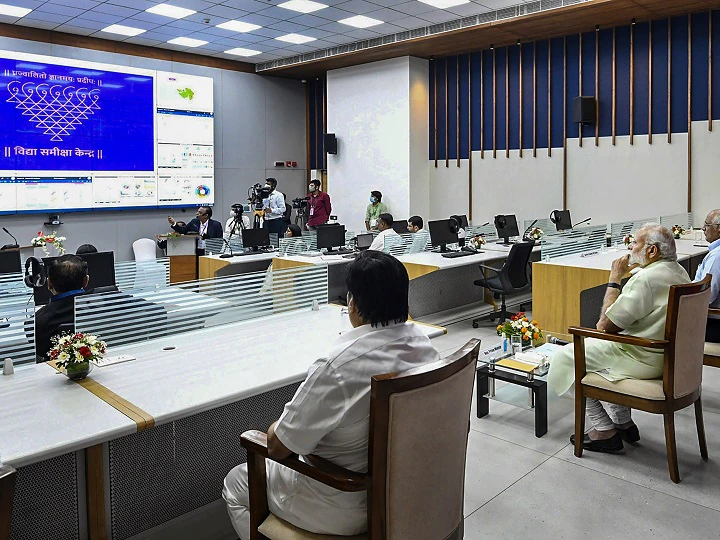 She also added that this surveillance system will be known as NVSK—NDEAR (National Digital Education Architecture) Vidya Sameeksha Kendra and also States such as Assam, Odisha, Rajasthan, Madhya Pradesh, Maharashtra, and Gorakhpur district of Uttar Pradesh have already come forward to seek funds for the VSK. "The NCERT will provide the infrastructure and will publish them on its website for all states and Union Territories. States have been advised to partner with local solution partners to configure and customize solutions as per their needs. 
They could leverage NDEAR-DIKSHA infra further to build new solutions as per their need. The Centre will publish the detailed guidelines and SOPs for NVSK. The NCERT is also setting up NVSK for monitoring various programmes such as DISKHA, NISHTHA, NIPUN Bharat, NAS, STARS, ASPIRE, PGIs and other indications", Anita karwal further stated.
VSK is a surveillance system which tracks enrolment, attendance, learning outcomes, drop-outs, and school accreditation and monitors schools, teachers and undertakes centralized summative and periodic assessments of learning outcomes of students, etc. It is an upgraded version of the state government's real-time technology enabled-surveillance system to look at over 1.95 lakh school teachers, that was launched in Gujarat in 2019. It was established with the aim to improve the quality of education by ensuring teachers stick to their assigned tasks on a daily basis, the system was devised after various discussions and reports concluded that poor monitoring of teachers resulted in absenteeism and a "non-serious" attitude toward curriculum. 
Those who monitor teachers were handed GPS-enabled tablets and tracked through geofencing by which an alert triggered when a mobile device enters or leaves a specified area. It monitors 55,000 primary and secondary government schools and hand holds 4 lakh teachers to help improve learning outcomes of nearly 1.2 crore students. The data tracked and analysed include the school history of a child right from his migration from which district and school to where, how many times has he changed the school, students who remained absent from tests or students who scored low etc. in order to forecast students most likely to migrate from where to which areas and their possibility of drop-outs can be made in advance. Because of this technology teachers can also understand and work on areas where students need more knowledge through the periodic assessment test reports.
Also Checkout: PIL misused for a confidential survey of all the mosques