Krishnakumar Kunnath (54), who was popularly known and loved as KK all over India, died of a massive cardiac arrest an hour after the concert at south Kolkata's Nazrul Mancha auditorium. KK was a very talented and outstanding singer who stole hearts of millions with his soothing voice of love. He recorded songs in almost all Indian languages, including Hindi, Tamil, Telugu, Kannada, Malayalam, Marathi, Odia, Bengali, Assamese and Gujarati.
He was born in Delhi on 23 August 1968 to Malayali parents and was brought up in New Delhi. KK married Jyothy in 1991. His son Nakul Krishna Kunnath sang a song "Masti" from his album Humsafar with him. KK also had a daughter named Tamara. KK is an alumnus of Delhi's Mount St Mary's School and graduated from Kirori Mal College, Delhi University. After graduating from Kirori Mal College, Delhi University in commerce, KK had a brief stint of six months as a marketing executive. After a few years, in 1994, he moved to Mumbai.
In 1994, he gave his demo tape to Louis Banks, Ranjit Barot and Lesle Lewis to get a break in the music arena. He was called by UTV, and he sang a jingle for the Santogen Suiting ad. After that, in four years he sang 3,500 jingles across 11 languages for commercials and ads before breaking into Bollywood and making an appearance in the song "Josh of India", released for the support of the Indian Cricket Team during the Cricket World Cup of 1999. He considers Lesle Lewis as his mentor for giving him his first jingle to sing in Mumbai. 
KK made his film debut with A.R. Rahman's hit soundtrack "Kalloori Saalai". "Hello Dr." from Kadir's Kadhal Desam and then "Strawberry Kannae" from AVM Productions' musical film Minsara Kanavu also helped him to get introduced to his playback singing career. He made his Bollywood debut with the song "Tadap Tadap Ke Is Dil Se" from Hum Dil De Chuke Sanam (1999) which he considered the turning point of his career. However, prior to this song he had sung a small portion of the song "Chhod Aaye Hum" from Gulzar's "Maachis". His debut album titled Pal was released in 1999. Lesle Lewis composed music for it. The song "Pal" and "Yaaron" from the album "Pal" became very popular across the country. The title track "Pal" ruled the lips of youngsters at that time and was the first album released by KK under Sony Music for which he got the Screen award as best singer.
On 22 January 2008, KK released his second album Humsafar after a gap of eight years. The songs "Aasman Ke", "Dekho Na", "Yeh Kahan Mil Gaye Hum" and "Rain Bhai Kaari (Maajhi)" are famous songs from this album. KK had also sung an English Rock Ballad "Cineraria". The title track, "Humsafar" is a mix of English and Hindi lyrics. Eight songs of the album Humsafar were composed by KK.
KK has also sung many television serial songs like Just Mohabbat, Shaka Laka Boom Boom, Kuch Jhuki Si Palkein, Hip Hip Hurray, Kkavyanjali, and Just Dance. KK appeared on television too. He was invited as a jury member for a talent hunt show Fame Gurukul.
KK also sang a song named "Tanha Chala" for the Pakistani TV show 'The Ghost' which was aired on Hum TV in 2008.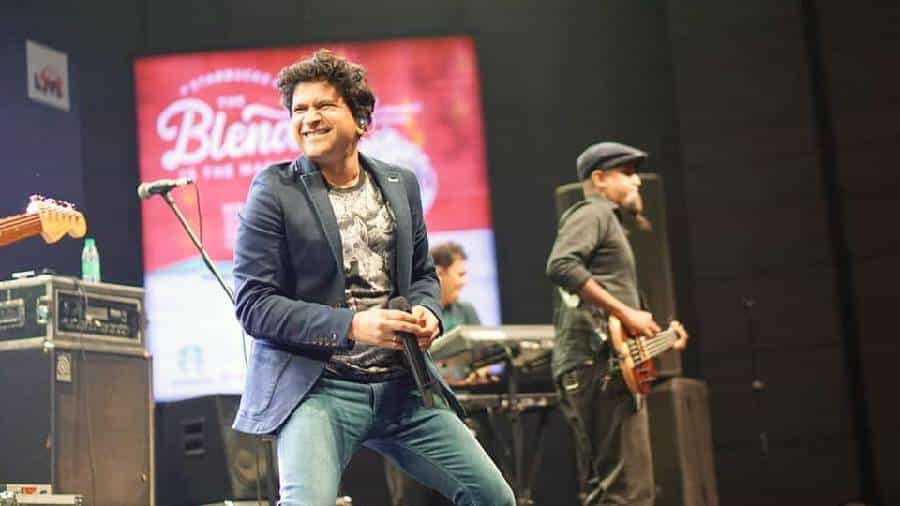 KK participated in the musical program of MTV India Coke Studio. There he sang one qawwali "Chadta Suraj" along with Sabri Brothers and a recomposed version of his exquisite track "Tu Aashiqui Hai" from the movie Jhankaar Beats. He also appeared in the TV show Surili Baat in Aaj Tak Channel. He has also performed in the Sony Mix TV Show and MTV Unplugged Season 3, which aired on MTV on 11 January 2014. KK was in Dubai for his concert 'Salaam Dubai 2014' in April. He also did concerts in Goa, Dubai & Chennai, and Hong Kong.
On 29 August 2015, KK appeared in the television singing reality show Indian Idol Junior Season 2. After 10 years, he appeared in a singing reality show as a judge and guest jury member. On 13 September 2015, KK appeared on the TV show "Baaton Baaton Mein" on Sony Mix.
On the day of his demise, the crowd count was nearly three times the auditorium's capacity at south Kolkata's Nazrul Mancha auditorium. Audiences were saying there were many signs of KK being uncomfortable as he did not finish his 20-song set with his signature 'Pal', leaving in a hurry after the 19th. KK's fans always expect 'Pal' as an electrifying show-ender. He was sweating profusely and requested for a drone camera to fly over his head so that he could get some air from its rotor blades. Also, he kept asking the organizers to switch off the spotlights trained on him, probably because he could not bear the heat and police could find several sachets of antacid in his hotel room, an indicator that the singer had felt some uneasiness in his chest.
He complained of feeling unwell soon after his performance on the way back to his hotel, where he suffered a cardiac arrest. Efforts to revive him at the hotel were unsuccessful, and he was subsequently taken to the hospital where he was declared dead on arrival.
The singer's body was wheeled out of CMRI Hospital around 11 am, shortly after his family reached the hospital, and taken to SSKM Hospital, where doctors conducted a post-mortem. The preliminary report didn't find any unnatural cause. Death was due to myocardial infarction, or heart attack.
Also Checkout: "295"- "The Last Ride": India lost a prominent R&B artist