Whether one wants to listen to a podcast of an insightful conversation on politics or stouthearted discourse on true crimes. There is nothing as sensational as hearing from other ladies that swear to cross one's heart, and well-informed at the same time. Some are so waggish, you'll have to pull the car over.
Others are so inspiring, you'll be ready for world domination after listening to just one half-hour episode. Though the themes are contrasting, they do all have one special thing in common, that's their hosts are women. As diverse, the reality is that most of the podcasts are hosted by men (white). Research attests that only 22% of podcasts are hosted by women. Podcasts by women?
We've got you covered. Below, there is a line-up of podcasts by women. Let's start with our proud Indian women:
1. Cultural Chaos:
Started in September 2017, its host and producer is a true desi and a Mumbai girl – Isha Soni.

Five years ago, she went abroad to pursue her higher studies. In this podcast, she talks about life abroad, trying to make sense out of different cultural norms and a whole new way of living. From celebrating Indian festivals abroad, stories around the pressure cooker, racism and being brain dead, student life to domestic violence, and more.
According to her, the podcast documents her "confusions and the stories that arise from this chaos while I try to hold on to my culture, identity, and life as I know it".
2. Fat. So?
Two plus-sized women, Pallavi Nath and Ameya Nagarajan's started Fat. So? podcast in 2019.
On their podcast, they voice to educate body positivity by sharing their own views and experiences – being plus-sized women in India. Also, they hold honest and humorous discussions on societal norms, working hard at self-love, unsuccessful weight loss, loneliness, food, sex, and love.
The reason behind Fat. So? Is that the hosts believe that just talking about their experiences can have a huge impact and help other women on their journey of acceptance, and blow away body image issues.
3. House Of Nari
It is a podcast that comes in series started by Prabhjit Bains, a podcaster from Delhi. With the House Of Nari podcast, she intends to provide a platform for women to make their music and have their voices heard out.
She features members of the Coven Code, a women's collective that thrives to build a creative culture around. Moreover, it is trying to shape the nightlife and sound-based spaces in the city to be more femme-friendly and safe too.
Each episode incorporates their diverse tastes in music; conversations range from what it means to be a woman in the industry to spirituality, politics, and mental health. The goal of the House of Nari podcast is to help more women to do radio and podcasting.
Listen to this podcast here.
Now, from around the world.
4. Where Should We Begin?
So..where should we begin? It is a podcast hosted by an incomparable therapist Esther Perel, who counsels real-life couples as they unveil the most intimate, personal, and complicated details of their married life that have brought them to her platform.
Then, In July 2020 season, she took open marriage, racism inside an extended family, coming out in a religious home, and chronic infidelity with other delicate dynamics. It can be said that Esther creates a wonderful room for us to hear our life's struggle knitted in the stories of others.
5. Terrible, Thanks For Asking
TTFA's producer and host Nora McInerny is an author, a co-founder, and a TED main stage speaker. She takes up the conversation with a mundane and polite greeting – "how are you"?
She knows how to explore emotional landscapes and beautify them with humour and love. McInerny doesn't like small talks, she wants big talk and there she deals with deaths, loss, and coming through traumas of others.
TTFA will make you laugh, cry and eventually realize it's okay to feel terrible sometimes.
6. Invisiblia
The program's title comes from Latin- means "all the invisible things".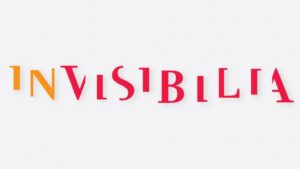 The program debuted in early 2015 to scout the intangible forces that form human behavior, includes beliefs, ideas, emotions and assumptions. Hosted by Lulu Miller, Hanna Rosin, and Alix Spiegel. They interweave narrative storytelling with scientific research that will ultimately make you see your own life from a different perspective.
To date, it tries to answer Why? Regarding the unexplainable and invisible explanations for human behaviour.