In recent times, we have witnessed Muslim women across strata asserting their presence in public, making their voices heard, and defining their own political identity. Muslim women do not require 'rescuing' in real life neither in reel life but the enablers of patriarchy and filmmakers tend to think otherwise.  Hindi films portray them in a condescending light and alienating their depictions.
Try remembering all the Muslim characters you have watched growing up in Hindi cinema or 'Bollywood' movies as it is called in more saleable terms. On the first instance, you may find a kohl-eyed, skull cap wearer and a taaveez bearer Anwar Bhai from Hum Sath Sath Hain or the more recent barbaric Khilji from Padmavat who chops meat almost like a savage beast, dances to the black colour palette in a land of never-rising-sun, suppresses his docile wife and lusts after a married woman. In contrast, is the white side of blooming righteousness who treats his women just perfectly and can do no wrong.
Now, juxtaposing these characterizations with that of Muslim women and we get not just stereotypical characters but also a flat character arc, just like other female leads, is not only disposable, a damsel in distress or an object of the male gaze and desires but also a victim of the regressive Muslim society. The Muslim women characters are often depicted clad in Burqa, devoid of financial and sexual agency, facing the brunt of the oppressor husband on domestic issues and getting replaced by the 'second wife' brought home by the ever aggressive husband.
Although if we go back historically the female characterization was not as stereotypical it all takes a cursory look to trace it to the 1960s and the romanticization of Tawaifs or the Courtesans which began from classics like Mughal-e-Azam and Pakeezah and relegated them to the margins of society and yearning for respect often sought after in man's love and domesticity of marriage. The eighties gave us the genre-defining Umrao Jaan and more derivative fare like Tawaif, ultimately signalled the courtesan's swansong. Dressed gloriously in shimmering gold and silver, the characters of Anarkali (played by Madhubala), and the character of Umrao Jaan (played by Rekha) despite being moderately dressed were overtly sexualized. They would entertain Nawabs and their guests by singing and dancing but would remain pure and chaste, thereby desirous of marriage.
The next stereotype assertion came after the movie Nikaah (1982) and it's arraignment of Triple-Talaq amidst the high profile Shah Bano's case and thus, began an early signposting of Hindi cinema's preoccupation of saving Muslim women from the regressive and violent tendencies of Muslim men. The vilest of all, the saviour complex of the male leads to protect the love of their life in films like almost all of them?  But this gets even more problematic when we add a Muslim female lead to the mix because her family is the orthodox villain like in  Gadar (2001) which narrated the story of a Pakistani Muslim woman being saved by a valiant Sikh man in the context of post-Partition communal riots. The film was laden with stereotypes of Muslims being betrayers and riot-instigator, to be repeated later in films like Kalank (2019). Ameesha Patel's character in Gadar had no agency over her life whatsoever and was just there for tearjerkingly cheering the valiant hyper nationalistic undertones in the film- A post 9/11 phobia often mixed with cross border LOC tensions and Kashmiri axel as an often recurring motif.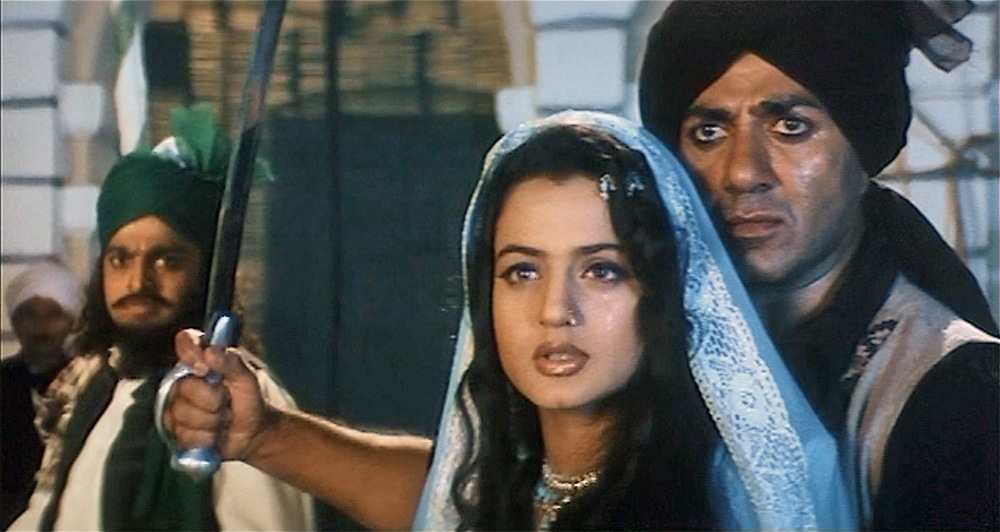 The third portrayal of Muslim women in Indian cinema can be traced to movies like Henna, Bombay and Mission Kashmir, and in more contemporary movies like Raanjhanaa. The patriotic and loyal character of a woman who is only there to present a binary difference to the man who has gone astray. Epitomizing the women as a good influence to change the man is the most cliched idea of womanhood.
Although there are certainly some remarkable depictions to watch out for such as Khaled Mohamed's Mammo (1994), Fiza (2000), and Zubeidaa (2001) as they tried to encapsulate the transition from the nineties to the aughts and are lauded for their sensitive representation of a cross-section of Muslim women. Another mentionable film is Dor (2006), the story of who become friends under tough circumstances in their lives and how the Muslim character teaches her Hindu friend about a life of independence and freedom. Although the last decade has seen shackles broken in movies such as 3 Idiots (2009) and Zindagi Na Milegi Dobara (2011) which has shifted the perceptions around Muslim men in roles where their religion is incidental but not minimized, yet such parallels for For Muslim women are still hard to find.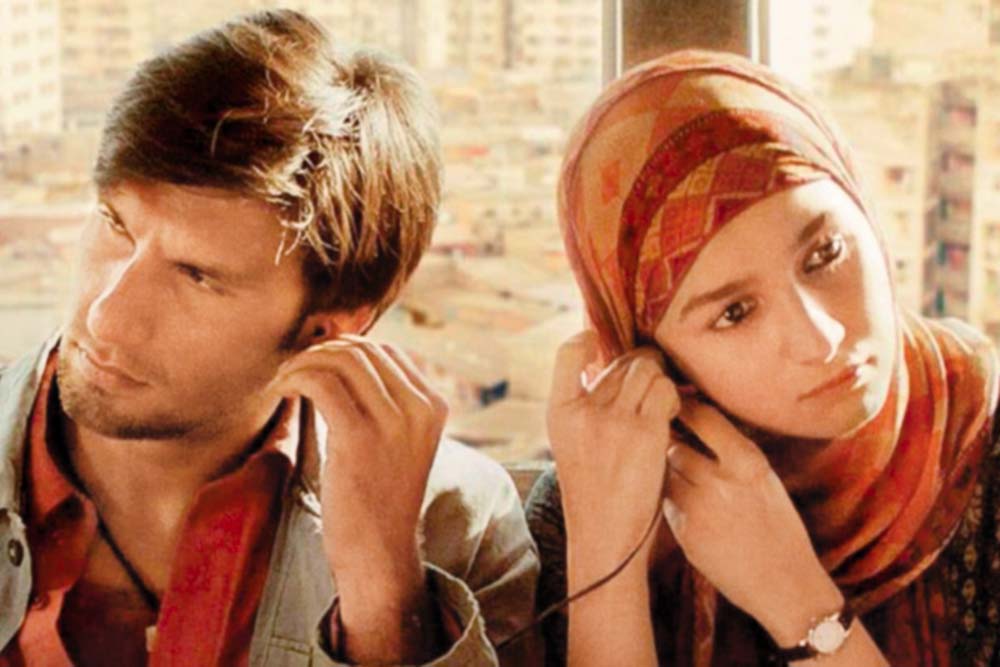 Given Hindi cinema's checkered history of Muslim representation, it is no brainer that films such as Ae Dil hai Mushkil, Raazi, and Gully Boy (2019) came as a relief and struck a chord with the audience. Although ADHM also didn't delve deeply into Alizeh's or Saba's Muslim-ness yet was a breather from the cliches and Raazi too, offers a more nuanced display of nationalism rather than a female arc. While Safeena's ordinariness in Gully Boy resonated with young Muslim women and found validation of their multiple identities and their desire to be authentically represented as people with temperaments, dreams, agency, and ambitions, which has been lacking in Hindi films. Mukul Kesavan in his book 'The Ugliness of the Indian Male', observes that Muslim women have suffered the 'double handicap of gender and community' in the Hindi cinema.
The question which arises is that 'what if' the recent upsurge seen in female-centric films like Piku or Queen portrayed Muslim leads with their set of dreams, aspirations, and the capability to take charge of their lives instead of being cast as mere caricatures. The emerging recourse in voicing the female-centric cinema might prove beneficial to the meaningful representation of Muslim women in the Hindi cinema.
For more such articles check our Entertainment Section
For more, like us on Facebook or follow us on Twitter, Instagram  and Telegram
[zombify_post]
Also Checkout: 7 Visually Pleasing Movies You Can Watch On Amazon Prime