Director – Honey Trehan
Cast – Nawazuddin Siddiqui, Radhika Apte, Tigmanshu Dhulia, Shweta Tripathi, Shivani Raghuvanshi, Nishant Dahiya, Ila Arun, Swanand Kirkire, Aditya Srivastava
The film opens with a long shot of an Ambassador moving along the highway, its headlight the only source of light piercing the darkness. The vehicle stops at an interstate border check-post, the car drives through on the muddy trail. A truck waiting up the road revs up and starts tailing the car. From this, opening sequence, the stage is set for a crime thriller which will keep you on edge.
Raat Akeli Hai begins with the murder of a rich patriarch Thakur Raghubeer Singh (Khalid Tyabji) on his wedding night, in his own house, before he is about to marry his mistress Radha (Radhika Apte). Everyone present in the house is a suspect. The joint family comprises of Raghubeer's pregnant daughter Karuna (Shweta Tripathi), his drug addict son Karan (Nitesh Tiwari), Raghubeer Singh's sister, his niece Vasudha (Shalini Raghuvanshi) and nephew Vikram (Nishant Dahiya), their domestic help Chunni and Raghubeer's brother-in-law from first marriage played by Swanand Kirkire who is wry in his own way.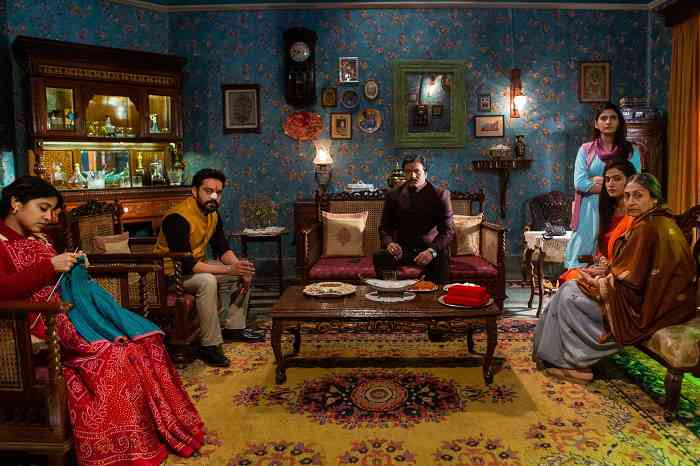 Inspector Jatil Yadav- an honest cop, enters the crime scene with just the right amount of swag,  played by the spectacular Nawazuddin Siddiqui, and rising above his diminutive stature warns the eccentric family members "Yeh jo kaand hua hai na, uski karenge hum Jaanch," in his signature UP twang. To balance the intense narrative, the film shows Jatil's home life of usual bickering about his marriage and skin colour with his mother, marvellously portrayed by Ila Arun.
Although the film shares its DNA with the 2019  locked room murder mystery Knives Out, and Chinatown-inspired Manorama Six Feet Under of 2007 which has been an inspiration for the neo-noir genre for too long. Still, Raat Akeli Hai rises above from that with its bleakly set cinematography, dark tones, and varying visual textures, with dimly lit hallways and a set design which brings a sense of formidable fear and hideously lurking secrets. The connective Train sequences add another layer to the narration.
Although the film is a subtle take on patriarchy, the second half slightly dips and wades into a quick clumsy windup and not-so-needed romantic sub-plot. The first half is more gripping in its peculiarities and detailed sketched characters. While Radhika's character appears to be a Femme Fatale initially, crucial to this genre but turns out to be a Damsel in Distress later.
The strength of the film lies in the power-packed performances by its stellar cast, all nuanced in their actions and its set-up with skillfully lensed cinematography by Pankaj Kumar. For sure, it's a film that will demand your attention and should be watched for its precisely set frames and whodunnit murder mystery.
For more such articles check our Entertainment Section
For more, like us on Facebook or follow us on Twitter, Instagram  and Telegram
[zombify_post]
Also Checkout: 10 Richest Voice Actors Of All Time – As Per Their Net Worth