Destiny's Child
Sushmita Sen is no ordinary name. The vivacious Sushmita Sen is many talents woven into one individual. Working or not, Sen seems to emanate her aura of positivity, charisma, exuberance, and zeal for life. Her saint-like innocence, yet intimidating, commanding, and unapologetic persona has inspired millions of her fans who are very loyal towards her.
This slender and refreshing beauty is always a sight for sore eyes. Her soulful voice is music to one's ears. Her expressive eyes hide emotions more than it transits. Her laugh that sounds like a popcorn popping and her towering personality complimented by chiffon sarees in her iconic role 'Miss Chandni' in 'Mai Hoon Na' made her a force to reckon with. She has the enigma of lighting up space by her mere presence.
---
Let's delve into and acquaint ourselves with this dazzling Sush 2.0 and her role as "Aarya Sareen" in her latest web series which is now available to stream on Disney+ Hot star.
Sush 2.0 proves the 40s are the new 20s  
Sushmita Sen has played many roles but the one identity she flaunts- is as a mother. Then, who on earth could be the better choice for Ram Madhvani's Aarya which is a moving tale of a mother who will go to any lengths to protect her children and home?
'Aarya' is a crime thriller, tried and tested chronicle of a trusting wife, wronged by a reluctant criminal husband. A docile and good-natured Arya, however, gradually descends into a vortex of dark-bottomless fury, delved into its unfathomable depths. It has all the elements of a taut, razor-sharp suspense thriller, fraught with enigmatic twists, perplexing events, and unlikely developments.
Most times, Arya the protagonist is as placid as the serene environs that she resides in. But, when pushed against the wall, she turns into a towering volcano of barely-concealed rage. A relentless do-gooder, who rushes in the world where none would dare to tread, a murky world of cops, hitmen, Russians, rival kingpins, and dead puppies.
One minute she teeters on the edge of despair and despondency, a woman on the brink; and in the very next one, she is an inferno, a woman not to be trifled with.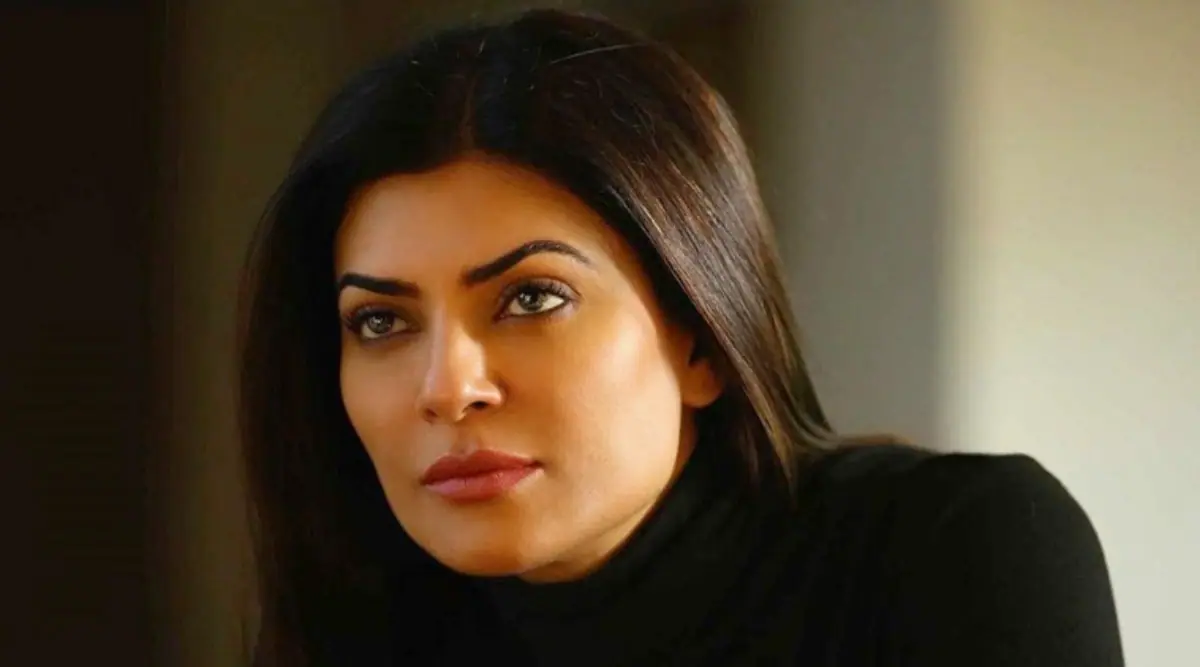 Revenge may be called a dish best served cold. But when you're done watching Arya, you realize revenge is infinitely more intriguing when served smoldering hot! And when in Sushmita Sen's style, it simply sears you on the insides and hits you squarely in the solar plexus, leaving you breathless with unnamed emotions. 
'Aarya' is a faithful adaption of the hit Dutch series Penoza. However, director Ram Madhvani and his team, have flawlessly molded the saga to suit Indian sensibilities, sculpting a story that takes the timeless values of family and spins on human emotions.
Story-plot
The show starts on a light-hearted note with the Sareen family having breakfast on a pleasant morning and getting ready for what the day holds for them. The family lives an idyllic life in the picturesque ornate haveli in the royal city of Rajasthan.
Aarya Sareen, an alpha mother of three adorable kids, everyway- a loving wife, dutiful daughter-in-law of an ailing old patriarch has all that a woman could ever wish for – a loving husband, lavish bungalow, luxe life, no problems other than to choose the outfit of the day from a classy wardrobe and adding to her happiness is the upcoming wedding of her younger sister, Soundarya (Priyasha Bhardwaj).
Aarya's domestic bliss soon comes to an end when her husband Tej Sareen (Chandrachur Singh), is shot dead in broad daylight outside their home at the end of the eerie first episode.
We soon learn the Sareens are not normal people. Beneath the veneer of a happy family and its regal lifestyle, there is more than meets the eye.
Arya's husband Tej (Chandrachur Singh) along with her greedy brother Sangram (Ankur Bhatia), and their mutual friend Jawahar (Namit Das) are dealing in drugs under the garb of the pharmaceutical business.
Devasted by the loss of her husband, the road ahead of Aarya only gets murkier when an adamant ACP Khan (Vikas Kumar) of the Drug Enforcement Department shows up at the bereaved family's doorstep with a search warrant.
The death of Tej Sareen forces our eponymous star to forgo her life of homemaker and assume the responsibility as the matriarch of her family's criminal empire, when all the men in the family deny to do so while also cleaning the mess left by her husband. With dire consequences ahead, the story unfolds subsequently and forms the rest of the plot.
The two major dialogues that created a huge stir amongst the audience and fans goes like, "Pehle Dhandha Mard Sambhalte the- Ab Bache Nahi" (It's a man's business, and there are none left, the other one goes like "Panje bahar nikaalo sherni ki tarah" (Be who you are, Show them your claws, like a tigress would).
On the other hand of this family-gangster-drama, there is grief, a rebellious teenage daughter, a son in adolescent love, a psychologically troubled 8-year-old who witnessed the shooting of his father, and a complete lack of trust in the institution of marriage and concept of home.
The show is 9 episodes long and the average runtime of each show ranges from 45 to 55 minutes.
It is, decidedly, her show all the way, proving once again what a powerhouse of talent, she is.
The ensemble cast, comprising Sikandar kher, Namit Das, Ankur Bhatia, Maya Sarao, Vikas Kumar, Jayant Kriplani, Manish Choudhry and other talented yet under-utilized actors by the Hindi-cinema ecosystem, lends admirable support to this gripping tale of a woman, who resist replacement of her wedding ring by a drug ring, which is a must-watch in our opinion.
By the end of season-first, there's no winning in the story of Aarya, only a tight rope balance with an abrupt ending.
One might add: "Aarya" leaves open the scope for an obvious season two going by its final scene, which means "the Don is yet to come".
Also Checkout: Shows And Movies You Wouldn't Want To Miss This February