On Breaking Bad, there are a few readily recognizable locales. It's difficult not to think of the significant scenes that took place there, from the RV meth lab to the White family kitchen. The fast-food restaurant Los Pollos Hermanos, however, was one of the show's most intriguing sets.
Los Pollos Hermanos was always a source of dread and peril as the front for Gus Fring's narcotics enterprise. Breaking Bad viewers were constantly on the edge of their seats anytime Los Pollos Hermanos was featured, whether a scene took place within the restaurant or it played a role in a scenario set elsewhere.
1. The Commercial
Breaking Bad is noted for its stunning montages and musical sequences, which are among the show's most striking features. A smart commercial for Los Pollos Hermanos opens one of the shows not long after Gus is introduced in the show and Walt begins working for him.
As photos of the delectable-looking chicken are shown, the commercial begins with the tale of the fried chicken restaurant. Images of crystal meth being cooked gradually replace images of chicken being cooked. A clever piece of editing that shows the drug cartel hiding in plain sight.
2. Gus Visits The Hospital
One of the most intriguing aspects of Gus Fring's villainy is how well he conceals his actual nature. Gus Fring is an easy villain to admire because, despite being the head of a vast drug enterprise, he presents himself as a kind neighborhood businessman.
He also exudes a certain bravado. Hank arrives at the hospital to pay his respects after being shot in an incident he staged and even delivers the family some chicken. Gus discovers more about Walt's family than Walt would have liked, which creates a scary scene.
3. Hank Pieces It Together
When Hank first appears on the show, he appears to be little more than a tough-guy cop with little intelligence. Over time, though, he demonstrates that he is a brilliant detective.
After Hank takes a break from police work due to his disability, a colleague officer begs him to look into Gale's murder case. Hank finds something that no one else has noticed when going over the evidence. Gale, although a health-conscious vegan, keeps fast-food chicken products in his house. Hank starts closing in on Gus almost immediately.
4. Walt Tells Gus He's Done
Gus and Walt used Los Pollos Hermanos as an unofficial gathering location to discuss business. It's where their business connection began, but it's also where Walt intends to put an end to it. He comes to the restaurant to inform Gus that he is quitting his job as a meth cook.
Gus accepts the news quietly as usual but immediately answers Walt's choice with a million-dollar offer for a few months' work. Walt's plans to put his criminal past behind him vanish in an instant. Walt's objectives shifted from how much money he needed for his family to how much money he could produce.
5. The Cousins Come By The Restaurant
On the show, there has been a slew of famous villains, but the Salamanca cousins are possibly the most terrifying. After the death of their relative Tuco, these generally silent brothers feel like unstoppable machines, and they set their eyes on Walt.
When Gus tells them they can't kill Walt; they show up at Los Pollos Hermanos in an attempt to intimidate Gus into giving them what they want. These sequences have an uncomfortable sense of tension because people are killed in broad daylight all the time on Breaking Bad.
6. Truck Hijacking
Mike Ehrmantraut, despite his advanced age, demonstrates that he is capable of handling himself. When it comes to dealing with risky situations while maintaining composure, Mike is undoubtedly the most architectural gem on Breaking Bad.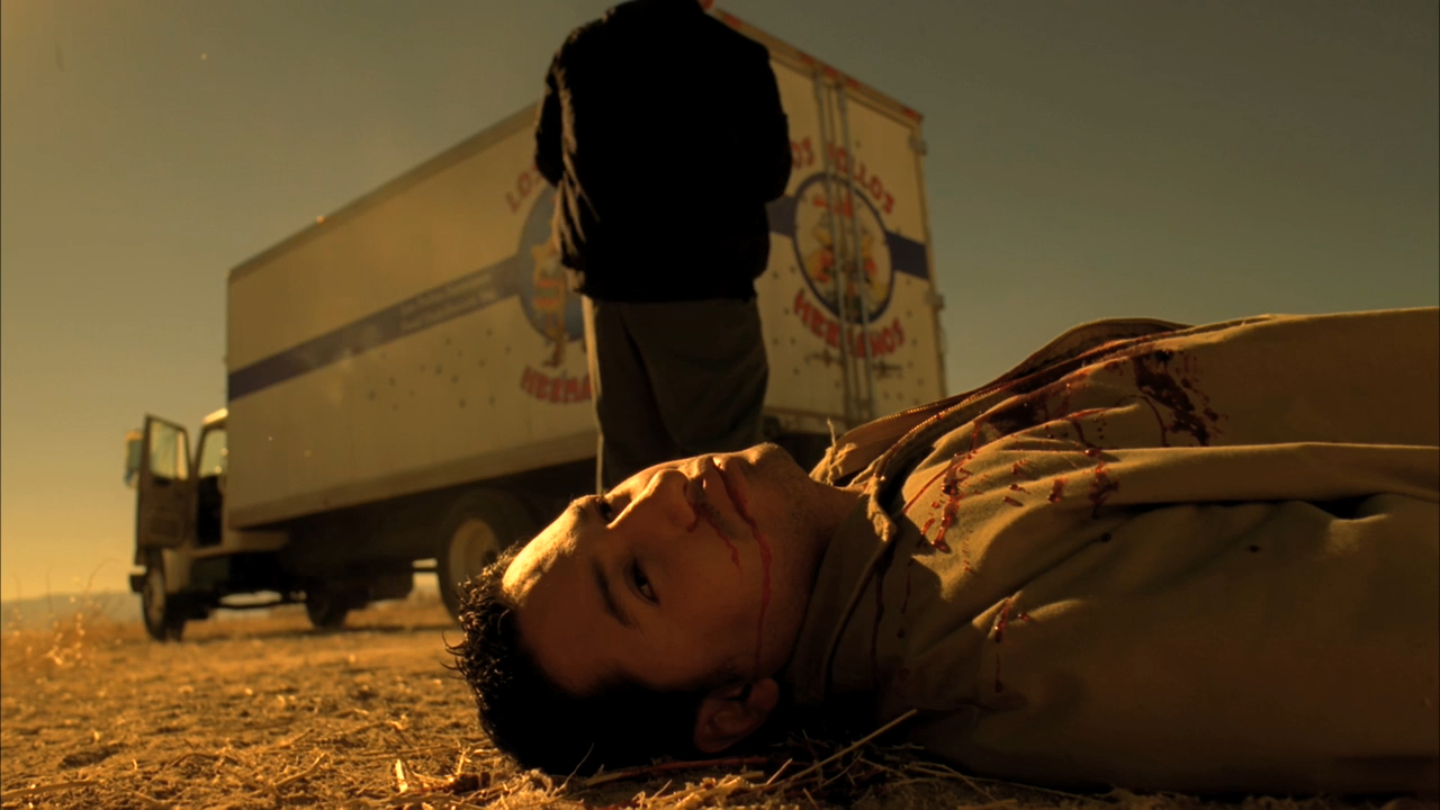 Mike hides in the back of a Los Pollos Hermanos truck when some of the illegal supplies are being transported. Two gunmen attempt to seize the shipment by shooting up the truck. Mike maintains a calm demeanor as he waits for the two men to board the truck and then shoots them without breaking a sweat.
7. Hank Gets Gus' Fingerprints
Gus Fring had the air of a guy in perfect command of his situation. He runs his firm with the utmost caution, which is why he has been so successful for so long. As a result, when Hank outsmarts Gus, he appears even more accomplished as a detective.
Hank pays a visit to Los Pollos Hermanos once he realizes Gus is the key to his "blue meth" inquiry. He deceives Gus into touching his cup while claiming to be a happy client, allowing Hank to obtain Gus' fingerprints.
8. Walt Plants A Tracker
Despite Hank's conviction that Gus is a crook, he does not have the DEA's support in the case. Rather than following the rules, Hank enlists Walt's assistance in keeping an eye on Fring. When they get to Los Pollos Hermanos, Hank gives Walt a tracker and tells him to put it in Gus's car.
This comes at a very inconvenient time for Walt, as he and Gus are embroiled in a heated argument, and all eyes are on him. When he enters the eatery, he finds Gus acting like a friendly businessman. Walt displays the tracker to Gus and promises him that he will not plant it. Gus, on the other hand, simply smiles and says, "Do it," in an uncomfortable manner.
9. Schuler's Suicide
When Gus is killed, the episode reveals the scope of Gus' enterprise, which is related to the German business Madrigal. The DEA discovers these connections after Gus' death and begins interviewing one of their executives, Peter Schuler.
Schuler is shown lazily going through his duties and seeing any ties to Los Pollos Hermanos removed from the corporation's headquarters in a lengthy clip. When the cops arrive to question Schuler, he locks himself in the bathroom and kills himself with a defibrillator.
10. Walt And Gus Meet
The first meeting between Walt and Gus shows that these two guys are extremely similar, even though they eventually become deadly adversaries. Walt feels he has a second opportunity after being duped earlier and makes his case for their partnership.
Gus, like Walt, does a fantastic job in his innocent character. The two men have a mutual admiration for one other's expertise and ability. Gus's worries about Jesse and Walt's reassurance that he can handle his partner, on the other hand, show that their relationship was doomed from the beginning.
Also Checkout: 10 Best British Dramas To Watch