This is an inspiring story of great determination, patience, persistence and hard work of a young man name Arvind Kumar who managed to crack NEET in 9th attempt in the year of the global pandemic at the age of 26 after 8 continuous failures.
His first attempt in 2011 was unsuccessful and many more but he did not lose his hope, he continued his preparation with full energy and honesty and finally, his hard work paid off this year. He cleared the exam by securing 620 marks with 11603 All India Rank and 4392 Category Rank.
Arvind Kumar is a resident of Kushinagar district, U.P. His father Bhikari Kumar is a scrap dealer in Jamshednagar-Tata who works 900 kilometres away from his village just to avoid discrimination to his family.
After 6 consecutive failure in NEET, he took admission in famed coaching of Kota in 2018 where he got 75 per cent scholarship. He studied in a government school in Gorakhpur where he has to travel 8 kilometres to reach school.
His father has studied only up to 5th standard whereas Lalita Devi, his mother is illiterate and a housewife. Both acted as strong support during Arvind's preparation years. His father worked for 12 to 15 hours daily to meet the expenses of his son's stay in Kota.
Becoming a doctor was not only dream come true for Arvind but also a befitting reply to those people from whom his father face constant humiliation for his work and name Bhikari which in English means Beggar.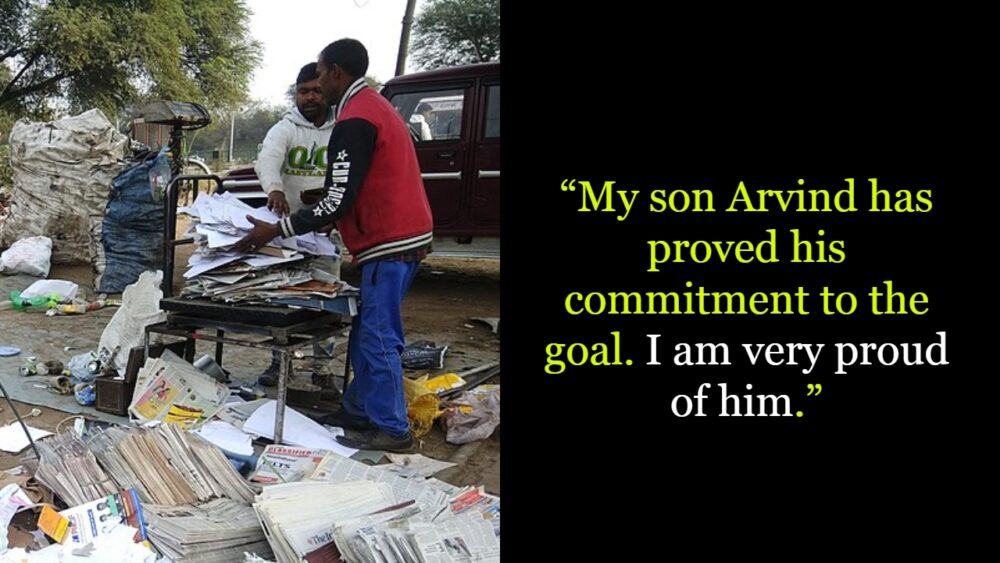 While talking about his success, Arvind mentioned that he gives the complete credit to coaching institute of Kota where he improved a lot to himself and secondly to his parents who stand by him as a supportive pillar even after 8 consecutive failures. He said he was an average student who secured 48 per cent in 10th standard and 60 per cent in 12th standard and he wants to become Orthopaedician after completing his MBBS.
He said that "I want my family to be respected everywhere and my father who was formerly known as beggar and scrap collector, now he will be known as the father of a doctor".
For more such stories check our Inspiring Section
For more, like us on Facebook or follow us on Twitter, Instagram  and Telegram