To even ask someone in today's socio-political milieu if they are in support of female education seems ridiculous, considering that this is not only enshrined in our Constitution but supported by mainstream public discourse. There are numerous government programmes and schemes dedicated to the education of the girl child, irrespective of class, caste, or religion. Admittedly, there are parts of this country where this idea and subsequent socio-economic progress is actively discouraged. However, more than 150 years ago, it wasn't even a part of the mainstream socio-political discourse, and in fact, those pushing for it were met with intense hostility and social boycott.
Those with even a cursory knowledge of the history behind education in India will have heard of Savitribai Phule, who valiantly fought against the oppressive hierarchies of caste and gender to challenge untouchability and educate girls, among other critical social interventions and Fatima Sheikh was the woman who started the 'Beti Padhao' movement as early as in the 1840s.
By defying all norms, Savitribai Phule and Fatima Sheikh set up a school and even went to a training institute, to become professional teachers. Their school's curriculum was different from what was taught by Brahmin teachers in their home schools. It included mathematics, science, and social studies instead of Brahmanical texts like Vedas and Shastras.
Most men were extremely apprehensive about universal access to education, something that was till then only a privilege for the upper caste men. The upper caste people reacted vehemently and even violently to the start of these schools. They pelted stones and even cow dung at Fatima and Savitribai while they would be on their way. It is said that they used to carry an extra sari while walking towards her school as people used to hurl stones and dung at her, apart from verbal abuses. But both the women remained undeterred. Fatima taught in the school till 1856 and is regarded as the first Muslim woman teacher of India. They had to deal with abusers hell-bent on preventing them from educating girls.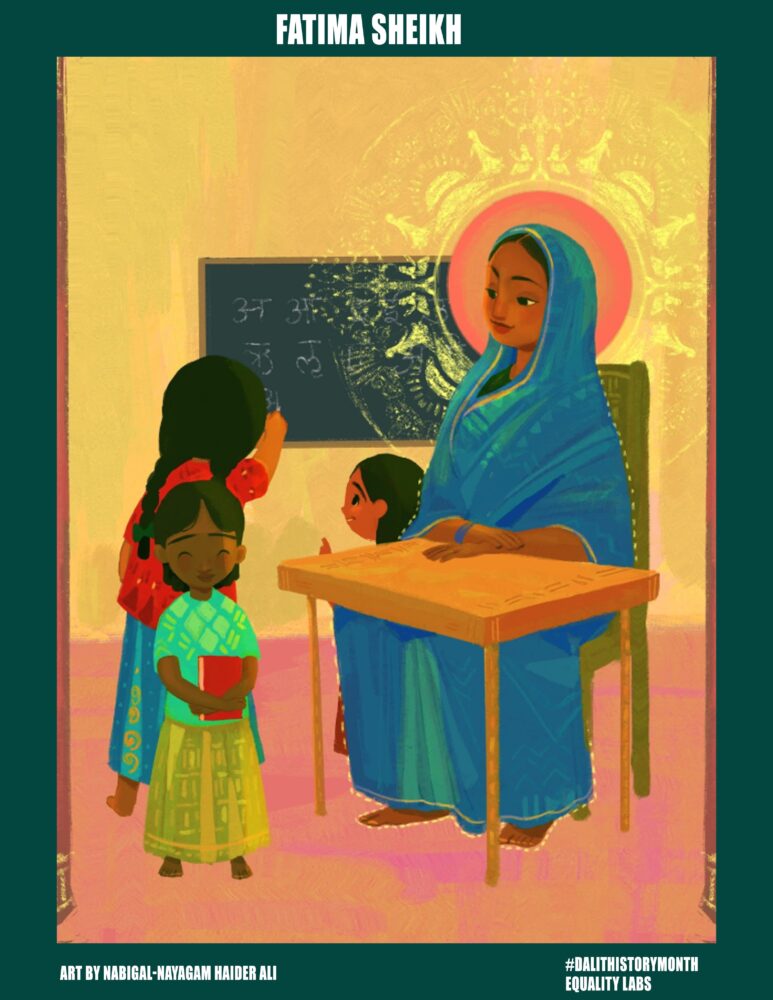 The journey was even tougher for Fatima Sheikh. Both the Hindu as well as the Muslim community shunned her. However, she never gave up and continued to go door to door, encouraging families and parents especially those from the Muslim community to send their daughters to school. As several writings say, Fatima used to spent hours, counseling parents who did not wish to send their girls to schools. Unfortunately, very little literature is available on the life and works of Fatima Sheikh.
However, the government has made some attempts to acknowledge her role. In 2014, Fatima Sheikh's brief profile was included in the school Urdu textbooks of Bal Bharati Maharashtra State Bureau along with the likes of Sir Syed Ahmad Khan, Zakir Hussain, and Abul Kalam Azad. Fatima Sheikh's life is also of a large significance as she probably marked the first joint struggle of the Dalits and the Muslims. The unity amongst the oppressed groups has always directed the struggle of liberation, as was later seen in movements like Chalo Thiruvananthapuram, and Dalit Asmita Yatra. Fatima's life was an early precursor for the larger struggle to come. But so little is known about educator and social reformer Fatima Sheikh that even her date of birth is debated upon.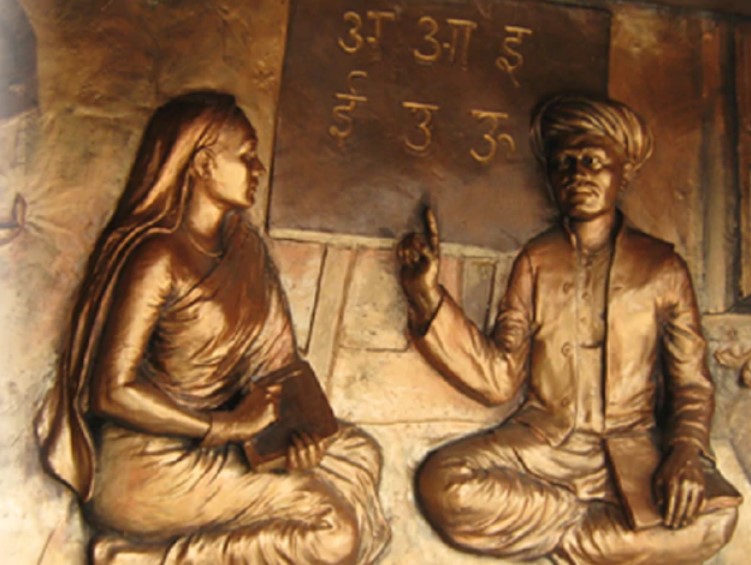 Born in a well-to-do farmer family in the backward Mali community, Savitribai Phule was married off to 13-year-old Jyotirao Phule at the tender age of nine in-keeping with the tradition at the time of marrying off girls before they hit puberty. But little did anyone in their families know that Jyotirao's influence on his young wife would change the very trajectory of India.
Savitribai went on to become India's first woman teacher and headmistress. It is her struggle and story that marks the beginning of modern Indian women's public life in India. Along with her husband Jyotirao Phule, they fought against various customs in the 19th century. They were among India's first major social reformers.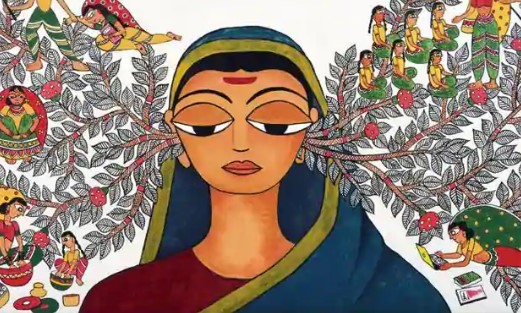 Since 1962, 5th September in India is observed as Teachers day in India. The significance of this day, as we all have been taught in schools, is that it is the birth anniversary of independent India's first vice president and second president, Dr. Sarvepalli Radhakrishnan (1988-1975). In our popular knowledge, the stereotypical understanding of educators, teachers, and gurus is restricted and limited to upper-caste Brahmin men like Radhakrishnan, Dronacharya, and Manu – to name a few.
These and many other 'meritorious' men have shaped our history, which not only excludes the lower castes and Bahujan from its discourse but also reinforces that the right to education and especially the right to teach remains within the ambit of the 'born meritorious' upper castes. To counter this, a section of people has been raising their voice against this mainstream culture of commemoration by challenging and rejecting the celebration of Teachers' Day on this day. They instead are celebrating January 3rd, the birthday of Savitribai Phule, as Education Day/National Teachers Day.
Savitribai and Fatima Sheikh always insisted that 'education should give one the ability to choose between right and wrong and between truth and untruth in life.' They took special efforts to create spaces where the creativity of boys and girls could bloom. Their success is evident from the fact that young girls loved to study under their guidance, so much so that their parents would complain of the girls' dedication to studies.
Their friendship lives today in the form of the work they have done in creating both foundation will and actual structures for the uplifting of the marginalized. Relationships between Muslims, Dalits, Adivasis, and Bahujans have a long history of struggle against Brahminical oppression that is often erased or misrepresented by today's political agendas. It remains undeniable that the association of Savitribai, Jyotirao, Fatima, and the Dalits, Adivasis, and Bahujan they worked with, represents a line of solidarity continuing into the contemporary call for 'Unity of The Oppressed'. A call that seeks to merge the struggles of SC/ST/OBC and Religious Minorities.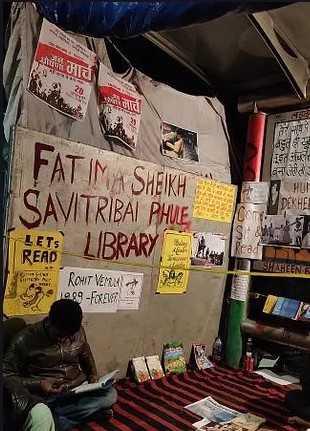 Their life stands as a testament to social reforms that were championed by Indian women in the pre-independence era, despite facing immense social resistance. Even after contributing so much to this field and being such an important figure in Muslim history, very little is known about Fatima Sheikh.  We, as a society, must give these women their due credit. Their work is also of a large significance as they probably marked the first joint struggle of the Dalits and the Muslims. The unity amongst the oppressed groups has always directed the struggle of liberation, as was later seen in larger movements. It was only because of these two women, who broke all the stereotypes and religious orthodoxy and revolutionized education for girls. As women still struggle to achieve equal rights in many ways, women like them become even more important. We owe it to them, to celebrate and remember them on this day as had it not been for them, girls could not have been able to achieve so much today.
Also Checkout: 5 Iconic Books That You Can Finish Within A Day: