Nail art is a great way to express your personality and add some fun and boldness to your look. But it can feel like a daunting task. If that's what applies to you, you might want to try ombre nails. This style is effortless and looks seamless, and you may add your own twist to make it even more unique. 
Still, if you want to do it yourself, all you require are two nail polish hues and a good blending sponge. It's a simple and stylish way to add some flair to your ombre nails.
We admire a fresh take on the classic French manicure, and the pink ombre nail tips have us swooning. You can recreate this similar design with hues of pink or customize it to go with your personal style and favorite colors. It's a fun and easy way to add some pizazz to your nails.
Add some fun and playfulness to your mani by including some accent designs. This is a good way to try out a new trend while still keeping a look that you feel comfortable with. It's a simple but effective way to mix things up and add some personality to your nail art.
Bright shades with cool undertones are sure to catch people's attention, especially when they are presented in bold, vibrant hues. This design takes things to the next level by featuring two eye-catching hues on each nail, creating a truly striking and unique appearance. This look exudes style and confidence.
Sparkling tips are always a chic and stylish choice, and the good news is that they're super easy to achieve at home. Simply paint your nails with a base color of your choice, then use a light touch to apply gloss from the tip toward the base of the nail. 
This technique will keep the concentrated glitter at the tips while allowing a bit of it to blend seamlessly into the other parts of the nail. This is a simple and fun way to add some sparkle and glamour to your look.
This striking ombre nail design pairs hot pink with baby blue to create a colorful and eye-catching look. These bright hues go together like the beach and the ocean, and they're sure to make a bold statement. This is a great way to add a pop of color to your manicure, and it's sure to turn heads wherever you go. You'll have people doing double-takes in no time!
This elegant combination of peachy-pink hues is sleek, polished, and fun all at the same time. It's the perfect balance of sophistication and playfulness. If only we could find a romantic partner with these same qualities, we'd be well on our way to building a happy and fulfilling relationship. In the meantime, we'll have to content ourselves with playing Monopoly and dreaming of the perfect match.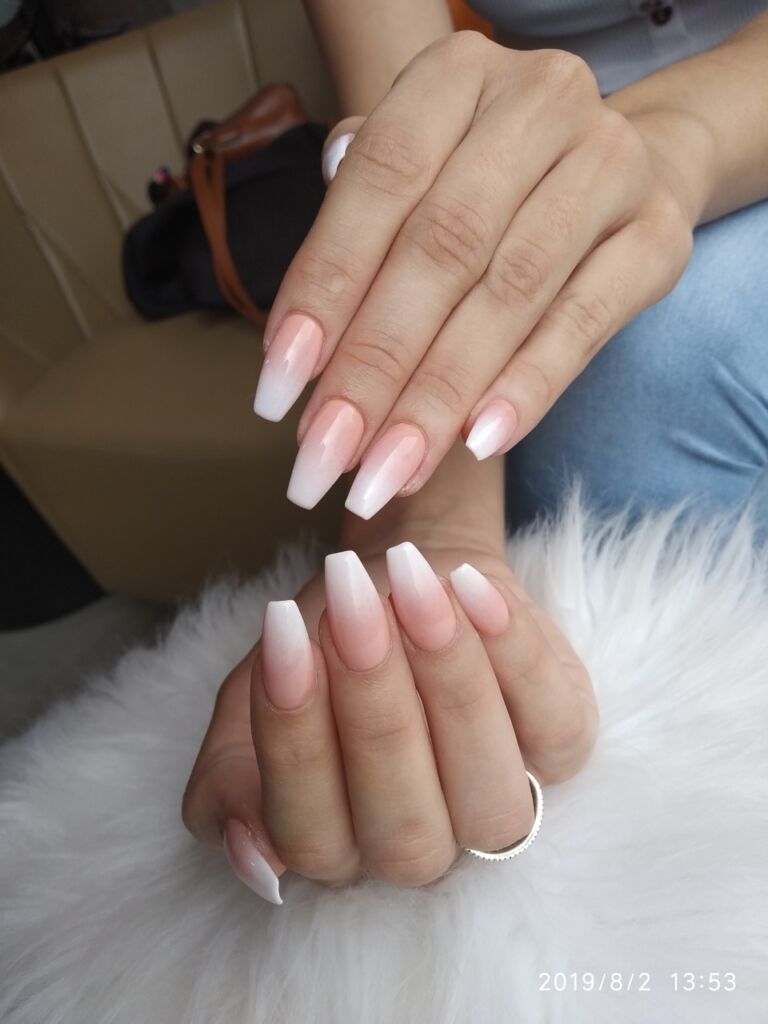 This playful and summery nail art features colorful French tips and an ombre nail design with cascading polka dots. It's a fun and playful look that will transport you back to childhood memories of eating dot candies and roasting marshmallows by the bonfire. Whether you're starting your day with a perky "That Girl" attitude or winding down by the fire, this manicure is sure to put you in a cheerful and lighthearted mood.
French tips, like French fries, may not actually be from France, but we can't help but think that even the most fashion-forward Parisians would appreciate this funky and playful ombré manicure featuring peach and pink French tips. 
This is a fun and creative way to add some flair and personality to your nails, and it's sure to get noticed wherever you go. So even if these tips aren't authentically French, they're still a chic and stylish choice that anyone can enjoy.
Sunsets are the ultimate inspiration for ombre nails, and this yellow-to-pink manicure captures the beauty of a sunset and brings it to life on your nails. 
Normally, we might be annoyed by planes flying through the sky and obstructing our view of the sunset, but in this case, the planes add to the overall look and give it a unique touch. This is a vibrant and striking nail design that will surely turn heads and get noticed.