Travis Barker has a rather unique name idea for the baby boy he's expecting with Kourtney Kardashian.
The Blink-182 drummer pitched the eccentric name during a new episode of Complex's "GOAT Talk," in which celebrities argue about the "greatest of all time" in various categories. He unsuccessfully shared his name idea with his bewildered 17-year-old daughter, Alabama.
"I like Rocky 13. … That's this name that's just been going through my head," Travis Barker said in the Complex video. (Complex Networks and HuffPost share a parent company, BuzzFeed, Inc.).
Alabama, whom Barker shares with ex-wife Shanna Moakler, didn't hold back — and said the name was "so bad" that even Barker "knows it." Alabama herself, meanwhile, hilariously suggested nothing but luxury watch names: "Audemars. Milan. Fucking Patek."
While Barker agreed his idea was "bad," he explained the thought behind it: "Rocky George played guitar for Suicidal Tendencies, and 13 is just the greatest number of all time." Alabama nonetheless asked quite earnestly: "So you're going to name your kid Rocky 13?"
"Possibly," said Barker, before adding: "And 'Rocky' is the greatest boxing movie of all time."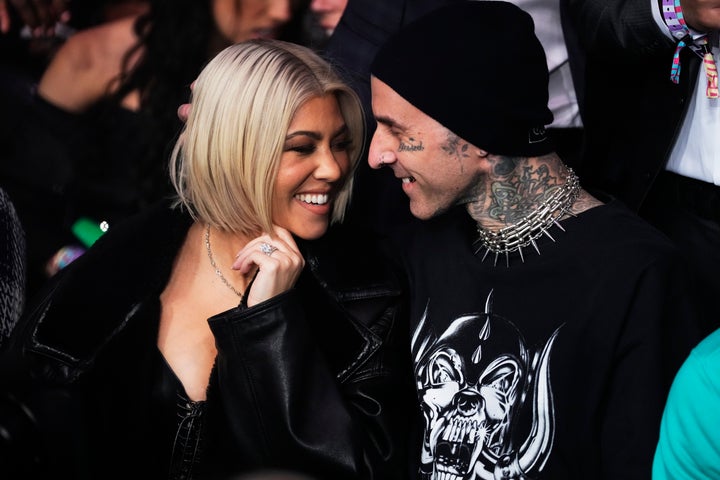 The couple first confirmed their rumored romance in early 2021. Barker proposed on a beach in October of that year, and they held a "practice" wedding in Las Vegas — with an Elvis Presley impersonator — in April 2022. They officially tied the knot one month later.
Both have been parents for years. Kardashian shares three kids with ex-husband Scott Disick. Barker shares Alabama and an adult son with Moakler, and helped raise her daughter from a prior relationship with Oscar De La Hoya.
While it's unclear whether Kardashian is aware of Barker's unusual baby name idea, he may have been thinking about it for a while — and reportedly commented under her gender reveal post on Instagram last month: "I already know his name."
Alabama, meanwhile, is still confident her watch name ideas are superior.
"I think mine were better," she said.
(this story has not been edited by TSA Mag staff and is published from a syndicated feed.)