A Dalit woman was raped and murdered allegedly by four upper-caste men in Uttar Pradesh's Hathras district. She died on Tuesday, days after being raped by the monsters. She was initially admitted in Jawaharlal Nehru Medical College and Hospital in Aligarh and later, was referred to Delhi's Safdarjung Hospital on Monday after her condition showed no signs of improvement.
The crime did not stop at her death but she was forcibly cremated by the Uttar Pradesh Police in the wee hours on Wednesday, 30th September. The cremation was conducted without the family's consent.
As per some fallacious data, CM Yogi Adityanath is the best CM in the country but does it match with the current situation of the state where there is the highest number of crime and unemployment. Be it tackling law and order and crime, agrarian crisis, administration, the current government of Uttar Pradesh has failed terribly. Above all increase in rape cases has further deteriorated their position and they have failed the litmus test.
To date, nobody heard a single word from WCD ministers in UP & the Centre. No hue and cry over the tragedy of women. Even the so-called opposition, like- Mayawati, Chandrashekhar Ravana, who should be raising voice against the heinous act, are conspicuously silent. While the entire country is outraged, Smriti Irani, woman minister, is silent on gang rape. She also happens to be  Member of Parliament from Amethi, Uttar Pradesh.
We as a society also need to think why after so many years of independence, we are failing to protect the women of the nation. Why in a country like India where girls are compared to Devi have not been treated even as humans? On the one hand, we have goddesses like Lakshmi, Durga and on the other hand, we have uncountable incidents of rape, eve-teasing, harassment, touching, etc. Remember the time when there was a nationwide protest in the Nirbhaya case. The whole India wanted justice and justice was served after almost 5 years that too after so many protests, agitation, and pressure on the government. Can we really call it justice?
It also questions the capability of the government and the consciousness of people. Why nobody now questions the government for not able to discharge their duties? Why ruling power has ministers who are or either allegedly involved in rape cases and why people chose such people as their representatives.
While going through the entire data one must remember that the biggest state of India has a leader who once shared the stage with a speaker and asked Hindu men to exhume dead Muslim women and rape them. A sad state of affairs as BJP had 12 lawmakers who possess charged crimes against women, the highest for any Indian political party, according to a study by the Association for Democratic Reforms (ADR) done in 2018.
Yogi Adityanath had 28 criminal cases registered against him before he became the C.M. One of them was an attempt to murder. This is not only about the Chief Minister of UP several other examples too which highlights the misogynistic view of people and paints a sordid picture.
It's beyond sad that people sitting in the centre have the majority of criminals on their list. A study shows that there is a hike in crimes after BJP came to power. Then we must not act surprised. The ruling government has put everything on stake to fulfil the dream of a Hindu nation by neglecting all the serious issues like unemployment, safety, healthcare, education, farmer suicide, etc. The party's Member of Parliament from Chandigarh, Kirron Kher, said in 2017 that it is the rape victim who should have been more cautious. "Not even Lord Ram can stop rapes," a BJP lawmaker in Uttar Pradesh said in 2019. Even the BJP's women leaders and members don't bother to question it.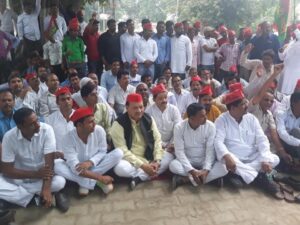 The question arises why after so many years we do not have stringent law against these culprits. According to statistics, in India, a woman is raped every 20 minutes. India was declared the most dangerous country in the world for women. No other country has that level of high-risk sexual violence and of being forced into slave labour (according to a survey by the Thompson Reuters Foundation done in the year 2018). A more disturbing part of the problem is an overburdened judiciary (India has one of the lowest judge-to-citizen ratios in the world) which further hobbled crime prevention and rape cases aren't been seen as urgent important and something to give an immediate verdict on.
We are living in times of unspeakable fear. It becomes imperative now to question those in power. Why are girls still unsafe? Why we have slogans like "Beti Bachao, Beti Padhao" when you don't care for our daughters? What is the use of all the policies and schemes when we cannot provide them with the basic right of safety and dignity? What kind of society are we living in? The role of the police is also questionable. Their apathetic attitude remains uninterested in the cause of gender justice, hasn't helped either. The family of the victim also feels uncomfortable by the interrogation and humiliation did by police and that is the reason for the impunity for sexual crimes. It will remain firmly embedded in the country if things don't change now. We also have terminology like women empowerment. We don't need to empower them, they are powerful, and they are the very reason why the human race exists. All we need to provide them with a safe and comfortable environment to show their capacities without any judgments and notions.