Another great chapter will be added to the story of IPL when Virat Kohli takes on Royal Challengers Bangalore against Kolkata Knight Riders at the Sheikh Zayed Stadium in Abu Dhabi on 20 September 2021 at 7:30 pm. This match between Kolkata and Bangalore is Kohli's 200th match in IPL.
Virat Kohli will become the first player to play 200 matches for a single franchise in the IPL. However, overall, he will be the fifth cricketer to reach the milestone.
Before him, Mahendra Singh Dhoni, Dinesh Karthik, Rohit Sharma and Suresh Raina have played more than 200 matches in the IPL. Virat Kohli has been a vital part of Royal Challengers Bangalore (RCB) for more than a decade.
Kohli will be the first player from RCB to achieve this feat. Right-handed batsman Virat Kohli is currently the highest run-scorer (6076 runs) in IPL. He has also scored 5 centuries in IPL. However, Virat Kohli is not the first cricketer to play 200 IPL matches.
MS Dhoni currently holds the record for playing the most matches in the history of IPL. The captain of Chennai Super Kings (CSK) has played 212 IPL matches. He has scored 4672 runs in IPL. The other 3 players who have played more than 200 matches are Rohit Sharma (207 matches), Dinesh Karthik (203 matches) and Suresh Raina (201 matches).
Despite this, what makes Virat Kohli's achievement special is that the Indian captain will become the first cricketer to play 200 IPL matches for the same franchise. Kohli also announced on the evening of 19 September 2021 that he would step down from the captaincy of RCB after IPL 2021.
However, Kohli said that he will continue to play for RCB till his last IPL match. In IPL 2021, the Royal Challengers Bangalore (RCB) team is currently in the third position in the points table. He has won 5 out of 7 matches played in the tournament.
Apart from Chennai Super Kings, Mahendra Singh Dhoni (MS Dhoni) has also played in IPL for Rising Pune Supergiants (in 2016-17). Apart from Chennai Super Kings, Suresh Raina played for Gujarat Lions in IPL 2016-17. Rohit Sharma has been a part of Mumbai Indians continuously since IPL 2011.
Before that, he played for Deccan Chargers from 2008 to 2010. Dinesh Karthik has also played for Delhi Daredevils (now Delhi Capitals), Kings XI Punjab (now Punjab Kings), Mumbai Indians, Royal Challengers Bangalore and Gujarat Lions before becoming part of Kolkata Knight Riders in IPL.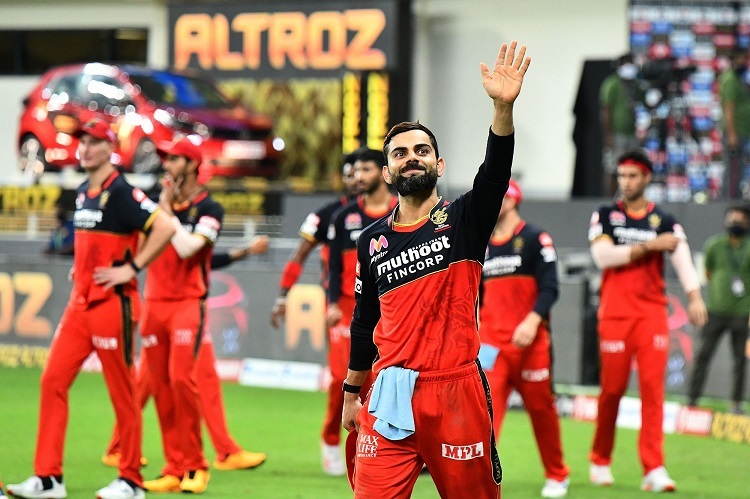 Not only this, but Virat Kohli can also become the first Indian batsman to score 10,000 runs in T20 cricket. Kohli is 71 runs away from achieving this feat. Chris Gayle will join the club of Kieron Pollard, Shoaib Malik and David Warner in the T20 format if he scores 71 or more runs in the match against Kolkata. Gayle, Pollard, Sania Mirza's husband Shoaib Malik and David Warner have already touched the 10,000-run mark in T20 cricket.
Also Read:  National sports day: 115th birth anniversary of Major Dhyan Chand and some remarkable facts about him